The government's Childhood Obesity Plan has been met with widespread anger from numerous health organisations. This was not least because it delivered "absolutely nothing" to regulate food advertising, something Jamie Oliver had called for.
A recent consultation recommended an extension of industry regulation in some areas of marketing activity to children, but TV advertising lay outside its remit. Should the government have taken the opportunity to address TV advertising by more direct intervention?
Of the many commercial communications children are exposed to, pre-9pm family TV programming (think Britain's Got Talent or The X Factor) provides an easier target for legislation. Marketing communications, for better or worse, influence what we eat. Their effects depend, however, on whether their message really gets through to consumers in a media saturated society.
Organisations understand that even the best advertising plans are beset by "noise". That is, we are surrounded by message clutter – and often messages conflict or compete. It is hard to get your message to stand out, to create buzz and prompt the audience into acting on it. All the more so where healthy messages are outspent by less healthy messages.
The national Change for Life marketing campaign deals with diet and is backed by Public Health England to the tune of around £9m annually. A sum making it hard for their healthy eating message to compete with alternative commercial messages that can pay around £150,000 for a 30-second slot in prime time.
But ad campaigns that are properly thought through, integrated and well supported can lift sales of healthier foods. Aldi has done just that through its sponsorship of Team GB, linked to television, in-store, digital, school and press activity around the theme of "home-grown heroes". Much of the campaign had a fruity (and vegetable) theme and, according to a report in The Grocer – unfortunately behind a paywall – Aldi boosted its produce sales by 20%. It is a noteworthy, if discrete, instance of a healthier message breaking through – and a chink of light, perhaps, given declining fruit and veg sales despite consistent long-standing delivery of the five-a-day message.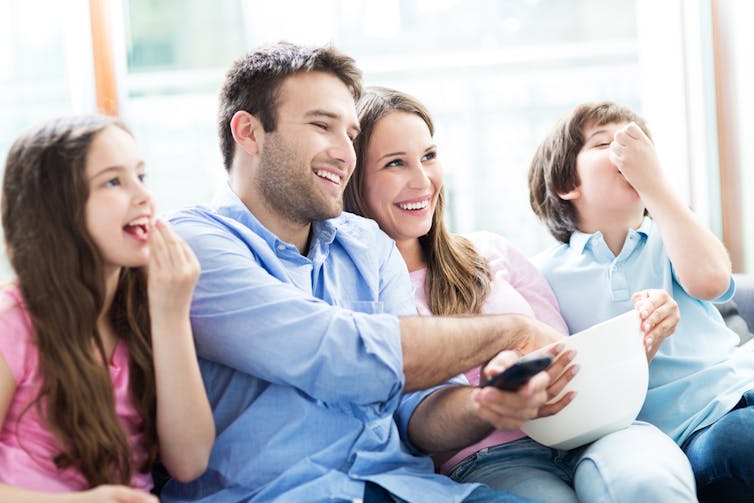 Collectively, studies show a moderate direct impact of adverts on children's consumption of unhealthy foods. But recent research demonstrates that children feel a strong pull towards junk food advertising. Children aged eight to 12 describe junk food advertising as "tempting" and "addictive". The picture emerges of children who know the food being sold to them on television is bad, but they still find them very seductive. This conundrum suggests less immediate and direct effect of advertising that are nevertheless more insidious and long-term.
Consumer researchers recognise the cultural role of adverts. Children are active users of advertising, reproducing their messages even in everyday play. So adverts play a role in forming our understanding of the world. And that often means understanding "bad" food as a reward, an indulgence or naughty but deserved pleasure.
Bad food isn't fun
There is no better arena than prime time family TV for resource-rich corporations to promote an insidious message that "bad" food is "good" when it is a treat, or part of a balanced diet, a deserved indulgence, fun. These are generalised associations, with the less helpful aspects of our diet linked to an indulgent time period in the family week. Breaking this link would represent a modest step towards cultural change.
Meanwhile, the food industry has reacted in divergent ways to the childhood obesity plan. Sainsbury's has been particularly vocal among retailers to regret its lack of legal teeth, particularly with respect to promotions and advertising – it wants more regulation to provide a level playing field. Soft drink companies are among those who feel unduly singled out. So, within a divided industry, what might additional TV regulation do?
First, we should not underestimate the voluntary steps taken towards a healthier future among food and drink manufacturers and retailers. These steps include "guiltless" checkout aisles in supermarkets – which don't push sweets at children and their mothers. But there has also been widespread reformulation of products to remove sugar, alteration of key product ranges and additional food labelling.
Such steps are often achieved quietly and have been guardedly welcomed by health campaigners – mixed with a degree of scepticism. True, companies are acting in their own commercial interests. But in positioning themselves for commercial success in a possibly more healthy future society, industry players are important in bringing that future into being.
So, there are causes for optimism but – again – these need to punch through competition and message noise. The childhood obesity plan provided an opportunity to prevent organisations across the board from "doing the wrong thing". An extension of the advertising ban until 9pm would have been a limited and well-defined step in clearing the path towards changing our culture's relationship with food. It would also have forced the industry to focus on its better foods and wean itself off the bad habit of pushing junk food to children.