Collingwood president Eddie McGuire's week has seen him go from - to use the American sporting vernacular - hero to zero.
Having been lauded for his response to a young female Collingwood supporter calling Sydney Swans star Adam Goodes an "ape" over the fence, McGuire then suggested on his breakfast radio show that Goodes could be involved in the promotion of the musical King Kong, sparking outrage from Goodes and many others in the media and sporting worlds.
The debate over whether McGuire is racist or not can never be satisfactorily answered, as there is evidence to support both sides. But his King Kong comments do throw into clear relief the existence of a culture within the particular subset of society that is the football media where casual racism is acceptable, even funny.
In turn, given Australian Rules football is the most popular sport in the land, and McGuire one of the best known personalities, what does this tell us about wider Australian society's approach to "jokes" involving race?
In February 2005, Cameroonian soccer player Samuel Eto'o was playing for Barcelona against Real Zaragoza in Spain. When he went near the ball the Zaragoza crowd called him a monkey. Eto'o protested and refused to play. After some persuading from his teammates he continued. But his stance affirmed that monkey taunts and racism had no place in sport.
Eto'o was not the first sportsman to put up with racial abuse. Many black African footballers based in Europe have suffered similar abuse on the pitch and from the terraces. Eto'o now plays in Russia and is one of the world's highest paid footballers. Yet he is still subjected to monkey chants and banana throwing from Russian crowds.
Australia has not been immune from this. In 2007, Indian cricket crowds called the West Indian born Australian cricketer, Andrew Symonds, "a monkey". During the 2007-8 Indian tour of Australia, the Indian player, Harbhajan Singh, allegedly repeated the abuse. Amidst protests from the Australian players and threats that the Indians would abandon the tour, the matter was resolved. Harbhajan, we were told, had called Symonds a "motherfucker" – albeit in Punjabi – and not a monkey. Sexist abuse of the vilest kind, but not racism, was permissible.The tour went ahead.
Given this recent history, any sporting administrator, player or media commentator who doesn't know that the words "monkey" or "ape" are offensive to black sportspeople is either ignorant or a fool. That such people still exist is unfortunate. That they run major football clubs and influence public opinion is staggering.
On appearances, McGuire, is no fool. He's the smart kid from struggle-street Broadmeadows who became one of Melbourne's most identifiable celebrities. He has supported admirable causes and championed Indigenous rights. But McGuire is a contradictory character. In many ways he is a throwback to the old racist, sexist culture that has blighted Australian sport.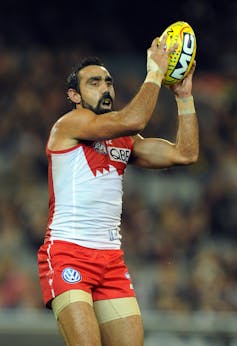 McGuire's contradictions have surfaced in "Apegate". Having made the comments McGuire promptly went into damage control. To offset critical tweets from his own Collingwood player, Brazilian-born Harry O'Brien, the pair appeared together on Fox Sports' AFL360. While O'Brien expressed his disappointment at McGuire's comment, Eddie declared he had experienced a "brain fade". Goodes, meanwhile, maintained a dignified silence.
How should we regard this latest gaffe by a prominent footballing identity?
McGuire is no lout or under-educated sporting larrikin. He is a community leader and a major player in the insular Melbourne-centric world of media, business and sport. He shapes opinion not just on football but also on associated social and cultural values. He is that much vaunted of sporting public figures, a role model.
Variously McGuire has described himself as a journalist. But what took McGuire from newsroom junior to media and sporting boardrooms was the high profile The Footy Show, which he fronted from its beginnings in 1994 until 2006.
During this time, it set the benchmark for sexist and racist banter. In 1999 McGuire's sidekick, John "Sam" Newman, blackened his face to impersonate Indigenous footballer Nicky Winmar. McGuire neither intervened nor suggested this skit was a "brain fade". On the contrary, it was a ratings winner for the vast Footy Show demographic who laughed along with Newman.
In 2009, Newman sparked further uproar when he called a Malaysian man "a monkey" on the show. By this time McGuire had decamped, but the sexist and racist culture he had been part of, remained.
The Winmar skit occurred four years after the AFL introduced its racial and religious vilification code. Though much has changed outwardly since, racism and sexism still persist. Indigenous players may not be said to go "walkabout" anymore during games, but as research conducted by sports academics David Hickey and Peter Kelly shows, some clubs remain wary of recruiting them. They are perceived to carry too much risk and cultural baggage.
McGuire will no doubt continue to apologise for his apparent lapse but his remark reflects the subliminal racism that resides in sport and the broader community. It is not the old racism of social exclusion, reflected in the treatment of Aboriginal footballer Doug Nicholls when he played for Carlton in 1927. It is not the virulent racial abuse of crowds and opponents that Syd Jackson, the Krakouers and Robbie Muir experienced in the 1970s and 1980s. The new racism is in the furtive look, the throwaway line and oblique management decisions based on cultural and racial stereotyping.
Australian sport has a history of racism. McGuire's remark simply adds to it. With "monkey" and "ape" globally established as the terraces' racial slur of choice, his "King Kong" comment cannot be shrugged off as a "brain fade". Subliminal or not, his comment reflects the inability of this country to shake off its racist past, revealing an inadequate understanding of Indigenous peoples' rights and their struggles.
On Melbourne talkback radio, a caller declared he did not know much about "Indigenous stuff" but he knew Eddie, and asserted that he's no racist. Without even knowing, the caller had touched on the heart of the matter.
The majority of the sporting public know very little about Indigenous Australians and even less about what constitutes a racist remark, but they do know a good bloke.
But the time has well and truly passed when a good nature or blokey banter can excuse such prejudice.