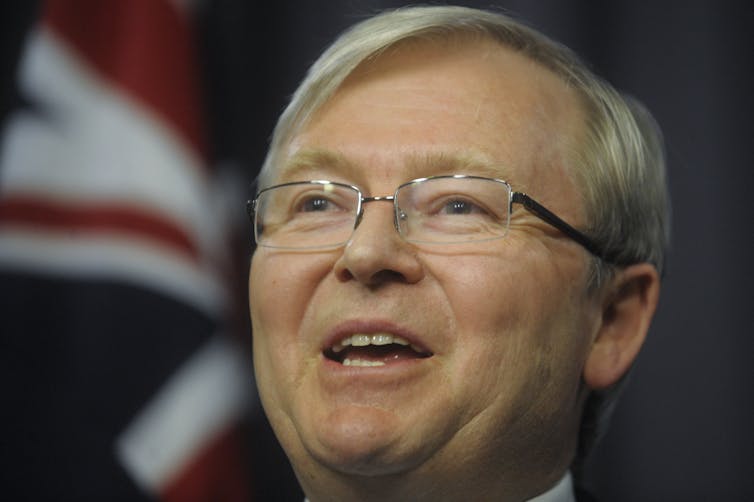 Tony Abbott is streets behind Kevin Rudd as preferred PM – tomorrow's Newspoll has him trailing 22 points - and now findings comparing their personal qualities tell us why.
Essential Research has shown Rudd leading strongly on the positives - intelligent (by 17 points), visionary (17), a capable leader (16), good in a crisis (15), understands the problems facing Australia (12), more honest than most politicians (11), and trustworthy (10).
There is bad news for the opposition leader on the negatives too. He outpolls Rudd on being narrow-minded (by 21 points), out of touch with ordinary people (11), intolerant (9), aggressive (7) and arrogant (5). (See the table for the full breakdown.)
The Newspoll will send shudders through the Coalition. Labor has drawn level on the two party vote – it's 50%-50%.
The ALP's primary vote is at 38%, the level of the 2010 election and up 9 points since Rudd regained the leadership. This compares with a 6 point fall in the Coalition vote to 42 % (under its election vote) in the same period.
Rudd's satisfaction level has risen 7 points to 43% in a week. His rating as better PM is up 4 points to 53%, while Abbott fell 4 points to 31%.
On the primary vote the Essential poll has Labor on 38% but trailing 48-52% in two party terms.
Essential also reinforces that the community sees Rudd's attributes much more positively than Julia Gillard's (hers were measured on June 23, days before her fall). Rudd is 12 points ahead a trustworthy; Gillard was 18 points ahead as "out of touch with ordinary people".
There will be increasing concern in the Liberal camp about how negative people feel towards Abbott. It didn't matter when he was up against Gillard. They both wallowed in bad images, and he had the vote tied up. Now that the vote has tightened dramatically it's more serious.
For example, it has to make it harder for a leader to be believed if he is regarded as less trustworthy than his opponent. And if only a quarter of the voters see him as visionary, it's more difficult to get across plans for the nation.
In one of his rare appearances on the ABC's 7.30 Abbott repeated his call for an election. "My challenge to the Prime Minister is to name the date and let's get on with it."
The Greens and business had the same refrain and, according to Essential, the public don't want too much delay.
It found that 39% favoured September 14, the date Gillard set but Rudd doesn't favour. Another 27% want the election to be earlier, while only 16% favour later (19% don't know).
Election timing remains a live debate within the government.
The Australian Financial Review reported that key ministers and strategists were advising Rudd to delay the election to allow time for the reworking of policies and priorities.
But Rudd is also getting strong advice that he should not wait beyond September 14. That is already a little longer than the three years since the last election – those opposing a late date believe that to wait to October would be to stretch voter patience and risk Labor not being able to keep multiple balls in the air.
It would also mean recalling parliament, a tricky operation in the "hung" situation because all Labor MPs and crossbenchers would need to be rounded up. While some items – such as an early move to an emissions trading scheme, if the government embraces that - could be put to parliament, there would not be much time and votes could be unpredictable. In the Essential poll 39% said Labor should dump the carbon tax.