Whether you see him as an enfant terrible or an indie darling, Xavier Dolan is a prodigious filmmaker. At the age of 25 he has five critically acclaimed feature-length films to his name. I am a keen fan of his work. Both I Killed My Mother (2009) and Heartbeats (2010) hold pride of place on my DVD shelf at home.
I was overjoyed when I heard that the 2014 Melbourne International Film Festival had scheduled two of his recent films this year: Mommy and Tom at the Farm. Mommy was nominated for the Palme d'Or and won the Jury Prize at this year's Cannes Film Festival. The 2013 film Tom at the Farm received mixed reviews when it went on the festival circuit last year and I was keen to see it.
Mommy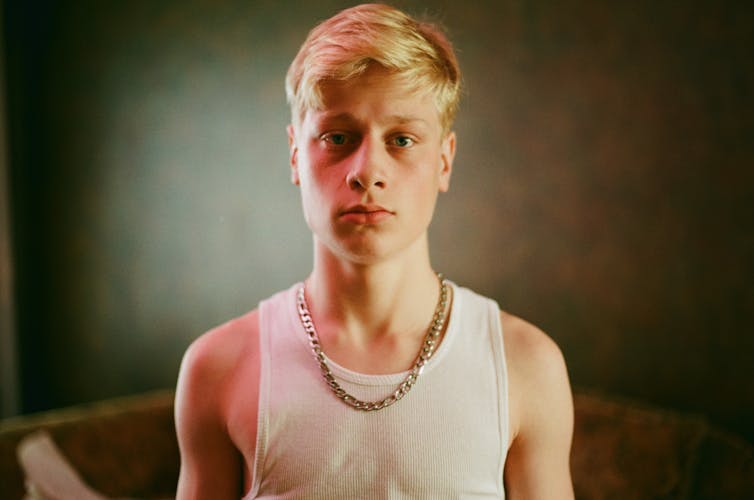 As the title suggests, this film, perhaps Dolan's strongest yet, is anchored by a strong maternal character. Mommy recalls the strained mother-son relationship from his first effort, I Killed My Mother. This is even referred to in the director's note for Mommy:
Back in the days of I Killed My Mother, I felt like I wanted to punish my mom. Only five years have passed since and I believe that, through Mommy, I'm now seeking her revenge. Don't ask.
Anne Dorval plays Diane "Die" Després, a widowed mother burdened with full-time custody of her son, Steve, a troubled 15-year-old with ADHD and prone to violent outbursts. Dorval also played the maternal role of Chantale Lemming in I Killed My Mother. While Die is an effervescent powerhouse, she becomes overwhelmed by the demands of taking care of Steve, culminating in a violent confrontation between the two.
Respite arrives in the form of Kyla (Suzanne Clément), an awkward neighbour from across the road who offers her assistance to the pair. Kyla suffers from a speech impediment, brought on by a breakdown in her previous role as a high school teacher.
Both Dorval and Clément have become muses to Dolan. Dorval also played Désirée in Heartbearts; Clément played schoolteacher Julie Cloutier in I Killed My Mother and Fred in Dolan's almost three-hour-long relationship drama Laurence Anyways.
A strikingly different 1:1 aspect ratio is used for the film: the cinematic frame is a perfect square. For most parts, the ratio is used well, with Dolan being careful about what visual information stays in the frame.
A good example is a culminating scene between Steve and Kyla in the car where the emotional intensity builds to breaking point. Similarly, the scene of Steve widening the frame as he skates to Oasis' "Wonderwall" is a revelatory moment.
Music plays an integral role in Dolan's films. Mommy features music from the Counting Crows, Eiffel 65, Dido, Celine Dion – the dancing in the kitchen scene was just sublime – and Oasis. This pop playlist is driven by a mixtape Die's husband made before he died.
These songs play a key role in Dolan's stylistic revelry. Often narrative progression is shown purely through musical montages, with the Counting Crows' Colour Blind playing as Steve plays with the shopping trolley in the local car park.
Tom at the Farm
Before the release of Mommy, Dolan's Tom at the Farm was his most commercial film to date. The film plays upon the Stockholm Syndrome narrative device, resulting in a queer thriller. Personally, I am always a fan of these attempts to queer existing genres.
The eponymous Tom, played by Dolan, is dealing with the recent death of his boyfriend Guy. Tom heads to his late lover's family farm for the funeral.
After his arrival at a deserted, eerie farmhouse, Guy's mother, Agathe, finds Tom asleep, drooling on the kitchen table. We later meet Guy's unstable older brother, Francis, who warns Tom that the mother has no idea that Tom was her son's boyfriend. Instead, Tom is to keep up the façade of Agathe's relationship with her two sons, completely unaware that one was queer, while the other is prone to violent, angry outbursts.
Tom remains trapped at the farmhouse for the next few days, the victim of Francis's beatings and intimidating demeanour. As Francis slowly develops a connection with Tom, the narrative turns. He reveals that he too is unable to leave the farm. The unspoken sexual chemistry between the two is palpable as they tango in the barn house.
The stand-out stars of this film are Dolan's cinematographer André Turpin and composer Gabriel Yared, who also scored The Talented Mr Ripley, The Lives of Others and Cold Mountain. Turpin carefully captures Tom's feeling of isolation and increasing instability. Yared's score is central to the film's evocation of impending danger.
Once again, we have an enigmatic maternal figure at the centre of the narrative. Lise Roy's Agathe, however, is different from the mothers in Dolan's other films. She is frail and overwhelmed by the loss of her son. It isn't until the film's final act that she begins to piece together the inconsistencies in the many fabrications Francis has told her.
Tom's inner conflict – being attracted to Francis in such a dangerous situation – results in him being quite a difficult character to read. When Sarah, the fake girlfriend Francis has created for his late brother, arrives at the farmhouse at Tom's request, the audience is just as confused as she is when Tom is adamant that he needs to stay.
Xavier Dolan has been accused of narcissistic filmmaking before. This is arguably evident here, with repetitive close-up shots of his face. The Hollywood Reporter's Davis Rooney excoriated Dolan on just this point:
It's also hard to take the film seriously when scene after scene explores the director's face with such swooning intoxication. Shots of Tom are held and held and then held some more — at the wheel of his car, in the cornfields, running in slow motion with his blond locks dancing in the breeze, sitting pensively on a bed in his underwear, or looking out through a screen door as a single tear streaks his face, like Anne Hathaway in Les Miserables.
Both Mommy and Tom at the Farm demonstrate considerable growth in Dolan's filmmaking. He has retained his distinctive style. So is it time for the enfant terrible label to be retired?
I shall leave the final word to Dolan himself in his reply to the Hollywood Reporter's review: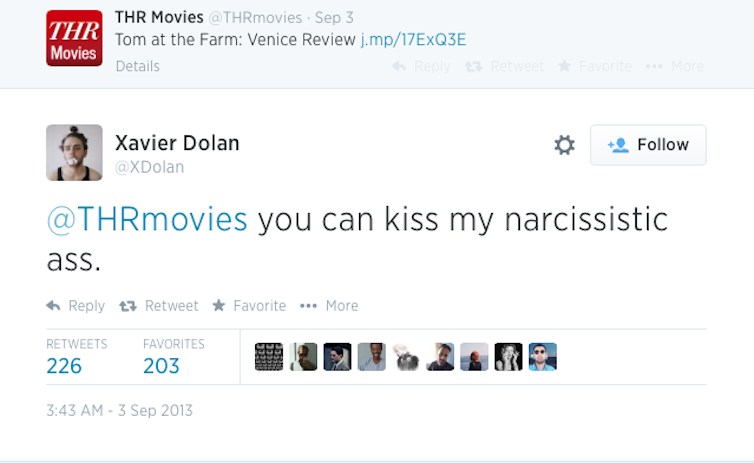 The Melbourne International Film Festival 2014 runs until Sunday August 17. See all MIFF 2014 coverage on The Conversation here.