In a rather symbolic coincidence, the forthcoming European elections will take place one week after the Portuguese exit from the bail-out programme. A blend of austerity, recession and hopelessness defined Portugal over the last three years, while the so-called "Troika" – the representatives of European Commission, European Central Bank and International Monetary Fund – visited the country every three months to assess the state of public finances.
Today, rumour has it that the economy is recovering, but few people had the chance to grasp it. Unemployment still tops 15% and youth unemployment is 35%. In 2012 (the most recent figures available), more than 120,000 people fled the country. What kind of feedback can Europe expect from Lisbon?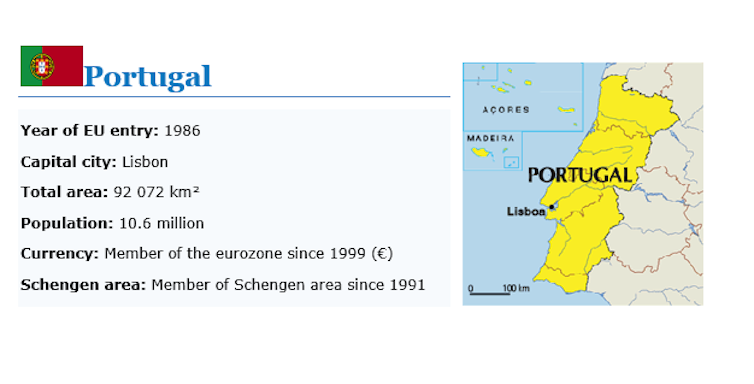 The Portuguese people have traditionally had a very positive attitude towards European institutions, which they have seen as offering a fundamental underpinning to their young democracy. After decades of isolation during the Salazar dictatorship, Europe was seen as a symbol of prosperity and social democracy.
That Europe has now become a symbol of uncertainty, doesn't mean it has become the main focus of criticism.
If confidence in Europe is waning in Portugal, the Portuguese trust their own institutions and politicians even less. When the crisis started, they even thought that foreign intervention would finally force their government to adopt some desperately needed reforms. Three years on they have realised that austerity was a disastrous response to a wrong diagnosis – but they still blame their national government more than Europe.
In this respect, they have a good point, which was served on a silver plate by the ruling right-of-centre coalition of Social Democrats (PSD/PPD) and Christian Democrats (CDS/PP). When the the prime minister, Pedro Passos Coelho, took office in 2011 he said he would not stick to the Troika's recommendations, but rather go beyond and apply more austerity than necessary.
Acting as the diligent pupil proved to be a wrongheaded strategy. The government had to revise its economic forecasts several times, make more public expenditure cuts than originally thought and eventually turn some temporary cuts into permanent ones. Many think this was still not enough and that Portugal will need an additional loan to stabilise its economy.
This is basically the only item on the political agenda. Despite many other issues: agriculture, fisheries, regionalisation funds, everything else is subordinated to the dispute over the necessity of a transitional rescue programme.
Clean exit an illusion
Passos Coelho claims Portugal will achieve a "clean exit", avoiding to ask for an additional loan. He has to say that to preserve fragile confidence in the Portuguese public debt – but his claim seems unrealistic. With a shortage of currency reserves and a all-too-feeble rate of growth, it is unlikely that interest rates will be stable enough to avoid asking for more money.
For the Socialist Party (PS) leadership, facing this topic is a tough task. The incumbent leader, António José Seguro took office when the party was already on the opposition benches, but the PS is the same party that called for external aid, so this is still a very controversial topic for them. They stick to the narrative of the lack of skill of the current government in negotiating fair exit conditions, and keep a low profile on what they would do. As Patrícia Martins Marcos, a research assistant in Public Policy at the Oregon State University, puts it: they "are trying to walk through in between the raindrops."
European elections traditionally favour extremist parties and – given its recent history – one might expect this to be be even more so in Portugal. But there simply isn't the same level of political extremism in Portugal as in many other European countries. Racist or xenophobe political discourses never took root in Portugal, which is often said to be "a country of mild customs".
Proxy mid-terms
These will prove to be a kind of mid-term elections for Portugal. Not surprisingly, the most recent polls see the ruling coalition plunging to 33.95%, a major setback compared to the national elections of 2011 when they polled slightly more than 50%. What is interesting is that the main beneficiaries of this downturn will be the Socialists, who are likely to attract nearly 40% of the vote, rather than by any "extreme" parties, whose growth is set to be minimal.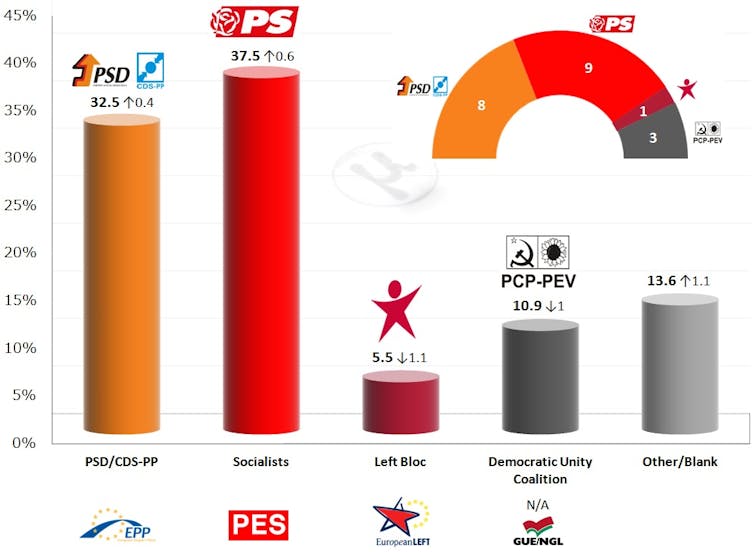 The CDU, a coalition formed by the Communist Party and the Green Party, is polling at 10.5% compared with 7.9% in 2011 while the so-called Leftist Block (BE), a more recent grouping of different leftist parties, is still crawling below 6%. Neither took part in the negotiations with the Troika and both want Portugal to ditch the euro – but, other than that, they don't have a clear political agenda about Europe.
What is happening instead is that the Portuguese civil society, often labelled as passive, is gradually mobilising – but against Lisbon rather than Brussels. It is very critical about Europe and the single currency, but they grasp that the problem is not just a national one – and, in any case, their trust in national politicians is so low that they wouldn't know whom to give repatriated powers back to.