The admission arrangements of Grey Coat Hospital School have recently come under the spotlight over whether it asked prospective parents for donations. This Church of England secondary school in Westminster is attended by the daughter of former education secretary Michael Gove and prime minister David Cameron's daughter has just been offered a place there. It has been alleged that the school is asking for donations in such a way that parents could feel the need to pay to gain a place. If so, the school would be in clear breach of the regulations.
The December 2014 Schools Admissions code states:
It is for admission authorities to formulate their admission arrangements, but they must not: a) request financial contributions (either in the form of voluntary contributions, donations or deposits (even if refundable)) as any part of the admissions process – including for tests.
It is unclear whether Grey Coat Hospital School is in breach for admissions into Year 7 but for entry to its sixth form, it seem clearly to be so. If it is, it could face an investigation. Grey Coat Hospital School declined to comment about the allegations for this article when contacted and failed to respond to a written request at the time of publication.
The magazine Schools Week has been told by some Year 7 parents that they were asked for a voluntary donation of £96 when joining the school. If such a request were to be made after parents have accepted a place and it was made clear that it was voluntary, it would be neither illegal nor unusual. Many other schools do the same. But there is no information as to how the alleged request has been made, or its status.
How offers are made
What we do know is that the offer of a place at the school should have been made on March 2 (national offer day for secondary schools) at the same time as offers to all other parents. The letter would have come from the local authority and the statement of acceptance from the parent should be sent back to the local authority, not the school. Local authorities are sticklers for compliance with regulations and there would have been no mention of a donation in their offer letter.
If eligible applicants have been contacted by the school between application and formal acceptance saying that a donation would be requested should they accept the offer, that could be perceived as part of the process and therefore in breech of the regulation quoted above.
In the case of admission to the sixth form, which is not co-ordinated by the local authority, if the letter shown in the Schools Week report is genuine, then they seem clearly in breech. The letter purports to be a proforma letter from the school asking for confirmation of acceptance and, above the place for the parent's signature, it states: "I enclose a cheque for £120 for School Fund".
Is banding working?
But concentrating on these transgressions, serious as they are, diverts attention from the more important fact that Grey Coat is mostly compliant with the regulations, and uses a system called fair banding to achieve a "balanced intake". Fair banding sorts applicants into bands by ability, and the school commits to take a certain percentage of children from each band.
Yet, even despite this, Grey Coat still has a more advantaged and higher attaining intake. As with other schools, the reason for this is the result of a number of factors working in a complex way. Significantly, it is only applicants to a school that are banded, so if the majority of applicants come from affluent families, or are already doing well at school, the "below average ability" band could well be made up of children who are relatively high-attaining.
Parents put off
It is likely that the applicants to Grey Coat – round the corner from the Houses of Parliament – will indeed be from more advantaged families (like the Goves and Camerons). The religious criteria require demonstration of considerable investment of time in church activity in the Diocese of London and the explicit endorsement of church ministers – both easier for those with more family income and prestigious social networks. The 10% of the intake on the basis of aptitude in languages favours cosmopolitan families.
Added to these possible causes are the effects of financial and cultural signals – the need to buy a uniform, the mention of expensive overseas visits, the voluntary donation, the social status of those who already attend.
There is strong evidence that some poorer parents opt away from high-performing schools like Grey Coat, and there is qualitative and other evidence as to the reasons. For example, some parents and children may not apply for a place because they cannot afford the costs likely to be involved in attending. Other may want to be with people from their own social networks, or may fear being identified as being a part of the minority of poor children among a majority of those better off.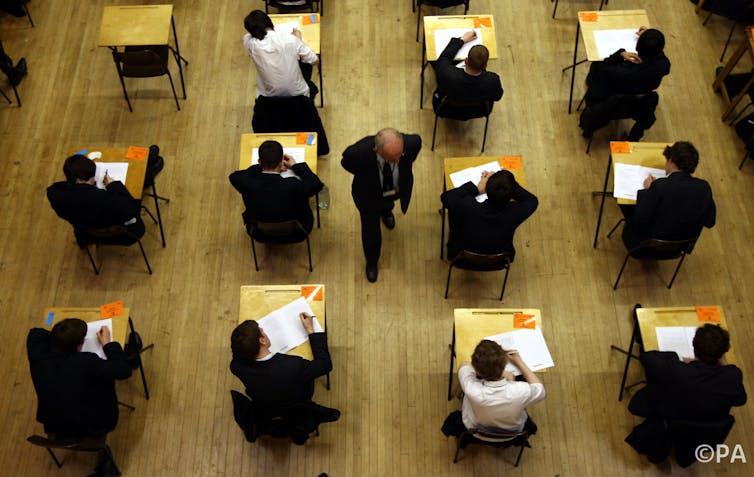 While there is strength in the call for a review of admissions criteria, such a review needs to be part of a radical rethink of the purposes of education in our society. Tinkering with the already strong regulation is not going to improve the social segregation of schools unless the underlying causes are also addressed. For example, the social distances that exist between rich and poor families and the desire to maintain and express that social distance by segregated housing and schooling.
Added to this are the incentives on schools to admit children who are easier to educate. These include Ofsted judgements and league tables that are based largely on test performance with fateful consequences for schools and their headteachers. With this context it is unsurprising that some schools like Grey Coats end up so selective, despite England having one of the most highly regulated admission systems in the world.
This article was corrected to say that Schools Week had spoken to parents about a donation in Year 7, rather than seen a letter asking for it.