China has posted its lowest annual GDP growth since 1990. The slowdown is seen as a major concern for some investors, but against a backdrop of disappointing consumer spending, intensifying deflationary pressures, tepid export growth, and a stock market that looks out of control, 6.9% growth was expected for 2015. It's not the stellar growth of the past decades and is down from 7.3% a year earlier, but it's still decent given local and global economic conditions.
China's economy is going through a major transition – slowly moving from "Made in China" to "Made for China". The economy is no longer driven primarily by huge investment in manufacturing to produce cheap goods destined primarily for export markets. It is now moving from an export-led, low-cost producer economy, towards one driven chiefly by domestic consumption and underpinned by services, innovation and entrepreneurship. China has no option but to rebalance its economy because the old economic model is not sustainable.
Sustaining decent growth during this period of major structural recalibration is not something that is easily sniffed at. The slowdown of the Chinese economy is an expected side effect and was in line with both Beijing's official growth target of "around 7%" and economists' expectations.
Road to reform
The government's 13th five-year plan, which will be made public in March, is going to provide a roadmap for the future of the Chinese economy. Its major objective is to avoid the middle-income trap which most emerging economies appear to be stuck in, and transform the country from a low to a high-income economy by 2020. The focus is going to be on sustainable growth obtained through innovation, use of technology, quality and efficiency.
There have already been signs of this, with growth in the country's emerging services sector offsetting the slowdown in manufacturing and construction – the traditional drivers of growth. Manufacturing slowed down from 7.3% in 2014 to 6% in 2015. In contrast the services sector expanded from 7.8% in 2014 to 8.3% in 2015.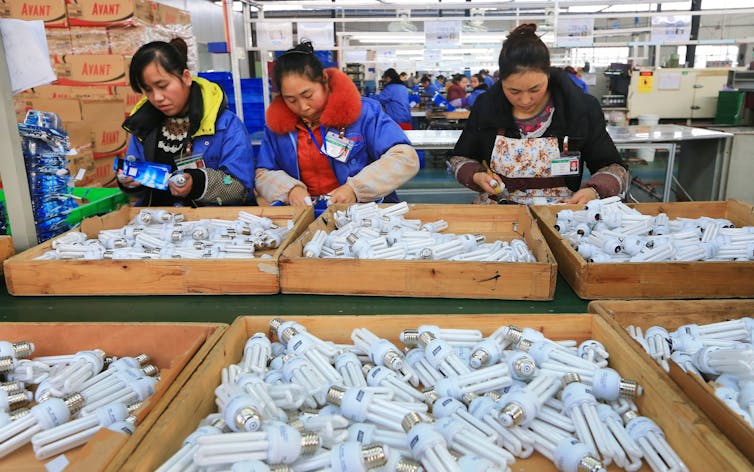 Indeed, the government pulled out all the stops to prop up local consumption and avert a hard landing. Over the last year, the People's Bank of China cut its benchmark lending rate numerous times, lowered the level of reserves that banks are required to hold to spur lending and stimulate growth. It also fast-tracked approvals for new investment projects. As a result, the new engines of China's economy are slowly picking up steam.
Plus, despite the slowdown of the economy, wage growth is rising at around 10%, unemployment is remaining relatively low at around 5%, and more importantly, consumption expenditures are rising, albeit slower than anticipated.
The long game
The government has set a very ambitious 6.5% growth target for the next couple of years. In the context of its structural supply side reforms which focus primarily on lower barriers to production, through among other things tax cuts, this will be very challenging.
But the Chinese government has tools in its arsenal to steer growth. By choosing to drive its economy primarily through supply reforms rather than short-term economic stimulus and old credit driven policies makes sense in the long run.
Supply-side reforms could address some of key the problems the Chinese economy faces – not least overcapacity in manufacturing, and inefficiencies in some of its bloated state-owned companies, as well as bolstering innovation and entrepreneurship. This will create jobs and income in the long term. Their impact might be uncertain and will take a long time to show, but shows the government is playing the long game.