Around 25 new Australian feature films are released into the market each year – so who's watching them, when and how are they watching, and what makes them choose home-grown films over imported blockbusters?
Australian films tend to do well on the festival circuit, with regular selections at prestigious international festivals such as Cannes, Berlin, Toronto and Sundance.
But what about the local audience? Following their cinema release, most films make their way through a series of release "windows" – traditionally starting with DVD, followed by subscription television and finally free-to-air television.
Some films may also get hotel and airline screenings. More recently the video-on-demand (VOD) window has been added for many films (through, for example, local services such as BigPond Movies and Quickflix). Australian audiences have access to local films across these platforms.
Access to Australian films
In 2012, 43 Australian films screened at Australian cinemas, including 27 new releases and 16 films released in previous years that were still screening in 2012.
Those 43 Australian films spent an average of eight weeks in cinemas during the year, and a median of five. At their widest point of release (the highest number of screens a film was available on during its cinema run), they averaged 75 screens across the country, with a median of 17, and at their narrowest they averaged four screens (median one screen).
For example, Kath and Kimderella, Bait 3D, The Sapphires and Mental all went out on more than 250 screens and spent at least eight weeks in cinemas during 2012. Some 23 films reached fewer than 20 screens at their widest point of release, and 19 films ran for less than five weeks.
Also during 2012, 31 Australian films were released for the first time on DVD (such as The Hunter and The Eye of the Storm), while audiences continued to have DVD access to the hundreds of films released in previous years – Screen Australia's data tracking indicates that more than 600 Australian films have become available on DVD to date.
During the same 12 months, at least 154 Australian feature films tallied up more than 2,500 screenings including repeats across 31 selected drama channels in 2012.
Some films (such as Bran Nue Dae and The Tree) had their subscription premiere in 2012, and others (such as Daybreakers, The Proposition and Look Both Ways) had repeat seasons after premiering on subscription TV in previous years.
Twenty four Australian films had their first free-to-air television screenings in 2012, including Tomorrow When the War Began (Ten Network) and Animal Kingdom (Nine Network). And an additional 63 had repeat screenings throughout the year, after premiering in previous years.
In fact, some of the most popular local films continue to screen regularly on TV, for example The Castle (16 screenings over the last 15 years), The Adventures of Priscilla, Queen of the Desert and Muriel's Wedding (16 screenings each over the last 17 years).
And hundreds of Australian films, both new release and back-catalogue, have become available on-demand through BigPond Movies, Quickflix and iTunes.
So how many people are watching Australian films on these various platforms?
Performance
The 43 Australian films screening at cinemas in 2012 earned a total of A$48 million, which equates roughly to 3.6 million admissions (based on the average ticket price in 2012).
There were around 9.5 million viewings of the first-run and repeat films on subscription television (national, consolidated, total people). (This calculation draws on OzTAM NatSTV figures for 2012. It is based on sum of average audience figures for the first release of a particular title and subsequent repeat screening between Jan 1 2012 to 31 Dec 31 2012 across 31 selection drama channels. National market data is copyright to OzTAM.)
There were more than 15 million viewings of the first-run and repeat films on free-to-air TV (5-city metro). (This calculation draws on OzTAM 5 City Metro, total people, consolidated data for 2012. It is based on the sum of average audience figures for the first release of a particular title and subsequent repeat screening between 1 Jan 2012 to 31 Dec 2012. Metropolitan market data is copyright to OzTAM.)
Australian films (new releases and back-catalogue combined) accounted for 4.4% of all film and TV titles sold on DVD in 2012, and 4.8% of their retail value – a strong result considering that, with the popularity of TV box sets, movies in total accounted for only 52% of all DVD sales. Aggregated metrics on VOD viewings are not yet available.
Australian films' share of the box office averaged 4.3% in the 5 years to 2012, and looks set for a similar result for 2013 - around 4%.
In 2001, when a record A$63.4 million was earned by local features (including Moulin Rouge, Lantana, The Man Who Sued God and Crocodile Dundee in LA), this represented 7.8% of the total box office that year.
A 4% to 5% share of domestic box office is a successful result, and to exceed that level would be exceptional. Why?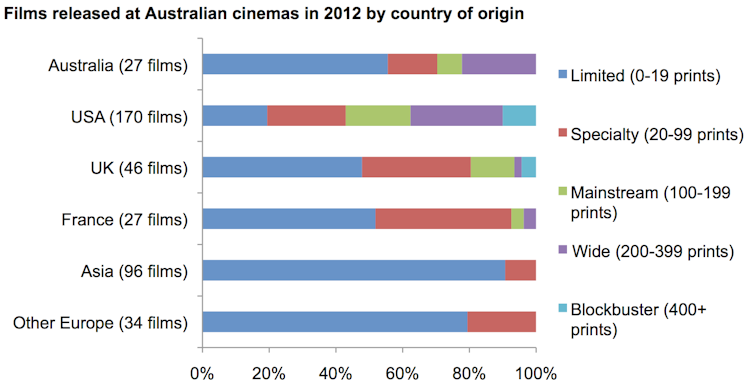 Access plays a role in constraining box office results, with only 43 films available to cinema audiences in 2012 out of a total 584 that screened during the year (or 7.8% of the films on offer).
How many screens?
In addition, the vast majority of Australian films receive a limited (less than 20 screens) or specialty (20 to 100 screens) release – 70% of Australian films were released on less than 100 screens in 2012. By contrast, 57% of US films went out on at least 100 Australian screens in 2012, and 38% on 200 plus screens.
When the scale of release is taken into account (the number of screens each film is available on), Australian films accounted for 4% of total opening week screens in 2012.
With easy access to continuous programming on free-to-air television, and the relatively low cost offered by subscription services and DVD (compared to the cinema experience and its associated costs such as transport and candy bar), access to Australian films in these secondary windows can be broader and more flexible. Screen Australia research undertaken in 2013 confirmed that television and DVD are the dominant platforms for watching local screen stories.
The value of a cinema release
So if the main audience for Australian films is not at the cinema, why bother with a cinema release?
Going to the cinema remains a popular activity for Australians, with 68% attending in 2012 an average of seven times. There's a strong argument that Australians should have the opportunity to see local content across all available distribution platforms, given that nine in 10 people feel it's important to have a local film and television industry that makes Australian stories.
And the theatrical model, which generally involves higher budgets and mixed finance sources, can allow for risky and ambitious stories which can be harder to finance through the television model where multiple factors, such as ratings, advertising and the overall program schedule need to be considered in making financing decisions.
Without the theatrical model, many of these stories would not be available to those who only to watch on DVD or television. Cinema release also helps to establish broad awareness of films, building momentum as they make their way onto other platforms. For online viewing – where choice is virtually unlimited – content awareness is particularly important.
Australians value local screen stories that they can relate to and learn from, and recognise that Australian filmmakers deliver subtle, nuanced stories reflecting contemporary Australian life, which could not be made anywhere else. And the numbers show the impact of feature films continues to endure well beyond initial cinema release.

The Conversation receives funding from Screen Australia. Are you an academic or researcher with views on the Australian film industry? Contact The Conversation.