Australia's eight-month election campaign is apparently underway. It's a prospect that excites only those shady consultants, pollsters and party power-brokers whose livelihoods depend on running focus groups, devising strategies and pulling political strings.
Instead of ignoring the whole show, I have been reading up on insights that biology can provide into an election campaign. Perhaps some political consultants will want to gratuitously overpay me to talk about this stuff at some posh lunch or dinner?
For more than 60 years, psychologists have probed the underpinnings of variation in political opinion and, especially, left-right differences. Ten years ago, a meta-analysis of 88 studies across 12 countries and over 22,000 cases showed that political conservatism is strongly predicted by local instability of conditions, as well as an individual's anxiety about death, inability to tolerate ambiguity and uncertainty, needs for order and structure, fear of threat and loss.
Conservatives are also less open than other people to new experiences and have somewhat lower self esteem, on average.
New developments in personality psychology, evolution and neuroscience have added to what we know about the left-right divide. Last year's interminable American election campaign unleashed a slew of studies and books concerning the ways in which biology shapes politics, campaigning, and election outcomes. A lot of the research documents differences between Republicans and Democrats. Some of the insights are peculiar to the US. Others provide general perspectives on the reflexes and intuitions underpinning conservative or progressive political identities.
Last year, in this column, I touched several times on the biological underpinnings of political opinion:
Fear
Cooperation with members of one's own group, and mistrust of strangers who are not part of one's own group, provides a central tension in all human social living. This tension constitutes the origin of xenophobia as well as its mirror-twin: zealous nationalism or patriotism.
Some new research adds considerably to our understanding of the relationships between fear, feelings toward out-group members and left-right political attitudes, as well as to why not everybody responds to fear in the same way.
Peter K. Hatemi and colleagues report in the American Journal of Political Science that people more disposed to social fears tend also to be less tolerant of immigrants and people of other races, and they identify more often as politically conservative. That's old news. What sets this paper apart is that it comes from a study of nearly 30,000 people in over 8,636 families. And this allowed the authors to explore how genetic relatedness and shared environment shape the associations between fear, out-group attitudes and political conservatism.
Some 62% of the association between fear and conservatism was due to shared genetic origins, and 75% of the association between fear and negative attitudes toward outgroups came from a shared genetic basis. This makes the associations much more powerful than mere correlations: it suggests that the genes that dispose individuals to fear also tend to dispose them toward conservative attitudes, especially a mistrust of out-groups.
How these associations develop with experience, and why these traits share so much of their genetic basis remain to be tested. Just because two traits share considerable genetic variation does not mean political attitudes are fixed by some nightmarish determinist destiny. The associations between fear and attitudes grew weaker, in this study, in more educated individuals.
People's political identities and attitudes are built from a bewildering number of environmental and genetic sources. I predict than in time the interactions between environment and genotype will be exposed as complex and shifting.
One thing I noticed from the first figure in the AJPS paper (see below) is that low fear levels don't reveal much about a person's politics. Low-fear people can be found across the political spectrum. But high-fear people tended to be universally conservative.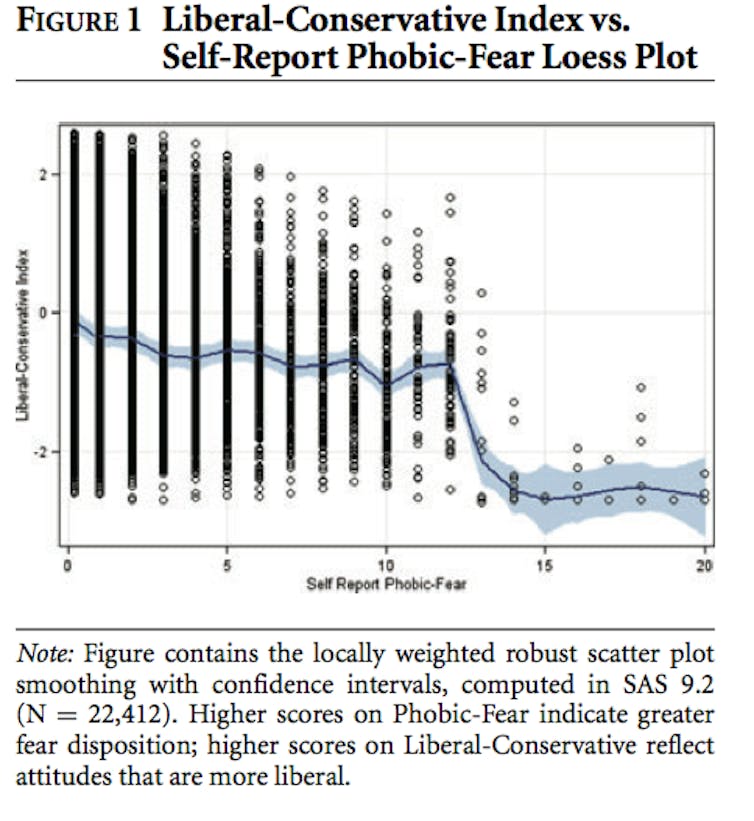 As Rose McDermott, the study's second author put it:
It's not that conservative people are more fearful, it's that fearful people are more conservative.
Stay vigilant
Politicians have always known that they could channel the fears of voters for short-term electoral gain. I recall from my teenage years in South Africa how, whenever P.W. Botha's apartheid government seemed vulnerable, they, and the state broadcaster, would revert - entirely without subtlety - to emphasising "swart gevaar" (Afrikaans for "black danger").
In Australia, as in many other parts of the world, immigration and the issue of refugees stokes out-group fear. And one can be certain that politicians will provide a rich supply of oxygen to those fears over the coming campaign.
Conservative thought has plenty to offer, and there are usually many good reasons to consider conservative ideas. But politicians who cynically prod the fear reflexes of their constituents to tap into their ancient prejudices are sacrificing the public good for their personal gain. And they should be challenged and ridiculed when they do it.
Hopefully, an emerging understanding of exactly how the well-worn links between fear and voter conservatism work can be used to blunt the effectiveness of scaremongering politicians. And perhaps an understanding of how promoting and valuing rational thought can be used to elevate the quality of our politics?
Not for the first time, I think Noel Turnbull's recommendations from an article he published at Crikey.com last year bear quoting in full:
One way to encourage the slower, more rational thoughts, which also encourage our better angels is very much in the hands of politicians. For instance, if it was left to a vote capital punishment would never have been abolished in many Western countries but politicians took the leap on moral grounds helped by extensive public campaigns.

When politicians reverted to pro-capital punishment atavism, such as former Victorian Liberal opposition leader Alan Brown, their leadership came under threat. In contrast one of his successors, Jeff Kennett, was extraordinarily principled on questions such as race and just refused opportunities to add to the fires and the atavistic comments while publicly demonstrating a strong commitment to multiculturalism.