States have traditionally provided funding for public colleges and universities based on a combination of the number of students enrolled and how much money they were allocated previously.
But, in the face of increasingly tight budgets and pressures to demonstrate their effectiveness to legislators, more and more states are tying at least some higher education funding to student outcomes.
As of 2015, 32 states have implemented a funding system that is based in part on students' performance in at least some of their colleges. In such states, a portion of state funding is based on metrics such as the number of completed courses or the number of graduates.
Research shows that performance-based funding (PBF) has not moved the needle on degree completions in any substantial way. Our research focuses on the unintended consequences of such funding policies – whether colleges have responded to funding incentives in ways that could hurt disadvantaged students.
We find evidence that these systems may be reducing access for low-income students at public colleges.
Just a popular political strategy?
What is performance-based funding (PBF)? And does it improve college completion rates?
Performance funding, the idea of tying funding to outcomes instead of enrollment, was first adopted in Tennessee in 1979. It spread across the country in waves in the 1990s and 2000s, with some states dropping and adding programs as state budget conditions and political winds changed. In this decade, several states have implemented systems tying most or all of state funding to outcomes.
By basing funding on outcomes such as course completions and the number of degrees awarded, PBF has become a politically popular strategy to improve student outcomes. It has received strong support from the Bill and Melinda Gates and Lumina Foundations – two big players in the higher education landscape.
However, the best available evidence suggests that PBF systems generally do not move the needle on degree completions in any substantial way.
For example, a study of Washington state's PBF program by Nick Hillman of Wisconsin, David Tandberg of Florida State and Alisa Hicklin Fryar of University of Oklahoma showed no effects on associate degree completion at two-year colleges. The study found positive effects on certificates in technical fields that took less time to complete, but those were the ones that were not as valuable in the labor market.
When Tandberg and Hillman conducted a nationwide study, they found no effect overall of PBF programs on degree completions at two-year and four-year colleges.
However, the small number of PBF programs that had been in effect for at least seven years (giving colleges plenty of time to change their practices in response) did appear to increase the number of bachelor's degrees awarded by a few percentage points.
More selective and lower standards
While there is no significant evidence of impact, there have been many unintended consequences of this policy.
There is a growing body of evidence, for example, that shows that colleges may be trying to change both their student body and their academic standards in order to meet the state's performance goals as well as their own priorities.
A research team at Teachers College who interviewed administrators in three states with "high-stakes" PBF systems (Indiana, Ohio and Tennessee) found that colleges facing PBF were both becoming more selective in accepting students and lowering academic standards among current students in an effort to have more students graduate.
A new study by Mark Umbricht and Frank Fernandez at Penn State and Justin Ortagus at University of Florida used data on incoming students to show that Indiana colleges increased selectivity in response to PBF.
They estimated that Indiana colleges lowered admissions rates by nearly 10 percent and increased ACT scores by nearly a full point compared to similar colleges in other states.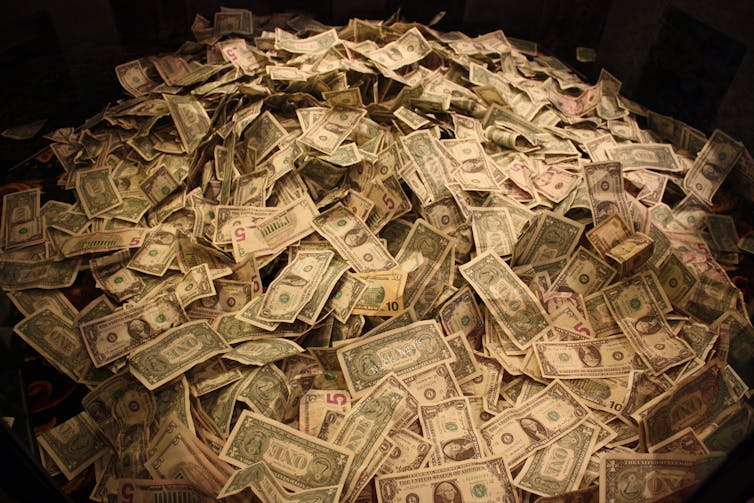 In our research, published recently in the Journal of Education Finance, we examined whether public two-year and four-year colleges nationwide changed how they either received or spent money in response to performance funding systems.
We found that colleges generally did not change spending on instruction or research, but they did see significantly less revenue from federal Pell Grants that are primarily given to students with family incomes below US$60,000 per year, suggesting fewer low-income students enrolled. We estimated a statistically significant decline in Pell revenue of about 2 percent at both two-year and four-year colleges.
We also found that four-year colleges offered more institutional grant aid, potentially in the form of merit-based scholarships to attract higher-income students with a greater likelihood of success.
Implications for policy
Although research suggests that performance funding systems have not been particularly effective in increasing the number of degrees that public colleges grant, the fact is that PBF is being adopted in more states. For example, five more states have adopted PBF since 2014, with additional states debating whether to adopt plans of their own.
We believe, this is unlikely to go away anytime soon.
And many states' existing funding systems are highly inequitable. They favor research universities over less-selective colleges, even though less-selective colleges enroll the lion's share of low-income students.
States should consider placing provisions in both their enrollment-based and performance-based funding systems to encourage colleges to continuing to enroll an economically diverse student body.
Several states, such as Arkansas, Ohio and Florida, provide additional incentives for graduating Pell Grant recipients. But states need to ensure that these additional funds are sufficient to encourage colleges to enroll academically qualified students from low-income families as well.
To do this, states would need to take three concrete steps. First, states should provide incentives for colleges to not raise admissions standards beyond what is needed to succeed in coursework. Second, they could also provide additional funds for graduating students who require a modest amount of remedial coursework (courses to build skills of less-prepared students), before taking college-level classes.
And finally, it is important that state policymakers and college leaders have honest conversations about the goals of PBF systems and what colleges need to improve their performance. This could help reduce the unintended outcomes.