The extent to which the Dominique Strauss Kahn scandal is still a raw wound in France has been made very clear after Abel Ferrara's Welcome to New York was screened in Cannes – out of the main film festival.
Greeted with a mixture of derision and fury by French critics, it is currently receiving more coverage in the media than many of the officially programmed films. For a film that is not being theatrically released in France, having already gone straight to video on demand, the attention and outpouring of vitriol might seem disproportionate.
But that would be to underestimate the power of the film's star, Gérard Depardieu, and the extent to which the political downfall of DSK (as he is generally known) has become an obsession in France.
It is worth reminding ourselves that before May 2011, DSK was one of the most important and influential Frenchmen in both domestic and world politics. A former finance minister, he had been head of the IMF since 2007, and was being openly touted as the anointed Socialist Party candidate for the 2012 presidential elections. His magical aura in French public life was cemented by his 20-year marriage to respected political broadcaster and journalist Anne Sinclair, herself the heiress to one of France's largest fortunes.
Then on May 14 2011, DSK was charged with the sexual assault of chambermaid Nafissatou Diallo in his suite at the Sofitel Hotel in New York. The French press howled with outrage as the arrest and drama of the "perp-walk" were played out in the global media. They also raged against a perceived right-wing conspiracy that, it was suggested, sought to remove the only credible left-wing opponent to Sarkozy's re-election from contention.
The case against him eventually collapsed, but not before the French press was forced to confront its own role in maintaining a smokescreen of "privacy" around DSK's known predatory behaviour towards women. And as the revelations continued – accusations of rape, sexual harassment, "aggravated pimping" came fast and furious on his return to France – the only conspiracy seemed to be this "open secret", shared for so long by the political, elite and media fraternities.
The Ferrara film has exploded like a stink bomb at Cannes. It dramatises DSK (here named Georges Devereaux) as a sex-obsessed guy on a power trip, a grotesque libertine. He is physically repulsive, perpetually on heat and grunts like an animal as he climaxes over and over again on beautiful young women.
It's an unflattering portrait to be sure, and DSK has unsurprisingly announced that he will sue for defamation. Anne Sinclair has condemned the portrayal as anti-semitic. But in general British critics are raving about the film, especially its star performance from Gérard Depardieu, with four and five star reviews in the broadsheet press. Some have suggested he'd merit consideration for a Best Actor award if it were in competition.
But such a film – without French funding and distribution – would probably have stayed under the radar, were it not for the casting (and financial investment) of Depardieu. And it is his presence, more than any other element, that has provoked French critics and commentators. They see him as adding insult to what is clearly already considerable injury. Contempt for the actor is a matter of routine in the French media, where he's been lampooned for his recent decisions to seek fiscal exile in Belgium, and accept an offer of Russian citizenship from Vladimir Putin in January 2013.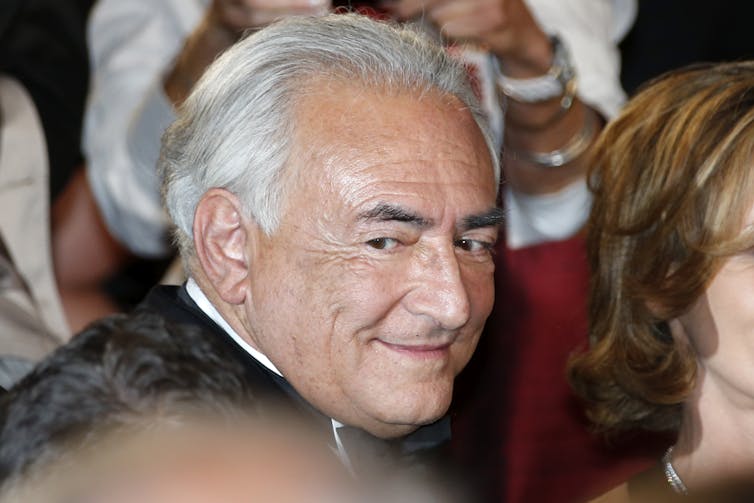 Persona non grata in French public life, a figure of ridicule and universal opprobrium, Depardieu's casting breaches the fictional veneer of Ferrara's film in ways that no other actor could. No one could be more suited to play the nation's premier "disgraced" Frenchmen than the other principle one.
And so, thanks to a volatile mix of the real and the imagined – a heady cocktail of sex, politics and bad behaviour in both cases – the story becomes less about the narrative content of the film than the high-profile collision of France's two most notorious "bad boys".
But it is not simply that DSK is played by "Gégé", the once beloved, now sorry fool of the French media. It is that DSK is played by Depardieu now, at a stage in his life and career when the star's failure to cultivate his star image, and play along with the script of ageing gracefully has never been more defiant. And so it is Depardieu's bloated body and fearless exposure of his own physical decline that compels – and repels – in this role. His unapologetic presence amplifies all the sordidness and profound embarrassment of the DSK affair in French minds. There is certainly a physical likeness between the two bulky men; but ultimately the politician is irretrievably diminished by Depardieu's performative embodiment of him as a vision of pure disgust.
It would seem that the portrayal rankles so much in France because it condemns DSK where the courts did not. It exposes more fully than the corps de presse ever did the figure of entitled excess and venal corruption in which the French Left so nearly placed their confidence.