In a famous speech on August 11 1947, Pakistan's founder and first governor general, Muhammad Ali Jinnah, stressed that the new country was being built on the idea of religious tolerance:
You are free; you are free to go to your temples, you are free to go to your mosques or to any other place or worship in this State of Pakistan.
But 70 years later, a trend of forced conversions in the country is making a mockery of the constitution of Pakistan, which offers equal rights to all religious minorities.
In early June, a 16-year-old Hindu girl called Ravita Meghwar was allegedly abducted by men in the southern Pakistani region of Sindh. Within hours, Ravita had apparently embraced Islam. She was given new name – Gulnaz – and married off to a Muslim man.
The next day she told journalists that she had accepted Islam and married the man without any pressure. But Meghwar's parents reported the suspects, claimed she was a minor, and demanded the safe recovery of their daughter. Countering the claims, Meghwar's husband submitted an application to the Sindh High Court to seek protection from her family and relatives. The case was settled on June 23 when the Sindh High Court allowed Meghwar to go with her husband. The judge apparently ignored the 2013 Sindh Child Marriage Restraint Act which prohibits marriages under the age of 18.
In a similar case in early 2012, a young Hindu girl called Rinkle Kumari was victim of a forced conversion to Islam. The case went to court but ended with Kumari going to live with her husband.
A growing problem
Forced conversions to Islam have become a new form of violent extremism in Pakistan. A forced conversion is defined as being when any person uses pressure, force, duress or threat, to make another person adopt another religion. It affects almost all religious minority groups in Pakistan but Hindu teenage girls in the Sindh province are the main victims. There are no verified numbers but according to the NGO, South Asia Partnership Pakistan, at least 1,000 girls, mostly Hindus, are forcibly converted to Islam in Pakistan every year.
Conversion to Islam is a one-way process. Once a person becomes Muslim – forcibly or voluntarily – then going back will be an act of apostasy, which is punishable by death in Islam under penal law. There is no way for a person to go back due to an imminent danger of being killed.
I have done some initial analysis of English-language newspaper reports in Pakistan of forced conversions that occurred between January 2012 – just before the Kumari case – and June 2017. In total, I found reports of 286 separate incidents of women and girls being forcibly converted. The actual number could be much higher as many cases of forced conversion are reported in local Urdu or Sindhi newspapers. As one journalist working on the issue in Pakistan told me, many cases in which influential locals and religious leaders are involved go unreported because of pressure put on the media not to report the stories.
Even if families report the kidnappings to the police, the kidnappers usually file a counter report on behalf of the girl claiming she has come of her own will, has accepted Islam and is happily married. When they do take on the cases, the courts often find in favour of the Muslim men. For example, in one case in 2016 involving a 16-year-old called Shabana, the Sindh High Court declared her marriage valid and she converted to Islam.
Unabated power of madrassas
One of the reasons for the increase in forced conversions is an increase in Islamic religiosity in Pakistan. This has been influenced by the rapid expansion of madrassas – Islamic seminaries – and the unabated power of religious parties and groups across Pakistan in recent years. A survey in 2015 noted there were 28,982 registered madrassas in Pakistan and countless unregistered ones, serving more than 3m pupils. This number stood at 2,861 in 1988 and 246 in 1947.
In Pakistan, madrassas have played a key role in forced conversion and in Sindh some madrassas have become infamous for facilitating such conversions. For example, Bharchundi Sharif shrine and madrassa and Pir Ayub Jan's madrassa are notorious for promoting and facilitating conversions to Islam.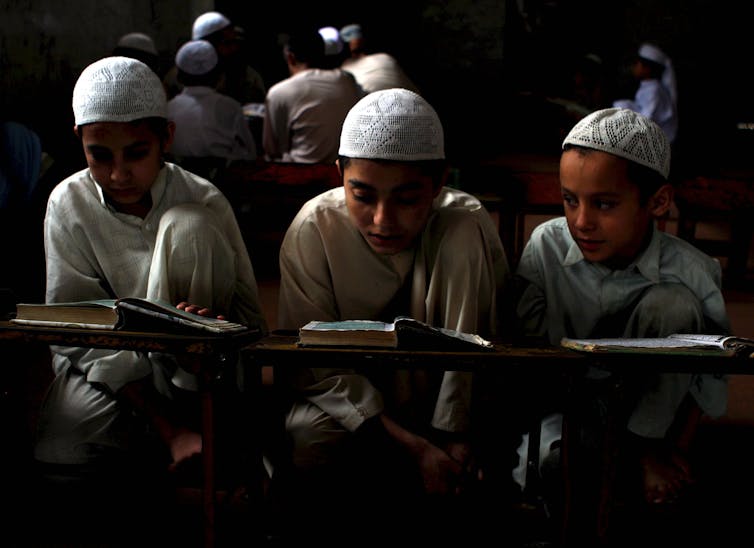 Curbing forced conversions
So far those Pakistani politicians who have attempted to combat forced conversions have been unsuccessful. In November 2016, the Sindh provincial government passed a bill against forced religious conversion. The bill recommends a five-year punishment for perpetrators, three years for facilitators of forceful religious conversions, and also it makes it a punishable offence to forcibly convert a minor.
But after an outcry by some hardline Muslim religious groups who declared the bill un-Islamic and demanded its withdrawal, the provincial government immediately agreed to review the bill. It has never been ratified.
Forced conversion is, however, covered by provisions in other laws. These include the 2013 act against child marriage in Sindh, and sections of the Pakistan penal code against forced marriage, kidnapping, abducting or inducing into marriage. Yet, implementation of these laws remains limited, largely because of fear a backlash from religious groups.
This means the government of Pakistan must act decisively to ratify and implement the 2016 law against forced conversions.