Freelancer, the online freelance and labour market site has issued its prospectus ahead of a listing on the Australian Stock Exchange (ASX). Although perhaps not a household name, Freelancer is a rapidly growing global tech company more typical of Silicon Valley than Sydney. The decision of the directors, and in particular the CEO Matt Barrie, to list on the ASX rather than sell out or even list on a tech-friendly exchange like the US's NASDAQ is down to their belief that Australia needs to spur investment in the local tech industry.
The move to list on the ASX comes after Barrie recently turned down an offer from Japanese recruitment company Recruit Co to buy Freelancer for US $400 million. At the time of the offer Barrie maintained his interest was in fostering the Australian tech industry and "putting his money where his mouth was". Of course, if Freelancer continues to do as well as it has done, Barrie and other other directors, who controversially will retain 87% of the shares of the company after the float, stand to personally make a very large amount of money.
The CEO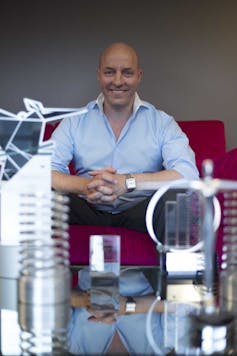 CEO Matt Barrie is probably a poster child as a tech entrepreneur. Graduating as a computer scientist and electrical engineer from the University of Sydney, he went on to get a Masters and an MBA at tech hothouse Stanford University. He has been a long time Adjunct Associate Professor at the University of Sydney teaching Cryptography, moving more recently to Technology Entrepreneurship.
His first experience of running a tech company, Sensory Networks that manufactured networking chips, didn't end well with Barrie falling out with the investors and quitting in 2006. Perhaps because of this experience, he will retain tight control over Freelancer post-IPO.
The Company
Freelancer's market is global. The premise is simple, people looking for work are matched with people and companies who have work to do, and Freelancer takes a cut. Freelancer tries to validate identities of the partners and runs a reputation system to ensure the work is done and people get paid.
The numbers are impressive. The site has processed 9 million professionals with 5 million jobs worth $1.2 billion dollars. From all of that, Freelancer expects to make $18 million net profit from about $81 million of gross payments. Although not staggering by US tech company standards, Freelancer's revenues will grow by 73% over 2012 figures with no real reason why growth shouldn't continue to increase at this rate, at least in the short term.
The Business
The move to offshore work and access so-called "cloud labour" has had its proponents and detractors. The IT industry in particular has seen extensive use of outsourcing help centres and software development and support to countries where skilled labour has traditionally been cheap, like India. Companies like Freelancer take this market and make it effectively frictionless. Small jobs in particular can be outsourced more effectively with a global labour pool than more traditional direct contact with a local company or professional.
The rise of companies like Freelancer means that work is sometimes going from local workers to people willing to undercut local rates. How dramatic an impact this will eventually have on the overall job market is yet to be seen. For some however, it is the principle of facilitating offshoring that makes what Freelancer is doing in their view less than ideal.
The Sector
The listing of Freelancer on the ASX is hoped to raise $15 m from the sale of 30 million shares. This values the company at around $218 million. A recent successful listing of another tech financial company, OzForex, resulted in its shares jumping 28%. This signalled that increasingly sophisticated investors may have an appetite for a local tech industry and so chase aggressively after the small number of shares being made available from the Freelancer float.
A boost in this sector would be welcome and if the success of Freelancer encourages venture capitalists that this is a worthwhile investment market, then that is also a good thing. Australia desperately needs to see past the mining boom and its best bet at the moment is in technology supported by ubiquitous broadband and an educated and skilled workforce. For this to happen, venture capitalists in Australia need to start taking more risk and surfacing "stranded talent" - people with great ideas and the desire to deliver but with no backing or means to do so.