Airline profitability is cyclical. The industry is extremely vulnerable to many factors outside of its control from terrorism, volcanic eruptions and economic downturns that reduce demand to wildly fluctuating fuel prices, taxes and environmental concerns that raise costs. As a result, the past decade has seen the demise of numerous airlines.
And yet, French airliner La Compagnie, is setting its stall on succeeding as an entirely business-class service, with flights from London to New York at a launch offer price of US$1,000. It is only six years since Maxjet, Silverjet and Eos, three airlines offering similar all-business class models between London and New York, went bust.
So is it eternal optimism and short memory that pushes airlines to reopen routes and revisit business models that have previously failed spectacularly?
A more resilient industry
There are several factors to suggest this is not a rash move. Having been through several testing times in recent decades, the airline industry has become leaner and more resilient. Those who survive one downturn of the cycle hopefully learn a few things that will help them be more resistant to the next. Despite the many setbacks they have faced, air travel has expanded 12-fold in the past 40 years and it is currently in an upswing in the cycle.
Maxjet, Eos and Silverjet were particularly unlucky in that in 2008 they were hit with a double whammy of an economic downturn and fuel costs rocketing to US$180 a barrel. So their failure is not necessarily an indicator of an altogether bad business model.
Demand for budget business
The business market is very lucrative, with passengers often more willing and able to pay higher prices. Nonetheless, a seeming lasting legacy of the recent economic downturn has been reluctance by companies to pay the much higher business class fares. In the recent recession, many business travellers cut down on their expenses by flying less or downgrading.
Having burst that particular bubble, many are loath to make the leap back to paying full business class. And, in the austerity era, there's a new need for companies to avoid "fat cat" accusations. So a budget version of business class, with some of the perks but not all of the price tag, could be viewed as very welcome.
La Compagnie have also chosen a lucrative, if competitive route. There's an established market for transatlantic travel between London and New York, although it is already well serviced with 195 weekly flights by big names like British Airways, American Airlines and Virgin. Since the demise of Silverjet, however, Luton has had no direct services to New York so there is a gap in the market there. And it seems Luton won the La Compagnie contract in the face of stiff competition from Gatwick and Stansted so there were no doubt some discounts involved.
They also have an experienced team behind them. The people behind the start-up are L'Avion founder Frantz Yvelin and former Swissair and JetAirways COO Peter Luethi, who have a combined 60 years of experience between them. They've been offering a similar service between Paris and Newark since July 2014, which has been moderately successful.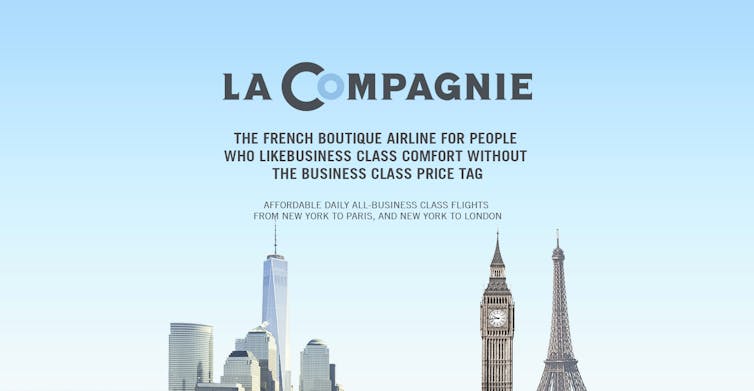 Turning a profit
The really key question is whether La Compagnie will be able to reduce costs enough to cover the value it proposes adding. It styles itself as a "boutique airline", which is a model usually characterised by product quality and personalised care aimed at a specific niche market. To achieve this they have gone down a route of hybridisation. Many airlines have been doing this recently; they pick and mix from the different aspects of full service and low cost business models trying to find a combination that works for them and differentiates them from their competitor.
The long-haul, low-cost approach hasn't always been a successful model because it's difficult to keep costs down – there's a limit to how much discomfort people will put up with on a flight of seven or more hours. In that respect they have retained most of the comforts and perks of business class – Michelin-starred meals, free toiletries, access to lounges and 12-inch tablets for each (almost) fully reclining 62 inch seat. The fares are offered inclusive of a generous 32kg baggage allowance plus two free cabin bags. This also includes free carriage for golf clubs, surf boards and ski equipment. That's a lot of added value.
One area where it does scrimp on the boutique model of exceptional personal service is in only having three cabin crew, which is a lower staff-to-passenger ratio than many competitors have for their premium passengers. But this is perhaps a small sacrifice to make for lower prices. They also have limited or no-refund policies on most of their lower fares.
Unlike other budget airlines La Compagnie does not seem to be supplementing their income from ancillaries. The only one on their website seems to be optional insurance or a chance to get a reduced rate on a limousine. This is the main worry as they seem to be relying on their low cost base continuing to maintain their margin.
Although aviation generates vast amounts of income, airlines themselves continue to be the poor relation in the value chain, earning wafer thin margins. The International Air and Transport Association reported that last year average net profits per passenger were just US$2.56 – it doesn't take much to wipe out such a tiny profit margin.
It's easy enough to make money while the industry is going through a boom or growth period and costs are low. Aviation fuel prices are currently sitting at around US$66 a barrel compared to an average of US$114 in 2014. However the crunch may come when something comes along to increase costs or reduce demand. So, maybe it's just a case of trying to make hay while the sun shines?