UK voters are heading to the polls to vote in an unprecedented number of elections outside a general election year. Chief among these are the devolved elections in Scotland, Wales, Northern Ireland and London. And since the establishment of these regional bodies between 1998 and 2000, gender equality has been a key theme.
The road towards a gender balanced House of Commons has been a long and slow one, but devolved parliaments were an opportunity for a fresh start for female representation in British politics. The first London Assembly in 2000 comprised 48% women, and in 2003 the Welsh Assembly became the first national elected body in the world to achieve gender parity among its members. The Scottish Parliament also saw close to 40% women in Holyrood in 2003.
These early successes proved to be a high water mark, however, and since 2003 the number of women elected to the devolved bodies has either stalled or fallen.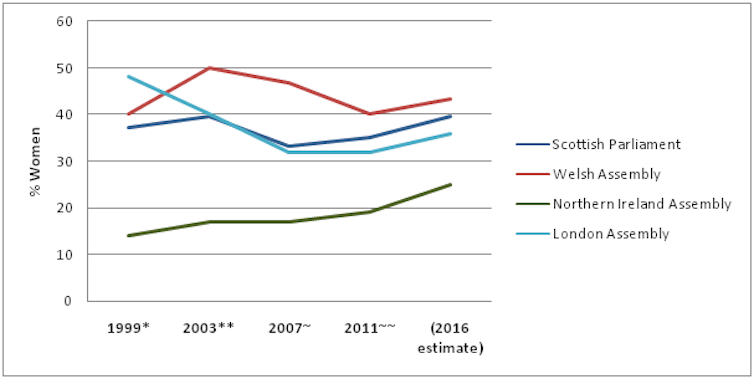 However, in 2016, as revealed by our research for the LSE's Democratic Dashboard, the proportion of female candidates standing for election has risen substantially in all four jurisdictions, ranging from four percentage points in Wales to more than ten percentage points in Scotland and Northern Ireland. In the case of Wales and London, increases largely compensate for past falls, however the proportion of female candidates have reached all time highs in the Scottish Parliament and Northern Ireland Assembly elections.
In Northern Ireland, the number of women running has in fact doubled from 38 to 76 since 2011. This jump is particularly significant, as the proportion of female candidates running for Stormont has been both historically low in comparison to other elected bodies in the UK, and also stagnant, hovering between 17 and 19%. And the Northern Ireland Assembly has been described as "one of the most unequal legislatures in Western Europe".
This year's increase to over 27% marks a significant juncture for female political participation in the province. Research has identified the increasing centralisation of the candidate selection process as a source of progress, as the previous dominance of the grassroots in candidate selection had traditionally disadvantaged women. While Sinn Féin remains the only party to employ formal gender balance mechanisms, more women are running in 2016 in parties across the political spectrum.
Likewise, Scotland has seen significant progress in terms of female candidate selection, with several major parties, most notably Labour and the SNP, employing all women shortlists, along with "zipping" tactics – where men and women are alternated on party lists – to balance the regional lists. Placement in party list is a crucial issue, and Labour and the SNP have achieved balance (or very close to it) in their top three candidates in each region.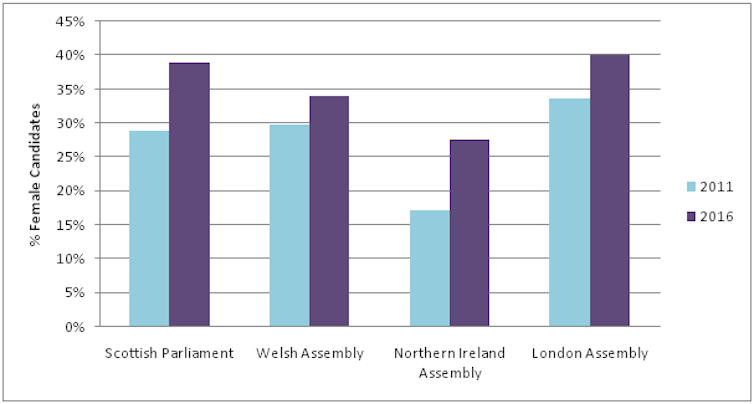 Translating into gains
However, indications are that the increase in female candidates may not translate into equivalent increases in women elected. In London and Wales the number of women elected is likely to be either stagnant, or increase by a very small amount. In Wales, the Electoral Reform Society Cymru recently published an in-depth exploration of the picture for the Welsh Assembly, and found that while all women shortlists and zipping are used – in particular by the Labour Party – women are significantly more likely than men to be defending "marginal" seats. Of the 11 battleground constituencies, ten are being defended by women.
This picture is to an extent repeated elsewhere. There are two main mechanisms where more female candidates may not translate into more seats. One is intra-party competition, where women are selected to contest seats, or are allocated list positions, that are less likely to result in victory.
The second is inter-party variation in the proportion of women selected. There are drastic differences in gender balance between parties, with Labour, the SNP, the Greens and the Lib Dems achieving significant advances towards parity in the jurisdictions where they field candidates, while the Conservatives, UKIP and the DUP lag substantially behind, due to a lack of willingness to adopt the often internally unpopular all women shortlists and other such policies. Much of the increase in female candidates in 2016 is being driven by smaller parties less likely to win seats, in particular the Greens, the Women's Equality party, along with RISE and Solidarity in Scotland.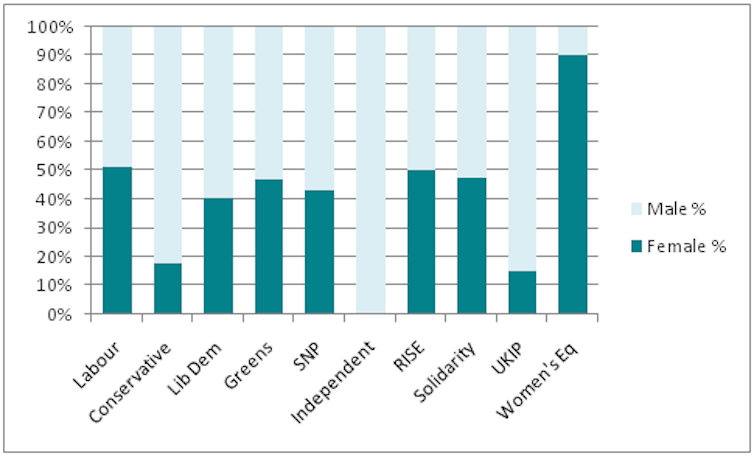 Nonetheless, it is clear that gender balance is back on the agenda in these devolved elections. Northern Ireland stands on the cusp of change for female representation in Stormont, while Scotland could well bear out the prediction that the tide has turned for women in politics there, led by women at the forefront of party leadership in Holyrood. Though the mixed electoral systems across the devolved nations make it very hard to predict, the prospects for women in Wales and London will likely to come down to fine margins. Regardless, this year is likely to see a step forward, even if a modest one, and, as the years since 2003 have shown, this isn't something to take for granted.