While perhaps best-known for his twinkly-eyed portrayal of Willy Wonka in Charlie and The Chocolate Factory, Gene Wilder's most notable contributions to screen comedy were the madcap eccentrics he played in Mel Brooks' films The Producers, Blazing Saddles and Young Frankenstein – and later as a foil to Richard Pryor's antics in a series of buddy comedies, starting with Silver Streak.
In all these films, his characters' initial straightness and apparent sanity give way to manic eccentricity under the influence of the wild figures they collide with. The pleasure in watching Wilder comes from seeing the crazed fool gradually emerge from the confines of his characters' self-repressed neurotic conformism.
Wilder, who has died aged 83, was never a comedian so much as a deluded straight man. Deluded because his screen characters were never as straight as they thought they were, or as they thought they ought to be. In this sense, his characters enjoyed the same kind of playful release from conventional modes of thought and behaviour that we can see operating in classic screwball comedies like Bringing Up Baby and His Girl Friday. Wilder's best performances are where he treads the delicate line between the crazed and the sane, never over-signalling his manic intent but suggesting a rebellious desire for liberation through the twinkle in his eyes.
This kind of restrained comic performance is illustrated especially well in Woody Allen's 1972 sketch film Everything You Always Wanted to Know About Sex … But Were Afraid to Ask, in which Wilder plays a doctor who falls in love with Daisy, the sheep with whom his Armenian patient is romantically obsessed. As professional detachment gives way to bestial amour fou, Wilder plays the besotted Dr Ross with restrained integrity, never over-telegraphing the situation's comic absurdity with smirking self-awareness – which, of course, makes the segment even more hilarious.
Born in Wisconsin to first- and second-generation Jewish immigrants, Gene Wilder (né Jerome Silberman) began his showbusiness career as a performer in the New York theatre, garnering positive reviews for his roles in Broadway productions One Flew Over the Cuckoo's Nest (1963, with Kirk Douglas) and Jerome Robbins' staging of Bertolt Brecht's Mother Courage and Her Children, with Anne Bancroft in the title role. More significantly for Wilder was that his role got him noticed by Bancroft's husband, Mel Brooks.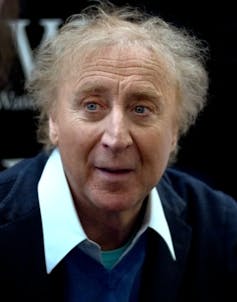 A few years later, Wilder's career would begin flourishing when Brooks cast him alongside vaudevillian dynamo Zero Mostel in his broad and stagey bad-taste comedy, The Producers: a feature-length hyper-Jewish in-joke featuring camp, dancing Nazis that earned Wilder the first of his two Academy Award nominations (the other for co-writing Young Frankenstein with Brooks).
Wilder managed to inject a note of endearing sweetness into the films he made with Brooks, providing some kind of refuge from the outlandish parody and old-style comedy swirling around him. But this sweetness was in itself illusory, as Wilder's own wild side would ultimately find expression through such zany turns as his "Puttin' on the Ritz" dance number with Peter Boyle's Monster in Young Frankenstein, or riffing off Dean Martin's drunken gunslinger from Rio Bravo in Blazing Saddles.
As well as collaborating with even wilder comic dynamo Richard Pryor, Wilder diversified his talents by directing as well as writing and starring in several films, including The Adventure of Sherlock Holmes' Smarter Younger Brother (1975). The latter, which reunited him with Young Frankenstein co-stars Madeline Kahn and Marty Feldman, was in the same vein as the Mel Brooks movies. In a 1975 New York Times interview, however, Wilder took pains to distinguish his style from that of Brooks:
Mel will take a shotgun with 50 pellets in it. Fifteen miss the target and another 15 hit the outside rim. Ten more hit nearer to the centre and 10 are right on the bull's-eye. I take a high-powered rifle, a steady aim and try to hit the centre.
As he admitted to interviewer Richard Eder: "I am not a comedian … More than anything, I am an actor." It was precisely by applying his actorly training to comedy that Wilder was able to shape his distinctive style as a performer, creating the sense that here was a funny man – a man who was funny, despite himself.
Despite trying to distance himself from Brooks, Wilder did try to establish himself as a classic Hollywood comedian – along the lines of, say, Danny Kaye of the 1940-50s era, but with a more modern sensibility – with fish-out-of-water comedies such as The World's Greatest Lover (1977), which cast him as a meek baker with delusions of becoming a great sex symbol, and The Frisco Kid (1979), in which he played a Polish rabbi transplanted to the Wild West. Some of these solo films were successful at the time, but they have not really lasted.
As a family film, however, endlessly replayed on television and growing in stature by comparison with a less than magical Tim Burton remake, Wilder continues to captivate and find new audiences with the intrigue and eccentricity with which he imbues Willy Wonka – with just enough of the Roald Dahl darkness to haunt the imagination.