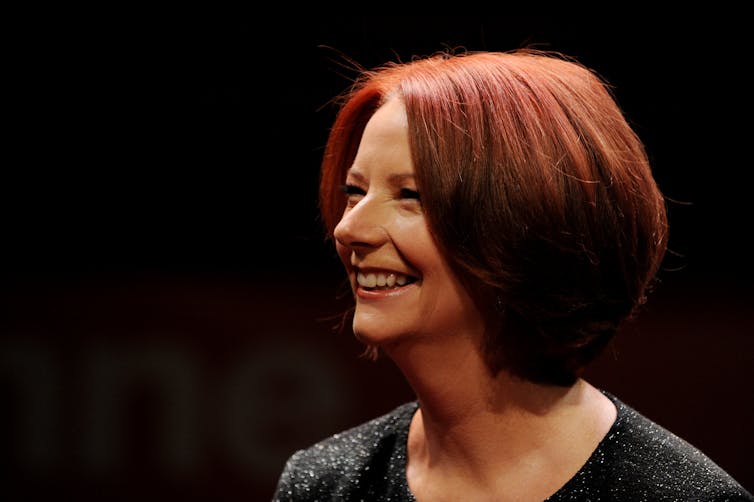 As Bill Shorten and Anthony Albanese had their final face off in the battle to lead Labor out of the Rudd-Gillard era, the former PM received a rapturous response tonight from a 2600-strong audience at Sydney's Opera House.
For her first public appearance since being overthrown by Kevin Rudd, Julia Gillard chose a quickly sold out question and answer session with feminist writer Anne Summers; another will follow in Melbourne tomorrow.
Gillard, just back from the United States, who walked on stage to the song "Respect" used the occasion to announce that she will be a senior fellow at Washington's prestigious Brookings Institution think tank, working on global education. This is in addition to her honorary visiting professorship at Adelaide University.
Asked to answer those who said Rudd had just done to her what she earlier did to him, she said: "To ask your leader to have a leadership ballot – that's legitimate. To do things continuously that undermine the Labor party and the Labor government, then of course that shouldn't be done by anyone… The key difference is every day I was deputy PM I spent all of my time doing everything I could to have the Labor government prosper."
She said that her arrival as the first female PM "let out this well spring of enthusiasm from women and from many men".
"But there was also this underside of sexism, really violent, ugly sexism that came forward… I had thought we were beyond that and it's kind of depressing that we're not… I think for whoever the next women is, there will be a bit of a pause, breathe, whatever else this female PM does, we don't want it to be like that for her again."
Condemning the "infantile conversation about gender wars", she said:
"You just feel like saying, 'well if it was your daughter and she was putting up with sexist abuse at work, what would you advise her to do?' Because apparently if she complains, she is playing the victim, and playing gender wars, and if she doesn't complain, then she really is a victim. … We've got to be able to say… strongly to women and girls, 'You've got a right to an environment that treats you with respect, treats you as an equal and raising your voice about that isn't starting a war, it isn't playing the victim, it's just asking for what simply is right."
Asked about her communications problems, she said that leaders across democracies were trying to work out "what is the rhythm with which you govern, given this media age where things are instantaneous" which meant the truth could get out instantaneously but lies and half truths could also get automatic and widespread currency.
In a lighter touch, she recounted how the first time she met President Barack Obama at an international conference, he had said he really envied Question Time, to which she shot back, "Are you mad", then immediately thought "that was a kind of really dumb thing to say to the leader of the free world on first meeting".
The Q&A Shorten-Albanese debate in Perth, another encounter of mostly mutual agreement, saw them asked whether they would guarantee Rudd would not have a position in the shadow cabinet. Both said that he was not seeking to be on the frontbench. Shorten said he would not be in the business of ruling out a position but pointed out that the frontbench would be elected by caucus, not chosen by the leader.
Shorten said he believed that immigration levels could be raised. Albanese was more cautious, saying he did not have a fixed view – at times immigration should go up, while at times it should go down.
Both agreed Labor should stick with the mining tax. Shorten said Labor had a mandate to stand true on the issue of climate change; Albanese said the then government had not had the numbers to legislate Rudd's promise to bring forward the change from a carbon tax to an emissions trading scheme. Both supported getting discussion going on moving to a republic but stressed that it was important to take time to ensure that sufficient community consensus was built.
In her appearance, Gillard declined to state a preference between Albanese and Shorten, both of whom voted for Rudd in the ballot that ended her leadership. But she strongly praised Tanya Plibersek (a supporter and in the audience) who has been endorsed by Shorten as his preferred deputy.