"Where's the party?"
"Can I join?"
"Is this legitimate?"
These were just a few of the questions I was asked during my eight-hour shift as a volunteer for The Australian Sex Party (ASP) at their booth in Sydney's 2012 Sexpo, the world's largest sex and adult lifestyle exhibition.
What is the ASP?
The Australian Sex Party was officially registered in Australia in 2008 and is recognised as a political party at the federal level. There is only one other registered sex party in the world, The Sex Party of Canada. Currently, at the state level, ASP is registered in Victoria and Queensland and at the local government level in New South Wales.
As a civil liberties political party, ASP emerged in response to the sexual needs of Australia in the 21st century. The party's platform has clear policies on censorship, education, equality, health, workplace relations, religion and ethical issues, drugs, and abortion.
Fiona Patten, ASP President, is confident about the party's political agenda and optimistic about the future of the ASP. At a recent ASP fundraising lunch she said, "We may not be changing the curtains in The Lodge anytime soon, but we will have a seat in the senate." Patten further explained that once they have a presence, they can expand the policy base but still stay true to their fundamental civil liberty objectives. "Adults should have the right to make their own life decisions, and I think the majority of the community agrees with this."
Volunteers at the ASP booth at Sexpo distributed flyers outlining the party's mission, its policies, and ways to get involved. Party leaders and members were on hand to field questions and to discuss ASP's position on membership (ASP allows members to belong to more than one party).
Why Sexpo?
Sexpo, according to ASP's membership and communications manager Rebecca Lanning, is "a fantastic event enabling us to reach a broad range of people who are interested in sex issues."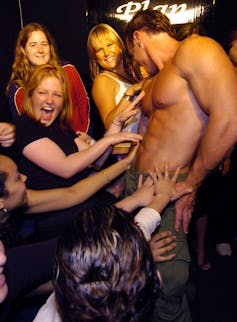 Admittedly, the environment is not for everyone. Scantily clad promotions girls wearing tutus, corsets, and fishnet stockings welcomed visitors over the four days of the event. A lineup of internationally recognised porn stars, such as Belladonna, Alexis Texas, and the Bombshell Babes graced the stages for daily performances, and Chippendale-esque male dancers with oil-slicked bodies walked through the swarms of people enticing them to experience a lap dance.
Sexpo is one of the biggest exhibitions in Australia. According to general manager Rob Godwin, attendee numbers reached over 55,000 this year.
The thousands of Sexpo attendees who stopped by the ASP booth received information on the party and its mission along with a free sample of lubricant (compliments of the ASP and Swiss Navy) and a temporary tattoo: a stick-on ASP "VOTE 1 SEX".
After all, Sexpo is about sex. But amongst all the talk of adult toys, lingerie, celebrity blow-up dolls, and BDSM demonstrations, there was a message to be heard at the ASP booth — and thousands of expo-goers seemed interested in learning more. Lanning commented, "I'm sure most people who attend Sexpo don't think about joining a political party while they are there, but after discovering our policies, many do."
What I learned
Being a US citizen and currently unable to vote in Australia, my eight-hour shift as an ASP volunteer was nonetheless enlightening.
And although my level of "going native with the ASP" was limited, the experience solidified my appreciation for Australia's willingness to consider the needs of a legal and legitimate group: the sex workers and the adult entertainment industry, including the wide variety of civil liberty issues they address, and how they relate to the broader community.