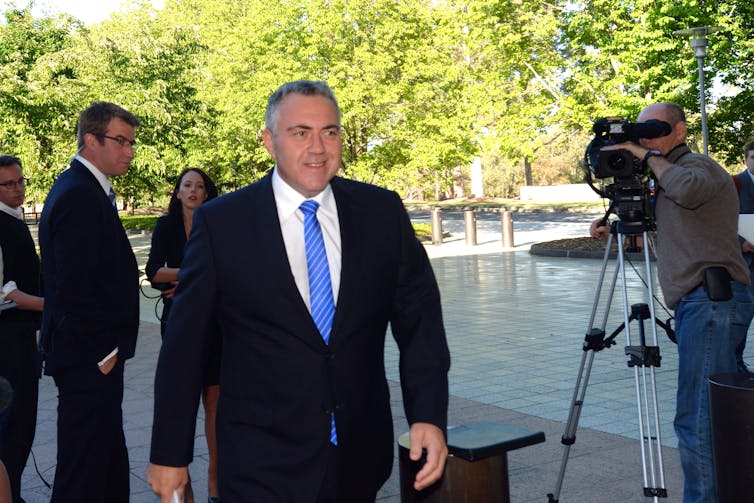 The Abbott government is sailing in heavy waters, in a boat that is less than entirely shipshape. It's fighting with the states over schools funding, with Indonesia over spying, with China over that country's provocative new maritime air defence zone.
Would it want, right now, a full scale crisis within the Coalition? One wouldn't think so.
And that very likely would have been the outcome if Treasurer John Hockey had approved the bid by US company Archer Daniels Midland for Australia's major agri-company GrainCorp.
The Liberals were themselves divided, but the Nats were feral. As late as yesterday Deputy Prime Minister and Nationals leader Warren Truss was dismissing a $200 million sweetener from ADM. Truss made his comments still not knowing Hockey's decision.
Far from doing ADM's cause any good, the sweetener may have had the opposite effect. Indeed, ADM's various changes to its bid were seen as signs of unprofessionalism.
The decision was Hockey's alone. But while he's an economic "dry" the Treasurer is not insensitive to his political environment.
It had seemed earlier that he was headed towards approving the bid with conditions. He explored that option, but decided it wouldn't fly.
Although he has knocked back the takeover as being against the national interest, Hockey has encouraged the company to increase its shareholding (now 19.85%) to just under a quarter, saying that "would also provide a platform for ADM to build stakeholder support for potential greater participation in the Australian industry".
There was not a clear right or wrong position on this bid, highlighted by the fact, revealed by Hockey, that the Foreign Investment Review Board was split. It all depends on priorities and assessments of ADM and how it would see GrainCorp in its wider corporate empire.
The decision does mute Tony Abbott's election night message that Australia is "open for business", especially as the Australian Competition and Consumer Commission had put up no impediment to the takeover. Hockey, asked about being out of line with the ACCC, said the issues he took into consideration were "much broader" than those looked at by the commission.
Centrally, Hockey argued that approval might have lessened community support for investment from overseas. He also pointed out that this was the only one out of more than 130 significant bids that had been knocked back.
Though it muddles the "open for business" message, presumably big investors should be discerning enough to understand that this decision is in a category of its own. Given the sensitivities (at both ends) about Chinese investment in Australia it is at least a good thing that the first big controversial case did not involve Beijing.
Hockey's decision has made for some interesting bedfellows. The Nats are tucked up with the Greens and Clive Palmer in welcoming the outcome. The Liberal "dries" are ensconced with Labor, which once would have been firmly on the side of refusing to sell off the farm (and is opposed to allowing majority foreign ownership in Qantas).
Some Liberal "dries" are shocked, having expected conditional approval, and critical of the success of what they see as squeaky wheel politics.
The Business Council of Australia is concerned too, and calling for more transparency. "It's crucial that, where possible, the government further details the competitive issues that it was concerned about and how this relates to the national interest test so it is clear to global investors what the unique circumstances of this case are. It is important this decision does not increase uncertainty in the global community about the rules of the game on competition and Australia's policy settings on foreign investment generally," the BCA said.
The opposition is casting it as a judgement on Hockey's economic credentials. Shadow treasurer Chris Bowen said the government was discouraging investment just when, with mining investment beginning to decline, "investment in non-mining sectors will take on a more critical role".
Hockey will lose a bit of skin over this, whatever the pros and cons are objectively.
Saul Eslake, chief economist of Bank of America Merrill Lynch, says this was a litmus test of whether the Abbott government was going to be more like the Howard government or the Fraser government. Under Fraser, "the genuine economic liberals were routinely repulsed by the Country party and the PM", who shared the CP's economic views. "That is the big risk in the present government. It's too early to draw firm conclusions but the first signs are not encouraging". But, despite this decision, Eslake would still put Hockey as "one of the good guys".
Sone critics say that Peter Costello would never have made this decision. Maybe. But today's lines had echoes of Costello, when he rejected Shell's bid for Woodside in 2001. Costello explained he hadn't thought imposing conditions would be appropriate; he revealed that the FIRB had been split; and he pointed out how few foreign investment bids had recently been rejected.
The squeaky wheels on Woodside had been the Western Australian Liberals who claimed the rejection as a great victory.
Costello said: "It's one of the hardest decisions that you'll ever come across in public life and the reason it's hard is that there are arguments both ways." To which Hockey would say, hear, hear.