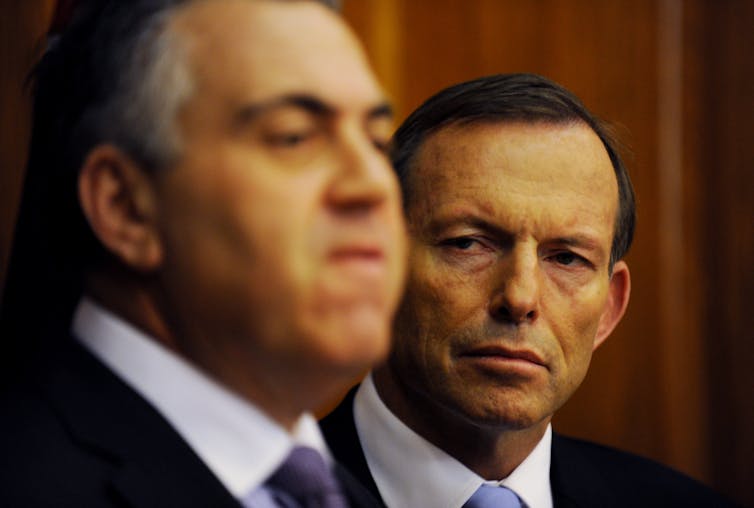 The fracas over Tony Abbott's "signature" paid parental policy has given a glimpse behind the curtain of discipline that the opposition leader usually keeps firmly in place and, much more importantly, a hint of the pressures and problems he could face in government.
NSW Liberal backbencher Alex Hawke did not just say what he thought in a random moment of frankness. He launched a major written critique on Abbott's pet policy, offering it to the Institute of Public Affairs Review. He then followed up with radio and TV interviews. He was on a mission.
The Abbott PPL policy is an "albatross around the neck of the party", he declared; it wasn't a "signature policy of the Coalition"; it had "crept into our policy"; it was ill suited to an economically Liberal agenda; it should be scrapped before the election.
You wouldn't want any money on Hawke's advancement in an Abbott government. It's not that his view isn't shared by quite a lot of Liberals. Indeed, it is. And that's what makes it more difficult for Abbott.
A couple of colleagues, including moderate Mal Washer, also voiced criticism of the PPL plan, but many others, including at senior levels, are holding their tongues, perhaps their breaths. Discipline is so tight that such a deliberate and determined breach is startling.
Especially as the assault is on something that for Abbott has moved beyond policy to political theology. The man who once objected to government-funded parental leave is offering a vastly more generous scheme than the one Labor has implemented.
Abbott insists this is a productivity measure. "This is not just a family policy or a social policy. It's not just something for women. This is something for everyone". he said in reply to Hawke.
But in tough times, with the opposition saying more cuts are needed, to be offering six months leave on full pay, up to a maximum of $75,000 (that is, for women earning up to $150,000 a year) is fiscally extravagant and inequitable to boot. That is certainly the view of the Liberal economic "dries".
Abbott says the scheme is fully funded with a levy on 3000 plus big companies. This means he finds himself now arguing for this new tax on business as well as a higher Medicare levy on individuals, after agreeing to the latter to help fund the national disability insurance scheme.
Shadow treasurer Joe Hockey preached against the age of entitlement but has to defend a mega parental entitlement.
While the promise will stand, the incident shows a party with conflicting attitudes on a core policy. The Coalition party room doesn't take votes, but if there had been a genuine ballot on the PPL scheme, it would might well have gone down.
After he announced the scheme in 2010 without going to the party room or shadow cabinet, Abbott apologised to his colleagues and said: "Sometimes it's better to ask forgiveness than permission."
No doubt the opposition enforcers will reimpose discipline. A looming election that you are on course to win is a very good whip.
But the "absolution" style of decision making hasn't been lost on those who are thinking ahead to an Abbott government and what it should achieve.
John Howard on occasion found himself under pressure from the left of his party, notably over asylum seeker issues. But the precedent that Abbott should be concerned about goes back further, to Malcolm Fraser's time.
There is a substantial and determined group of economic "dries" in the ranks of Abbott's junior frontbenchers and the backbench. They regard Abbott as full of rising damp (and this view will almost certainly be further reinforced when the cautious industrial relations policy is released).
The Society of Modest Members, titled after the nom de plume of the late Bert Kelly, a Liberal MP who fought against tariffs, has been revived.
The Liberal "dries" don't want an Abbott government to be like the Fraser government, which they believe was too soft on economic issues and didn't do enough.
In his IPA article Hawke wrote: "The Fraser government, elected on a mandate to fix it and reduce the size and scope of government, instead oversaw a bigger increase, paving the way for the election of a long-term Labor government that was prepared to tackle an economic reform agenda.
"A future Coalition government would do well to heed the lessons of the Fraser government's failure and ensure that, from day one, rigorous economic policy is at the core of their agenda."
As the Fraser years went on, pressure from the "dries" of those days – Jim Carlton, John Hyde, Peter Shack and increasingly John Howard – built on the prime minister. One gesture to the weight of the dries was that Howard because deputy leader of the Liberal party.
(Interestingly a hero of some Liberal dries today is a Labor man, Peter Walsh. Walsh was a senior minister and a tough economic rationalist.)
After he has so strongly promised the PPL scheme, the dries won't be able to stop Abbott making every effort to implement it, though it could take a while in government. But the dries are determined to try to corral his naturally "damp" instincts where possible.
Hawke might be seen the sniper who has dared, rashly or bravely, to fire the warning shot. Abbott and those around him, who also know their history, should be having a big think about the army behind him.