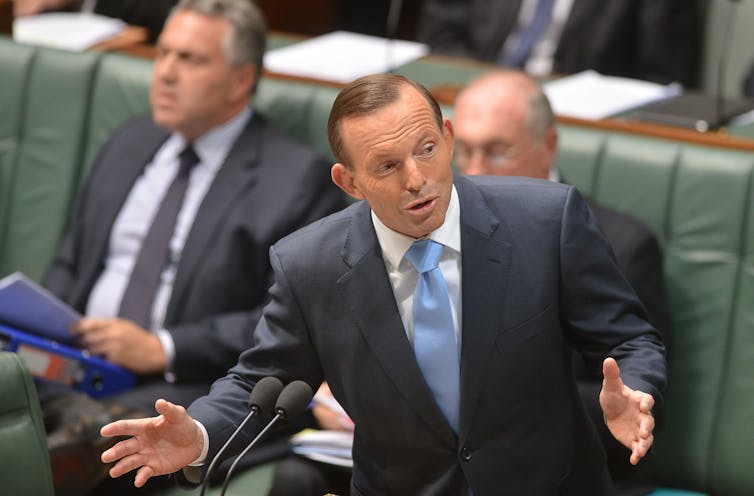 When Malcolm Turnbull got a "dorothy dixer" from his good backbench friend Russell Broadbent on Tuesday the Communications Minister put on one of his classic rumbustious performances.
It was just a sledge on Labor over the NBN but full of colour, humour and zest.
It made you wonder about the poster circulating with a photo of Turnbull, asking "Have you seen this minister? Missing since budget".
And indeed Turnbull has not been in the frontline of a budget marketing mission that could do with some superior salesmanship.
You wouldn't blame Turnbull for deliberately keeping a low profile, given the budget has turned toxic. But that's not the case. He just doesn't seem to have been called to arms.
Admittedly his portfolio is not central in this budget. But one would think that his talents could be mobilised.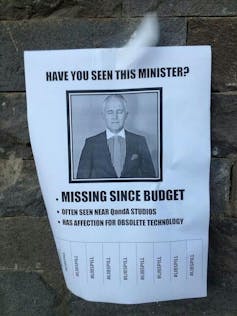 In opposition, Tony Abbott, who displaced Turnbull from the leadership in 2009, always seemed to be looking over his shoulder at him. He ring-fenced him in the communications job, which was a pity. Turnbull should by rights be in a major economic portfolio.
But times have moved on. If Abbott needs to look over his shoulder any time in the future, he'll see Joe Hockey and Scott Morrison standing there.
Hockey and Finance Minister Mathias Cormann have, besides Abbott himself, been the main faces in the budget's selling.
Cormann, a senator from Western Australia, has been more in the frame than is usual for a finance minister.
In the media's budget "lock-up" Hockey and Cormann did a bromance joint news conference, which is (at least in my memory) a first. Once can't imagine Peter Costello or Paul Keating sharing that special appearance on budget day with their finance minister colleagues.
Cormann is seen as an ambitious man on the move. Senate leader Eric Abetz keeps an eye on the rear-vision mirror, knowing his deputy, Attorney-General George Brandis, would like to step up. If that ever happened, Cormann would no doubt make a beeline for deputy.
At the moment, however, Brandis is bogged down in his own world of pain, separate from the budget, as he tries to figure out how the government can get out of its disastrous tangle over its plans to weaken the Racial Discrimination Act.
Brandis was due to appear at the Australian Federation of Islamic Councils dinner in Parliament's Great Hall on Tuesday. On Monday apologies were made.
And Cormann appeared to slip up on Tuesday when he seemed to leave open the possibility of an advertising campaign for the budget, which Abbott later said wasn't going to happen.
It was generally another depressing day at the office for the government. An Essential Poll on leadership qualities was bad for Abbott and good for Bill Shorten. Labor (after sending out the opposite signal) announced it would oppose the budget's two-year freeze on the indexation of family tax benefits, by which the government hoped to save $2.6 billion.
And just to fray already stretched Coalition nerves, Clive Palmer is declining to meet ministers because the government won't give his Palmer United Party more staff.
Hockey told the Coalition parties meeting that the coming weeks would be a "test of character". "I know I won't flinch; I know the team won't flinch, and Tony Abbott certainly won't flinch," he said.
But voters have already given Abbott a damning character test. It's no news he's unpopular but the Essential comparison with Shorten was quite startling.
Abbott is seen as out of touch with ordinary people (67% – Shorten 39%), arrogant (63-36%), narrow-minded (61-35%), intolerant (55-29%), aggressive (52-32%), erratic (51-32%) and superficial (57-42%).
Essential notes that since April the largest shifts in Abbott's ratings have been for out of touch with ordinary people (plus 11), trustworthy (minus 11), good in a crisis (minus 10), hard working (minus 9) and a capable leader (minus 9).
The largest shifts for Shorten since April have been for a capable leader (plus 9), understands the problems facing Australia (plus 9), hard working (plus 6) and more honest than most politicians (plus 6).
The general poor opinion of leaders' integrity is shown by the low scores both have on these attributes: 30% see Abbott as more honest than most politicians, 32% say this of Shorten; 29% regard Abbott as trustworthy, 36% see Shorten this way.
Amid the trench warfare over the budget, the government decided to mount a spirited defence of frequently embattled Speaker Bronwyn Bishop, who is under fire from the opposition for hosting a budget-night fund-raiser in her very elegant suite (the bills went to her, not the taxpayers).
The opposition had claimed this was unprecedented; the government found a precedent from the speakership of Labor's Leo McLeay. (The same "Leaping Leo" who resigned as speaker after controversy over a large payout for falling off a parliament house bike.)
Labor's assertion was wrong but Bishop's use of the suite was inappropriate, more so when there is so much current controversy about fund-raising.