EU migrants will be treated the same for immigration purposes after Brexit as migrants from elsewhere in the world, according to a new UK immigration strategy outlined by the prime minister, Theresa May. But she has admitted that any free trade deal struck between the UK and EU after Brexit could include special provisions on the mobility of people.
Ultimately, migration could be included in a section of any new trade deal between the UK and the EU. This is something the Migration Advisory Committee noted in a wide-ranging report on EU migration to the UK, published in September.
Most trade today takes place under the governance of regional and bilateral free trade agreements between two countries, or groups of countries. Increasingly this covers provisions on services as well as the movement of goods – and it can also include special rules on immigration too.
The World Trade Organisation (WTO) supports different means for the liberalisation of services, based on its General Agreement on Trade in Services. Part of this framework, known as [Mode 4], refers to the movement of people providing services across borders.
Such movement of people to provide services refers to two broad categories: key employees transferred on an intra-company basis, including managers and technical staff; and business visitors or independent foreign professionals in selected sectors. However, the vast majority of "Mode 4" movements remain restricted to short-term visits, and do not allow for gainful employment in the host country. It is also telling that only some 1-2% of all trade in 2005 was accounted for by the "Mode 4" services trade, according to WTO statistics.
The WTO records 288 physical free trade areas (FTAs), 145 of which include specific provisions on free movement of services. Only about 40 of these agreements allow for further preferences with respect to mobility of people as service providers. Overall, this means that the liberalisation of free trade has not liberalised the free movement of people around the world.
In most FTAs that include immigration provisions there are time restrictions on how long a person can stay in the country, as as well as limits to labour market access. These FTAs usually impose additional requirements for citizens who want to take advantage of the mobility provisions. For example, some free trade deals exclude citizens from each country from working in certain sectors.
Visa exemptions
According to UNESCO visa arrangements under FTAs can include full visa exemptions, temporary visa exemptions, visa exemptions for specific activities, or agreements regarding entry rights or visa-free travel.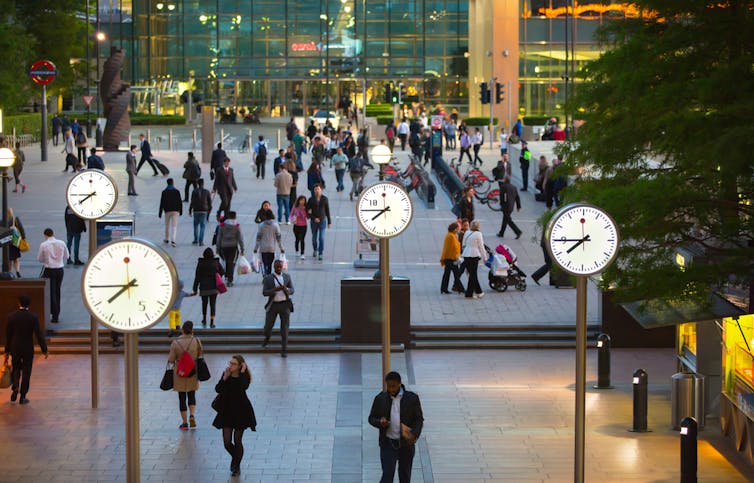 A key example of a regime with full visa exemptions is the European Union's single market, which provides free movement of member states' citizens in its territory. This means that somebody from an EU country, such as Italy, could seek to live anywhere else in the EU, such as Ireland or the Netherlands. They are expected to gain employment within three months of their arrival as a condition of their right to remain, although this has been difficult to monitor in the EU. Other agreements that facilitate visa-free travel, which also include a common identification system with shared passport symbols, are those of Economic Community of West African States and the African Union.
---
Read more: What the EU's rules on free movement allow all its citizens to do
---
An example from South America is the Common Market of the South (known as MERCOSUR) between Argentina, Brazil, Paraguay, Uruguay, and Venezuela. Its "Agreement on Residence for State Party nationals" envisages that all MERCOSUR citizens will be granted an automatic visa and the freedom to live and work in another member state. But in reality, visa exemptions apply just to artists, scientists, sports people, journalists, specialised professions, and technicians for up to 90 days.
Examples where mobility is restricted to certain categories of people are the North American Free Trade Agreement, or NAFTA. This makes temporary arrangements for the mobility of business visitors, traders and investors, intra-company transferees, or professionals, with different rules applying to Canadian and Mexican citizens in the US. This agreement includes the "professional visa", aimed specifically for economic purposes and related to intra-company mobility, professionals and highly skilled people moving on a temporary basis. A new deal struck in late September between the US, Canada and Mexico will not change these provisions.
The bilateral agreement struck in 2017 between the EU and Canada, known as CETA, also has immigration provisions for certain people – and has become a reference point in the Brexit debate.
A Canada-type deal has been proposed in the UK as a model for a liberal regime that governs the types of mobility allowed between country partners. Yet, this is another example where freedom of movement is linked to business services and professionals, built around a platform that promotes the mutual recognition of qualifications. The stated objective of the agreement, set out in chapter ten, is to allow for people mobility which "facilitates trade in services and investment by allowing temporary entry and stay to natural persons for business purposes and by ensuring transparency in the process".
---
Read more: Chequers vs Canada-plus Brexit trade plans – seven key differences explained
---
Overall, FTAs can provide for various levels of access to the labour market, but the emphasis remains on "trade", rather than migration liberalisation. Their purpose remains to liberalise trade, with freedom of movement as a byproduct and free migration almost never an end in itself.