Recent media reporting about the town of Rotherham in northern England has been overwhelmingly negative. As one 16-year-old girl from the town put it:
Rotherham. Let me ask you, what really springs to mind? Now let me tell you. Once an unknown town it is now recognised by millions globally. Now only known for its sinister secrets; for its horrific crimes that tarnished a whole community. Will our town ever be forgotten? It's no longer 'the town next to Sheffield' but the town where children were abused; will we ever feel safe again?
Since the inquiry by Alexis Jay there has been a need to support communities across the town, particularly women and girls to create positive visions for the future. Our own research has focused on the importance of cultural activities in creating safe spaces for women and girls. It is a small part of the wider Imagine project, a five-year programme of research on the theme of imagining better futures and making them happen.
Before the Jay report came out, we had already been working with a group of women in a community library. The women read poetry, such as Jackie Kay's poem In My Country about belonging and identity and feelings. Through this, the women were able to articulate feelings of isolation and overcome these in conversations and begin to write about their own experiences as part of the new project.
A better future
Through writing, women can challenge gender inequality, discrimination and patriotism – it empowers women and gives a "voice to the voiceless". Women need a place where they feel safe to write and not be judged or criticised for expressing their opinions.
The writing sessions were held every week for 18 months, with women from many different backgrounds and nationalities coming to read poems and produce their own writing. Women wrote about their everyday experiences, their pasts and their better imagined futures, giving us the idea that writing itself could be a "safe space".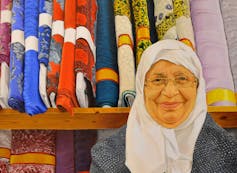 The projects were co-produced with communities and the women made decisions about what they would do. One group of women in a local school decided to set up a project focused on women's empowerment. They decided to write a book on their inherited herbal remedies in order to celebrate the everyday knowledge that goes untapped within communities. Some of these women have gone on to further education and training.
We also set up a girls' poetry group where girls aged 13 to 16 of Pakistani heritage could recover their sense of self through writing poetry. Writing poems in this way can be an opportunity for hope and resilience, where things can be articulated that are not in the mainstream media. Here was one poem written by a 16-year-old girl living in Rotherham:
Living on My Street

My street is a very long street. It is very multi-cultural. On my street live English, Irish, Pakistanis, Scottish, Indian, African, Afghans, Italian, Polish, Slovakians and Spanish. It's good to meet and mix with other people, and learn about each other,

We all get on with each other. We don't argue. We accept everyone. My street is the best street in Rotherham.
Tapping community knowledge
Small-scale projects such as these, led by women themselves, can often be very effective in creating safe spaces. We were so impressed with how much knowledge there is in the communities – but much of it goes untapped and we are in danger of losing a rich part of heritage and culture.
Knowledge can be found in every community and every house in the land – it is just we put different values on that knowledge. For too long, community knowledge has been seen as being further down the ladder than academic knowledge held by scholars but in our project we have been trying to support that knowledge.
Research like this that focuses on cultures, histories and identities can surface untapped voices and ideas and can aid recovery and resilience. It's possible to celebrate hope for the future through poetry, writing and by surfacing existing funds of knowledge in communities. Projects such as Imagine can have a long term impact on empowering women, building their confidence and nurturing them until they are ready to fly.