Britain's modern slavery laws are now almost 18 months old. They send a strong message to people who trade in human beings – you will be pursued, arrested, and brought to justice.
But in practice, there have only been a small number of prosecutions under the laws, even though there are somewhere between 10,000 and 13,000 victims of modern slavery living in the UK. Now the Salvation Army is reporting a five-fold increase in the number of victims it has assisted since 2012.
In July, following concerns that the number of crimes being reported was falling well short of the real number of cases, the government pledged £33m to boost the fight against modern slavery. Its current approach relies heavily on public cooperation to tackle this crime. There have been numerous high profile calls for the British public to open their eyes and ears to spot slavery around them.
If they suspect a case of modern slavery, they are asked to report it in a number of ways – online, by calling the police, or by calling a helpline. Yet, my recent research reveals that the public's understanding of what this crime looks like and whether it actually affects them on a day-to-day basis is dangerously muddled.
In the West Midlands, where the number of potential victim referrals is particularly high, the vast majority of people who completed a 30 question survey for our research did not believe modern slavery affected them. They didn't understand what psychological coercion was and were largely unaware of why victims were trafficked. They often confused trafficking with immigration, thinking that it was the smuggling of illegal immigrants, and that victims allowed themselves to be trafficked to enter the country.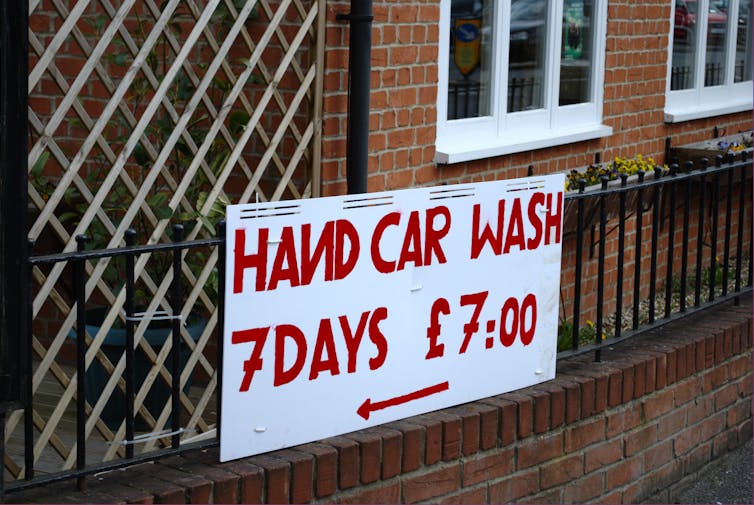 This suggests that the general public is likely to see victims as willing partners in criminality. That makes things worse for the victim and even fuels the potential idea that they somehow deserve their fate.
Psychological abuse, coercion and mental manipulation play a powerful role in recruiting and controlling modern day slaves. Perpetrators typically live and work with their victims, watching and managing their movements, taking them to work and collecting them. Victims do not travel alone, and their identity papers, driving licence and passport are taken away.
They are denied access to healthcare and living conditions are cramped and unclean. Aggressive, credible threats are used to create anxiety, despair and humiliation, thereby ensuring compliant behaviour. The insidious, non-physical nature of this type of control means that modern slavery is easy to conceal. We cannot see it, and so we do not ask questions because we assume a victim will show physical signs of abuse and restraint.
How to spot slavery
In a value-for-money consumer environment, it's unsurprising that many of us don't bother to consider whether the people working in the cheapest nail bar, or the quickest and cheapest hand car wash in our towns are doing so willingly. But the reality is that many of them might not be.
The public are an influential interest group, but only if they are well informed and motivated towards positive action. People must be encouraged to think hard about where and how they spend their money, and look out for the subtle indicators of forced labour.
For example, are you being asked to pay in cash when you get your nails done? Are you not given a receipt? Do you ask for a receipt? Does the person polishing your nails or cleaning and waxing your car speak any English? Do they avoid eye contact and appear nervous of communicating? Does this service cost much, much less than the identical service offered over the road? Do you wonder why the same people are working every day of the week, from early morning until late at night? We must all ask ourselves these questions.
It is entirely possible that someone you have direct contact with, in a nail bar or a car wash for example, may be a victim of modern slavery. The nail bar and hand car wash industries have grown significantly over the past few years, and while many businesses are perfectly legitimate, intelligence has indicated that it is common for some in both industries to exploit victims of trafficking.
The public's poor understanding of how to spot slavery undoubtedly fuels the secret trade in people. Despite their best intentions, the public don't report crimes because they don't know what to look out for. Asking yourself some basic questions when you visit a nail bar or a car wash, is, though, a good place to start.