The World Cup has highlighted Brazil's dissatisfaction with the mega-development involved in building the tournament's infrastructure. But the football stadiums are just the latest in a long line of Brazilian mega-developments, including building venues for the 2016 Rio Olympics, the Belo Monte Dam and the Cuiaba-Santarem Highway – all of which have caused controversy.
The Brazilian government and private investors claim there is a need for these mega-projects. They promise they will develop rural areas, boost employment rates, add much needed infrastructure, foster economic growth and preserve energy security. But they are often controversial because they tend to benefit a small group of elites, and involve stark environmental and social impacts.
The term "mega-project" usually refers to an infrastructure project whose cost exceeds US$1 billion, or that receives a significant level of public and political attention due to high monetary or environmental and social costs. For this reason, such projects must be part of a wider set of policies, which are environmentally viable and meet community expectations.
But scarce public trust and lack of confidence in the benefits of these projects is rife, a fact that decision makers continue to ignore. The ongoing protests against the World Cup is a prime example of this. So too are the controversies around the Belo Monte Dam, a huge hydroelectric dam complex the government is building on the Xingu River in Brazil's north. So, what are the problems with these mega-development projects?
The costs
First, there are grave environmental costs that are often unaccounted for. The Belo Monte Dam, for example, is a mega-project with severe ecological consequences as the development involves flooding of over 1,500 km2 of Amazon rainforest. This kind of severe flooding of the Xingu River basin threatens to damage one of the world's most rich and fragile ecosystems.
There are also a range of social and human rights concerns involved. The building of the Belo Monte Dam is displacing entire communities, for example indigenous people living by the Xingu River. This community of up to 40,000 people was not consulted on the project, as is required under international law. This is a particularly serious breach, considering that the area is legally protected for conservation purposes and the preservation of indigenous livelihoods within the Xingu National Park.
These mega-projects are rarely effective and often don't reach their stated objectives. The Belo Monte Dam, for example, is unlikely to achieve its goal of preserving energy security for the growing Brazilian population. The seasonal flow variation of the Xingu River suggests that during high flow the Belo Monte will produce only 40% of its energy capacity, and barely 10% during the dry months.
Given the extraordinary amount of often public funding involved with mega-projects, there is a lot of public concern over corruption, crime and police extortion. For example, there is now evidence of corruption, involving companies that have built the "white elephant" stadiums for the World Cup. Plus, the methods used to make way for the Belo Monte Dam's construction have been questioned, as they don't seem to have the public interest at heart. No wonder why Brazilians' anger is bubbling over onto the streets.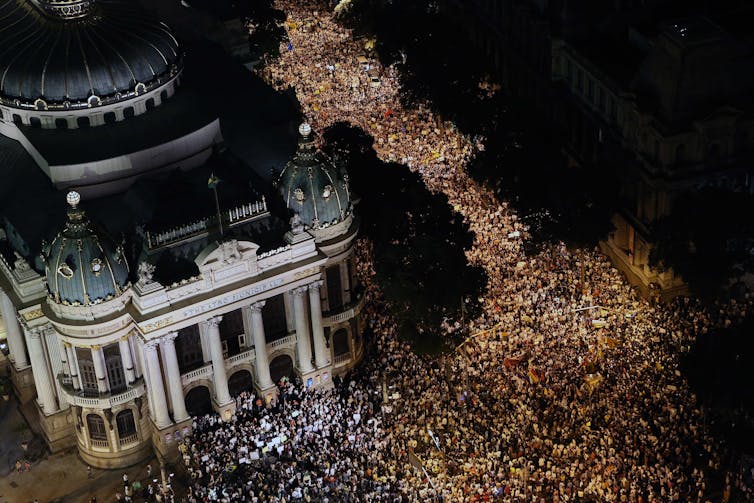 Most of the above problems have been known for some time. But Brazil cannot resist the temptation of constructing more football stadiums, large dams, highways and other infrastructure. And, despite professing to bring benefits to the wider country, there is evidence that the many large scale infrastructure projects begun by former President Lula's Accelerated Growth Programme, mostly enrich small groups of corporate elites.
The benefits
Large infrastructure projects are often very lucrative, as the public purse – in the name of development, growth and progress – pumps large amounts of taxpayers' money into them. The cost for the Belo Monte Dam, for example (estimated to be anything between US$13bn and US$18bn), is largely financed by BNDES, Brazil's large national development bank, which now has loans exceeding those of the World Bank.
Belo Monte is led by Norte Energia, a new corporate consortium, involving the Brazilian federal power utlity Eletrobras and the mining giant Vale. Critics argue that the financing of such large-scale infrastructure projects can be seen as a massive transfer of funds from public to private hands. This has the potential to further increase social and economic inequality in Brazil, which is already among the world's highest.
And then there is the question of what the power generated by the Belo Monte Dam will actually be used for. It is estimated that Eletrobras has already purchased 30% of its projected power for re-sale to mining and other export-driven industries. Brazil's economic boom has been largely driven by energy-intensive production of primary commodities for export, largely to China. Again, these export industries tend to be controlled by a small group of corporate elites.
It is for these reasons that there has been a lot of public opposition in Brazil to current mega-development projects – even the World Cup. People are angry that billions of dollars of public funds have been invested in projects that don't benefit the wider community. It seems to be the corporate elites that are profiting, while funding is lacking for public services such as transport, healthcare, education, culture and employment.
Far greater democratic scrutiny of these ongoing mega-development projects is needed in Brazil. It's vital that their social and environmental costs are kept to a minimum and the benefits shared by the masses – rather than just a handful of corporate elites.