The polls are in and the analysis underway, but the body language used by the seven party leaders in their head-on debate reveals certain things about their worries that they might hope you missed.
By having seven debaters locked in free-flowing, high-speed debate, with only a handful of pauses over two hours, this was a test of endurance. And at times, the candidates let their masks slip. Here's what their expressions revealed.
Cameron fears sticking his neck out
The PM generally held on to his lectern throughout the two-hour debate, making only a few hand gestures. His main movements were facial, with his forceful and angry expression – emphasised by his lowered brow – generally aimed at the camera.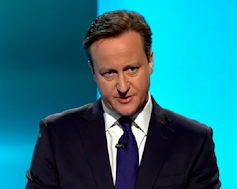 But one move from the PM really stood out. It betrayed worry. When he mentioned his planned £5.3 billion Better Care Fund for integrated health and social care, he retracted his neck into his shoulders, twice. NHS spending is clearly a difficult topic for him and this movement suggested he was afraid he was sticking his neck out, and perhaps of alienating his core vote.
Miliband has a distaste for money talk
There have been two deliberate changes to Ed Miliband's body language between his first and second TV appearances ahead of the election. He now gestures with his hand in a "purse" position rather than a neutral "cat's cradle" position, because a purse is meant to imply more confidence without being aggressive.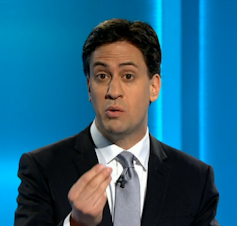 He has been told to look down the barrel of the camera to speak directly to viewers – a tactic Cameron has used successfully since the 2010 debates. But this approach is less successful for Miliband. He is a "brows up" speaker while Cameron keeps his brows down. He ends up looking less serious, even when talking about the most hard hitting topics.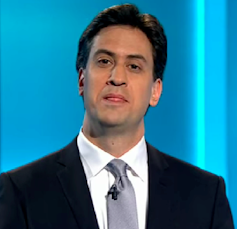 Miliband's body language revealed his discomfort when discussing balancing the budget. When broaching the subject in his opening statement, he stuck his tongue straight out, which is a subconscious rejection gesture.
Clegg or Blair?
Nick Clegg was channelling Tony Blair's body language style in the debate. He used much bigger hand gestures than the other leaders and even moved some of his gestures upward to squeeze them into the camera frame.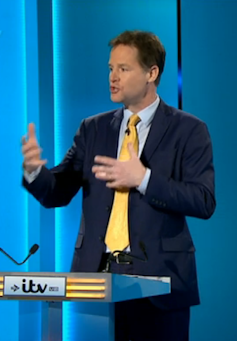 One gesture that Clegg made is a direct quotation from Tony Blair. He could be seen almost hugging an invisible person. But even though his gestures were well-executed, they didn't seem to draw to him any extra support in the polls. Body language and charisma can bolster your message, but they can't repair a damaged reputation.
Nigel the agitator
Nigel Farage went into this broadcast aiming to be provocative. That was clear not only in what he said but how he said it.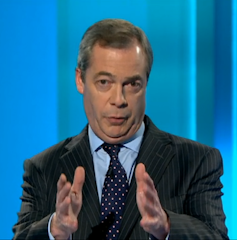 The way he holds his hands shows that he wanted to spark debate and get people thinking about what he was saying. His use of humour is another sign of this goal. His style is much less formal, as are his facial expressions.
Bennett falls flat
Natalie Bennett of the Green party chose an anti-charisma style, perhaps in an effort to transcend the so-called beauty parade to focus on real issues. Unfortunately this tanked. She came across as somewhat dry and intellectual rather than conveying her passion for the issues. She herself appeared austere, even as she advocated an end to austerity from the government.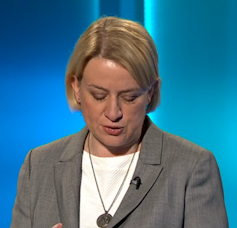 Bennett completely avoided looking at the camera lens and read extensively from her notes. Given how much political capital the Greens had to muster to get into this debate, they may be wondering whether fielding someone with more charisma would have been a better option. After all, the goal is not just to have a voice, but to be listened to.
Surging Sturgeon
Nicola Sturgeon has a somewhat bouncy body language that might, under other circumstances be described as vivacious. But she also revealed her strong will in the way she presented herself in this debate. This is most clear from her crisp tone of voice and swift speaking pace.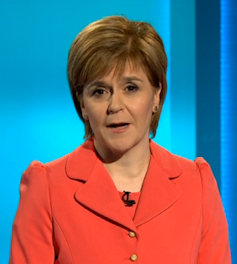 Of the seven, Cameron is the strongest and most forceful speaker, and Nick Clegg comes second. But Sturgeon comes in third place, before Miliband and Farage. Many body language experts claim that a strong and unhesitant voice is a central facet to leadership so this will have helped convey a certain idea about Sturgeon to viewers who haven't seen much of her before. And indeed, she seems to have come away from the battle in a strong position.
Solid Wood
The most emotionally-charged moment of the evening was when Nigel Farage knowingly provoked his opponents by stating that 60% of new HIV cases in the UK are not British nationals. Leanne Wood of Plaid Cymru immediately called Farage shameful, and she received a round of applause for it.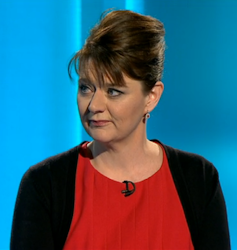 Wood is normally extremely calm. She radiates a stillness and exudes untapped strength. The force of her conviction sprung her into action on this occasion – although her passionate interjection did not change her fortunes in the polls. She was rated in last place.