MATHS AND SCIENCE EDUCATION: We've asked our authors about the state of maths and science education in Australia and its future direction. In this instalment, Chancellor of Monash University Alan Finkel looks at students' own responsibility and the importance of self-motivated learning.
---
I've visited a number of secondary schools in which science is embraced by students and participation rates are very high. These schools have two things in common:
The teaching and learning environment is one in which the students are active learners.

The science teachers have a discipline-specific tertiary degree.
Unfortunately, it is not always so. In too many cases, students do not see the relevance of science to their lives. Young people have a high level of awareness of what's happening around them socially but many of them are blissfully unaware of the role of science and technology in every aspect of their lives.
At the same time, given the stimulation of internet games, television, movies and social media, they have developed a high expectation for active engagement. They are inevitably not attracted to passive study of the enabling sciences.
Equally concerning, in too many secondary schools science teachers are teaching out of field. For example, the recent science, technology, engineering and mathematics Country Comparisons report revealed that in mathematics, 39% of teachers were teaching out of field and an astonishing 23% had no tertiary mathematics at all.
How can we engage students with science?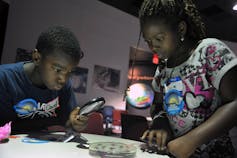 To start, it is important that action is implemented even while the debate continues. The Australian Academy of Technological Sciences and Engineering (ATSE), the national learned academy of which I am president, recognises that an effective science, technology, engineering and mathematics education program needs to be aligned with the Australian Curriculum, and must:
be taught within the school curriculum so that all students, not just volunteers, will develop their science literacy and life-long active learning skills
appeal to boys and girls equally
appeal to students and teachers in rural schools as much as metropolitan schools, in government schools as much as independent schools
aim to be delivered in all secondary schools in Australia so that all students will benefit.
But, even more important, it must engage the students and support the teachers.
For the past five years ATSE has developed and implemented the Science & Technology Education Leveraging Relevance (STELR) project, an eight-week, in-curriculum unit already established in 350 secondary schools in Australia, Singapore and New Zealand.
Initial attraction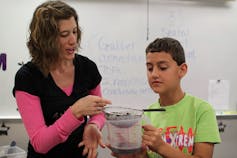 To capture students' attention, the students in the Science & Technology Education Leveraging Relevance program are introduced to a motivational, multidisciplinary topic, such as renewable energies, or terraforming the surface of Mars.
On the back of that contemporary topic, students are introduced to and have the opportunity to learn disciplinary knowledge in physics, chemistry, mathematics, biology and other sciences.
So that the students will be active learners, the program's course work is presented in a problem-based learning format. Students are guided to formulate their own questions, design and implement experiments, follow their own research pathways, and ultimately learn not only about the multidisciplinary topic but also the underpinning science and mathematics.
In this process the students develop the skills of inquiry-based learning and evidence-based thinking. In our experience, students respond well to such challenges.
The program also includes hands-on, inquiry-based activities, which we regard as being critically important for engaging students for long periods of time. Students enjoy the opportunity to reconfigure equipment, test it to the limits and pursue their own inquiries.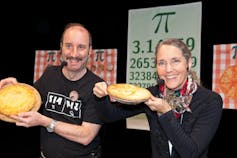 Throughout the in-curriculum program, specially developed career stories and videos are embedded. These provide "market pull" motivation to students by showing them young people working in the multidisciplinary topic area and the study pathways they took to get there.
Supporting teachers
Given the centrality of the role of the teacher in quality science, technology, engineering and mathematics education, the program invests heavily in supporting the teachers and provides professional development learning in the topic content and the inquiry-based learning methodologies.
In addition, teachers are supported through the provision of comprehensive background information in the topic areas, and a full suite of equipment to enable the hands-on student work to be undertaken.
Australian education, in all subject areas, would be much better if secondary school teachers were obliged to have a discipline-specific undergraduate degree followed by a postgraduate education qualification.
But even if this were adopted as a strategic target today it would take decades to substantially change the teacher mix. In the meantime, programs such as Science & Technology Education Leveraging Relevance - supporting teachers and ensuring students are active learners - play an important role.
This is the second part of our series Maths and Science Education.