Driving from Perth to New Norcia to see a new exhibition devoted to the township's founder, Bishop Rosendo Salvado, takes about two hours. It's an enjoyable trip, cutting through the wide expanse of countryside, much of it cultivated, before accelerating up the forested hillsides and then swooping down into another valley of farmed land spreading out from the gently curving roads.
Breaking free from the bush a Spanish township magically materialises; the domed steeple of the Abbey church surrounded by palm trees, a walled monastery, St Gertrude's and the crenellated St Ildephonsus College, the old flour mill and the Neo-Classical façade of the hotel rise up out of nowhere.
It's breathtaking!
In February 1846, two Spanish monks, a French novice, an Irish catechist and an English monk left the 17-year-old settlement of Perth to make the same journey north. After five days they had covered 100 kilometres and reached the home of Captain Scully at Bolgart.
By March 1 they had trekked the last 60 kilometres through rough country where white gums stood witness, their trunks scarred like a Matthias Grünewald crucifixion.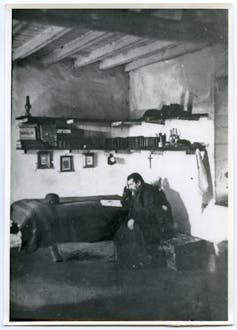 Those wounded trees must have seemed both cautionary and inspiring for the 32-year old Spanish monk, Rosendo Salvado, who led them. Images of resilience through suffering were common in Spanish art and despite the hardship the ultimate goal of establishing a site to build a mission drove him on.
Working in collaboration with the local Yued people of the Noongar nation Salvado and his fellow monks created a community that flourished when so many others failed.
The school for Aboriginal boys was opened in 1847, and the community expanded growing to over 250 at its peak in 1885, including 70 Spanish monks. Their achievements are documented in the current exhibition In Search of Rosendo Salvado in the New Norcia Museum and Art Gallery.
To mark the bicentenary of his birth Salvado's story is told in the exhibition through a series of themes illustrated with photographs and objects. Most important was the relationship he built with the Yued people, documented in a series of wonderful photographs, many taken by Salvado's brother Santos.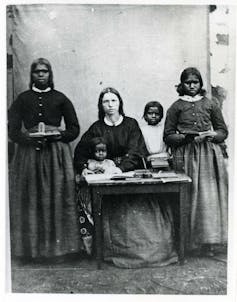 Dressed in bulky Victorian garb the locals must have been extremely uncomfortable, nevertheless, they are showed in active engagement with the work of the mission. Frances Mingal and Eisa Tainan and her sister Helen with Cecilia Yaki stand alongside the schoolmistress Judith Butler, their books open, pens standing ready on the table.
Unlike so many of the missionaries, Salvado respected the Yued's need to carry on traditional practices, and he allowed more freedom than most of his fellow missionaries across Australia. Mary Nannup, Margaret Drayton and Paul Willaway write in the publication that accompanies the exhibition:
We consider that Bishop Salvado was a friend of the Yued people … (he) had a deep interest and respect for Aboriginal people in which he recorded the local Noongar language, culture and customs.
Whatever our perspective looking back from the 21st century, it is clear that Salvado respected the interests of Aboriginal people, even if this was conditioned by his understandings as a man and as a Benedictine monk of the time. To do this it was important to create a self-sufficient community, and his entrepreneurial spirit set the course through a focus on wool production. His flock of sheep grew to over 17,000 over a massive 967,000 acres by the late 1880s and his Aboriginal shearers could shear 80-100 a day, well over the average achieved by European shearers.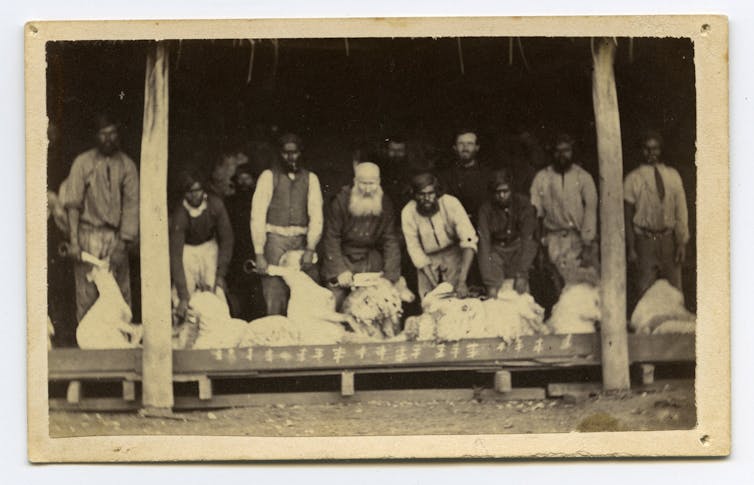 In spite of hardship and often the heartbreak the township of New Norcia continued to flourish and through gifts and purchases it became an important cultural centre within the Colony.
Fine vestments, an 18th century painting of the Our Lady of Guadaloupe Salvado brought back from Rome – and under Salvado's successor Bishop Torres, a veritable flood of books, artworks and religious objects made their way to New Norcia. Because of this rich resource the town has retained its importance as a centre for research and learning, to which the annual New Norcia Study Days attest. The Archives Research and Publications Committeeof the monastery have published 21 editions of New Norcia Studies, and the resources of the community are a treasure trove for researchers and scholars.
On a trip through the now-tamed countryside it's hard not to think of Salvado's many arduous journeys from New Norcia to Perth – as well as his five trips back to Europe to report and raise funds. His extraordinary vision and determination is writ large on the local landscape. As we reflect on Australian history in the spirit of reconciliation, he offers the example of a man of integrity, compassion and understanding.
The exhibition In Search of Rosendo Salvado runs at the New Norcia Museum and Art Gallery until March 1, 2015. Details here.