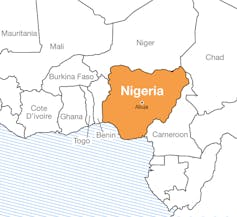 Known as the "Giant of Africa", Nigeria is the continent's most populous state (170 million people) and one of its largest economies. It is home to over 300 ethnic groups and 500 languages.
Nigeria faces a number of social, economic, political and security challenges. Militant religious movements are not new in Nigeria, but the rise in 2009 of the violent Islamist movement Boko Haram has tested the country's reputation.
When President Muhammadu Buhari was elected in 2015, anti-Boko Haram forces were deployed with regional neighbours. Since then, the Nigerian government claims to have "technically" defeated the group by ousting them from their "last" remaining stronghold in Sambisa forest, in the north-eastern state of Borno.
Although this is a positive development, it is likely Boko Haram's remaining members are on the run, dispersed into the unknown territories of the Lake Chad Basin area. The group's location should worry security watchers and government officials. Are members dispersed across Niger or Cameroon? Have they reached al Shabaab territory in the east or that of AQIM (al-Qaeda in the Islamic Maghreb) in the north?
Also, in 2017 a rivalry between Abubakar Shekau, Boko Haram's most popular leader, and Abu Musab al-Barnawi, who is claimed to have been appointed by ISIS to replace Shekau, could complicate insecurity in the Lake Chad region. This should be closely monitored.
As should Boko Haram's actions if they emerge elsewhere. Security watchers and governments in 2017 will have to see if, for instance, the group will continue to use minors in suicide bombings as their new strategy.
The election of Buhari, a northerner and Muslim, has also led to a resurgence of secessionist sentiments in the south, which has been seen to partly represent discontent with the northern president. While militants in the Niger Delta area are an ongoing phenomenon, secessionist campaigns in the area may increase.
They will likely take on a religious and ethnic binary in opposition to the north.