For the first time, US President Barack Obama has condemned "conversion therapy" for LGBT youth. As White House adviser Valerie Jarrett wrote: "As part of our dedication to protecting America's youth, this administration supports efforts to ban the use of conversion therapy for minors."
While the statement did not explicitly call for congressional legislation to ban such therapies nationwide, LGBT activists have received it warmly – and rightly so.
Gay conversion therapies have been medically frowned upon for a long time. Major mental health professional bodies such as the American Psychiatric Association and the American Psychological Association have denounced such therapies as unethical and unsupported by scientific evidence.
Similarly, leading UK professional bodies in mental health, including the British Psychological Society, the UK Council for Psychotherapy and the Royal College of Psychiatrists, have published a consensus statement and signed a memorandum of understanding condemning the use of "conversion" or "reparative" therapies, stating that:
The major therapy professional bodies in the UK have been united in speaking out against conversion therapy. This is because this particular approach is based on the assumption that homosexuality is a mental disorder, or begins from a pre-conceived view that the client should change their sexual orientation – but since homosexuality is not an illness, it is both logically and ethically flawed to offer any kind of treatment.
Ultimately, conversion therapy suggests to vulnerable people that their sexuality is the root cause of their difficulties. This is misleading, prejudiced and dangerous.
Shut it down
Although gay conversion therapies have been banned in some US states, such as California and New Jersey, more conservative states are considering legislation to protect clients' "freedom" to undergo such therapies.
For example, politicians in Oklahoma have put forward the Freedom to Obtain Conversion Therapy Act which would seek to enshrine in law an individual right to obtain conversion therapy to "control or end any unwanted sexual attraction". It would also allow parents to obtain such therapy for children under 18 without interference by the state.
While the bill is new, its premise is not. Conversion therapy advocates rely heavily on the argument that banning conversion therapies violates a right to self-determination. This is a radical oversimplification of professional ethical principles.
The American Psychological Association argues that professionals who offer conversion therapy to clients on the basis that they have requested it are abdicating themselves of their professional responsibilities to offer therapies that offer the most potential benefit and the least potential harm.
People are often distressed about having a non-heterosexual orientation because they believe there is something "wrong" with them. But since homosexuality is no longer classified as a mental disorder, therapists offering to help change the client's sexual orientation are reinforcing erroneous beliefs about the true connection between sexual orientation and mental health.
Internalised anti-gay prejudice may of course strongly motivate clients to seek conversion therapy, and so, as the British Psychological Society's guidelines for working therapeutically with sexual minorities suggest, it would be counter-therapeutic and unethical for the psychologist to add to that internalised prejudice through therapeutic practice.
Those who advocate conversion therapy are typically interested in the right of therapists with prejudiced views to offer therapy based on a particular viewpoint that stigmatises homosexuality. They are not primarily concerned with professional ethical principles or the best interests of clients.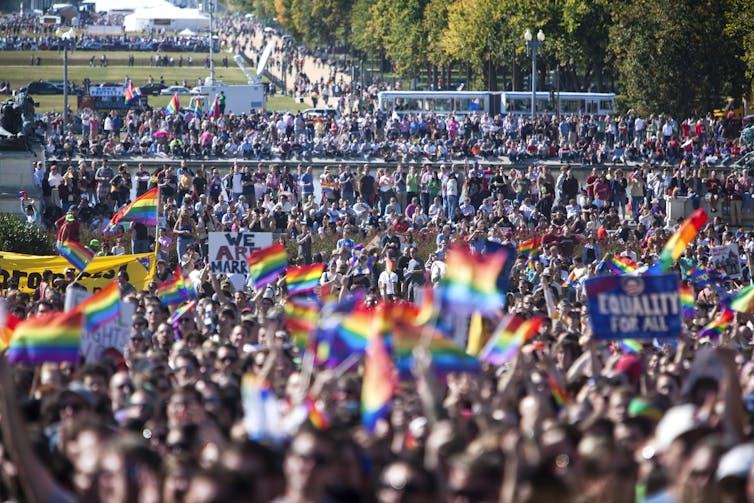 For example, conversion therapists are unlikely to help their clients explore the possibility of coming to terms with a gay or bisexual identity, or the idea that they might actually be able to achieve happiness and satisfying relationships with same-sex partners.
In fact, reparative therapists have even criticised approaches that help religious gay clients explore the possibilities of finding spiritual support within denominations more accepting of homosexuality.
Help where it's needed
No-one, including those who call for conversion therapies to be banned, is suggesting that those who are distressed by their sexual orientation should not be given professional help. The question is what kind of professional help is logical and ethical.
As the consensus statement made by all of the major UK mental health professional bodies states,
If you or someone you know is struggling with confused or conflicting feelings around their sexual attraction (of any orientation) then going to see a therapist may be helpful. While responsible therapists will not offer to convert or change your sexual orientation, they are equipped to assist you in gaining a greater understanding of the way you feel, and to help you work through difficult feelings that may arise in relation to the reactions of family, friends and other members of your community.
If a therapist is unable to explore options such as positive adjustment to a lesbian or gay identity, or gaining spiritual support from denominations that are accepting of homosexuality, then they must acceot they are unable to provide non-judgemental therapeutic care.
The threat of a legal pushback against the medical profession's stance is a serious one. More worrying still, the proposed bills to protect conversion therapies are part of a wider trend in using the notion of "religious freedom" to halt, and in some cases reverse, LGBT rights.
Oklahoma's proposed Freedom to Obtain Conversion Therapy Act was proposed together with a Religious Freedom Act, parallelling Indiana's recent religious freedom bill, a law that in effect allows those in the private and public sector to refuse services to LGBT customers on the basis of their religious faith (though steps are now being taken to close off that possibility).
While people of all faiths should be free to practice their religion, claim to a religious belief should not give you a free pass to discriminate against other groups in society – let alone to practice harmful forms of "therapy" based on prejudice rather than evidence.