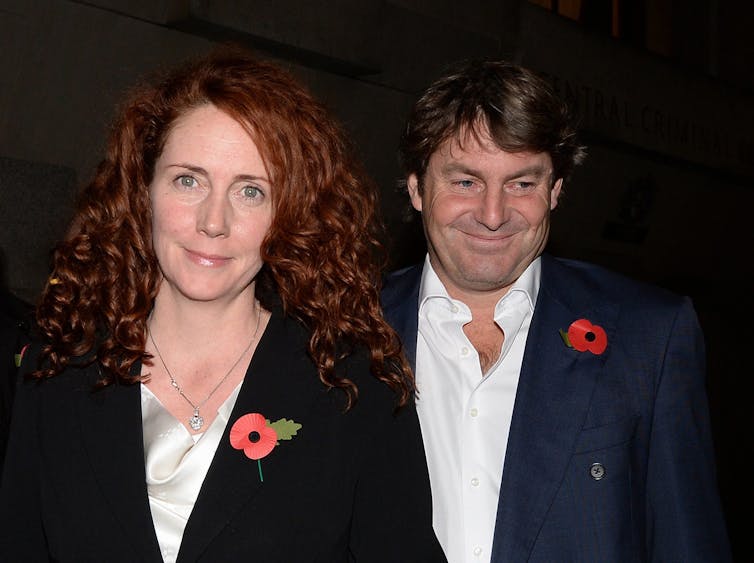 In January 2012, News Corp CEO Rupert Murdoch tweeted in favor of internet censorship of sexually explicit material. 'Nonsense argument about danger to Internet', he scoffed at the anti-censorship lobby. 'How about Google, others blocking porn?'
In February 2013, Murdoch indicated, again on Twitter, that he was considering an end to the infamous Page 3 feature of his UK Sun newspaper, in which luscious lovelies bare their breasts daily for all the family. This, of course, has been a central feature of the red top tabloid Sun since the 1970s, when it was introduced as a naked – sorry, couldn't resist that – bid for those British readers who like a good helping of tits with their morning paper.
I mention these facts because this week Mr Murdoch's favourite ex-News Corp executive and former Sun editor, Rebekah Brooks, was in court defending herself against charges arising from the phone-hacking scandal, including the allegation that she and colleagues illegally disposed of potentially incriminating documents. Amongst the materials allegedly disposed of by Brooks' husband Charlie, reports the Times of London, was "a pornographic magazine called Lesbian Lovers":
The magazine and seven DVDs were inside a Jiffy bag that the prosecution in the phone-hacking trial alleges was concealed by Charlie Brooks and security staff while Mrs Brooks, the former chief executive of News International, was being questioned by police in July 2011. The bag was found alongside other items in the garage at the couple's London flat by Fernando Nascimento, a cleaner from Brazil.
One should never presume guilt before a judgment is made, even in the case of tabloid phone-hackers, but one can't help speculate as to the uses made of Lesbian Lovers by members of the Brooks household, and what it tells us about the moral standards and professionalism of some of the most senior former officers of Mr Murdoch's global corporation.
Since he's such a good friend and admirer of Mrs Brooks, one wonders too if Rupert knew about the presence of Lesbian Lovers in her home. Did he ever chance to fix his eyes upon it, during one of his visits there? Is this the kind of filth that Rupert would like to see blocked by Google? And if so, why is it all right for Rebekkah to have it but not the rest of us? I do think we should be told.
Of course, it may be that the porn was Charlie's, and Rebekah is an innocent bystander. Just like the UK Home Secretary Jacquie Smith, who in the great MPs expenses scandal of 2009, was found to be charging the taxpayer for subscriptions to porn films on cable TV channels. Not for her own 'research' or enjoyment, you understand, but her husband's.
This sub-scandal had particular resonance in its day because Smith, like the rest of New Labour in power, was a vocal and legislatively powerful critic of unregulated pornography on the internet, Page Three girls and other manifestations of contemporary cultural sexualisation said to be damaging in various unsubstantiated ways.
What to make of all this elite inconsistency, then? Politicians, media barons, newspaper editors – are they for porn or against it? Do they view it, or keep it in their homes, or do they wish to see it banned? Do they get off on it?
I don't know, and I don't care. What I do care about is the gulf between what they say and how they live; their presumption to speak on the public morals of the society around them, and to claim a role in its regulation, whether as legislators or cultural producers. Get your own houses in order, I say, before pontificating on anything to do with the sexual morality of others.
And by that I don't mean binning the evidence, Charlie.