The release of Eugene de Kock, former commander of the notorious Vlakplaas counterinsurgency unit responsible for numerous clandestine assassinations in apartheid South Africa, raises a number of critical issues with respect to justice in societies in transition.
De Kock was nicknamed "Prime Evil" and was sentenced to two life sentences plus 212 years in prison in 1996. However, after 20 years, he is being released "in the interests of nation-building". The 66-year-old remains such a controversial figure that the place and time of his release will remain secret.
Raising issues of culpability and accountability in institutional murder is always a difficult subject in transitional justice arrangements and has been very high profile since the trial of Adolf Eichmann and his defence of following orders. Echoes of that can be heard in the words of one of the widows of someone murdered by De Kock when she claimed that he was effectively a scapegoat for those who gave him the orders.
Vlakplaas unit
De Kock himself was the police colonel in command of a notorious unit known as Vlakplaas during the apartheid era. Vlakplaas itself is a farm west of Pretoria that was the headquarters of the South African Police counterinsurgency unit, known as C10 and then later C1. Vlakplaas and was established and then run by firstly Dirk Coetzee and then De Kock himself.
Essentially Vlakplaas was a paramilitary police unit that mirrored many others on the continent. It had been created under imperial rule and then continued in anti-colonial struggles against nationalists in Kenya and then in Rhodesia. The basic function of the unit was to act as a hit squad, assassinating or capturing opponents of the regime and then either "turning" (converting) or executing them. The Vlakplaas farm was the site of several executions of this type. De Kock himself admitted to more than 100 acts of torture, extortion and murder on behalf of his unit during the South African Truth and Reconciliation Commission (TRC).
De Kock is a controversial figure among both anti-apartheid figures and apologists for the regime. He was granted a degree of amnesty for some crimes under the TRC rules, but was unable to receive amnesty for crimes not directly committed for a political motive.
Under orders?
During the TRC De Kock confessed that his unit – and also he personally before he became a commander – was responsible for murdering several anti-aparthied activists, including people in Swaziland, Zimbabwe and Angola as well as in South Africa. In each case at the TRC, he named the police commander controlling him. Much of this confession is available online.
Interest in De Kock greatly increased when the South African clinical psychologist, Pumla Gobodo-Madikizele described in great detail a series of conversations she had with him about his career in a now famous book A Human Being Died That Night: Forgiving Apartheid's Chief Killer. This book remains one of the most powerful and chilling descriptions of how a police officer became increasingly associated with murder and how his conscience became numbed over time, but also how such a person can gain redemption.
This has led to a feeling that De Kock was being used as a scapegoat for those who gave the orders to kill and who did not face trial. That feeling was reinforced by a 2007 radio interview in which he accused South Africa's last white ruler FW de Klerk of having hands "soaked in blood" for ordering specific killings. De Klerk denied the allegations.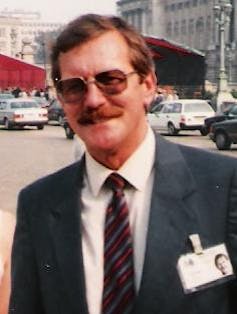 However, this view is not universal. Despite De Kock's frequent attempts to track down and apologise to victims' families, many regard him as being as compliant as an Eichmann, with the "just following orders" argument wearing thin. De Kock has shown sufficient remorse to be released though, unlike former MP Clive Derby-Lewis who was convicted of conspiracy to murder Chris Hani, the former head of the ANC's armed wing, in 1993 and will remain in prison.
Justice and revenge
De Kock represents one of the core dilemmas of transitional justice. When does justice turn into revenge? Most South Africans are now used to very mixed feelings about such matters, as many people associated with the apartheid regime currently live comfortably in the country. However, forgiveness at some level is an integral part of transitional justice and without it, South Africa will be stuck in the past.
Difficult choices and ambivalence about people such as De Kock are the price of future peace and reconciliation, since TRCs' are about furthering the psychological process of remorse and forgiveness that the story of De Kock illustrates so clearly.