Currently on display at Parliament House is an exhibition that we are told is the first of its kind. Entitled Place and Practice, it's a showcase of works by artists based in regional and remote areas.
Established by Regional Arts Australia, the National Visual Arts Showcase seeks to give emerging regional artists a chance to develop their careers by pairing established artists as mentors with emerging artist mentees.
There are some striking works in the show.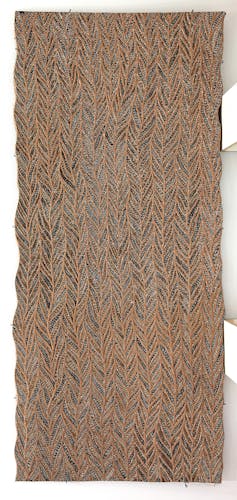 Gay Hawkes's Remains, featuring a furnace with wooden figure, draws upon the artist's own recent experience of being burnt out during the Tasmanian bushfires of 2013.
Kevin Draper's Tree and Grid (main image) is beautifully cast from forged and welded steel, perspex and bees wax; and Gunybi Ganambarr's Darra is innovative in its use of an incised conveyer belt as a surface to paint on rather than the traditional bark.
These are all strong works. Overall though, the mixture of emerging and established artists has inevitably led to an exhibition in which the standard of works is uneven.
If the curatorial premise was the mentor-mentee relationship rather than the "Place and Practice" of the title, the eclectic range of sculptures, landscapes, portraits and photographs produced by artists at different stages of their careers would be more coherent.
As it is, the exhibition of 14 works lacks a clear raison d'être. The show is also too small to adequately reflect the dynamic creative activity found in the regions. Nor does the Parliament House venue of the exhibition do it any favours – even if its placement there symbolises the current government's support for regional arts.
The show is put up on temporary walls placed in a corridor near the House of Representatives. Debates in the house are clearly audible from a monitor located alongside the exhibition. When Parliament is sitting, the exhibition is difficult to access and there is nothing near the entrance to lead visitors to the show. Catalogues are not available at the book shop or information desk.
Who is a regional artist?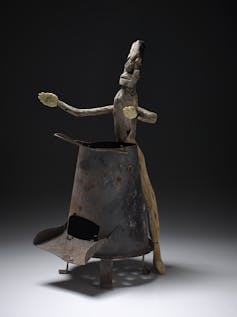 A problem faced by the government in funding these regional artist mentors and mentees is how do you define a "regional" artist?
Is it anyone located outside of Melbourne or Sydney? Are artists from Canberra still "regional"? The truth is that the levels of disadvantage in the regions differs so greatly that it is difficult to ensure that support goes to the right artists.
So is this the only platform for regional artists – and if not what support is there for bringing emerging and established local regional artists together? The annual Hatched National Graduate Show at the Perth Institute for Contemporary Art is one example of a platform for emerging metropolitan and regional artists. In 2013 it featured 37 artists from 20 art schools around the country. It has been going for 21 years now.
Each state and territory also has its own arts council which provides support for exhibitions. Initiatives such as Palimpsest in Mildura and Ten Days on the Island in Tasmania are successful showcases for regional arts and are large enough to hold their own against the high-profile Sydney and Adelaide Biennales. These initiatives also provide a platform for smaller satellite exhibitions held to coincide with them.
A well-established network of regional art galleries also play a key role in supporting locally-based art events. At a national level, the Regional Arts Fundand the Visions of Australia touring grant provide support and opportunities for regional artists to build their profiles. There are also privately-funded art prizes available to recipients in every state and territory.
Art beyond the metropolitan centres

Despite all of those initiatives, maintaining an art practice is challenging for many regional artists. The largest network of commercial galleries are located in Sydney and Melbourne, and without representation in these spaces it can be difficult for artists to establish a national or international reputation.
Furthermore, collectors and curators from the major galleries are more likely to be based in the major capital cities. In these centres artwork production is supported by an established network of artist-run spaces, galleries and various forms of private and public patronage. Partly for those reasons, many of my artist friends have begun their careers in the regions but have ultimately moved to the centres of Melbourne and Sydney – or have linked up with galleries based in these cities.
When I was living in Darwin, art events that took place there featured a range of talented local, national and international artists – but without a well-established critical culture, it was difficult for these artists to gain the recognition they deserved nationally. Training and access to facilities was another problem, particularly for artists who had just graduated and were no longer able to access university facilities.
High rents meant that artist-run spaces were difficult to arrange. There is a dire need for a regional infrastructure of studio spaces and financial support for emerging regional artists.
Any initiative that helps established and emerging regional artists should be supported so, on this level, Place and Practice is commendable. But to have real impact and to compete with high-profile events such as the current Biennale of Sydney it needs to include a larger selection of works and be located in an established art gallery space. The mentor-mentee relationship also needs to be clearly defined.
I look forward to a bigger and better second regional arts showcase as well as to the further development of an infrastructure to support regional artists under the current government.

Place and Practice: the National Visual Arts Showcase 2014 is on display at Parliament House, Canberra, until April 30. Details here.

Are you an academic or researcher working on theatre and performance? Would you like to write for The Conversation? Contact the Arts + Culture editor.