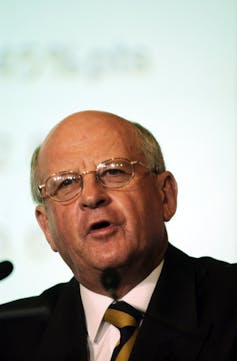 Fairfax Media's decision to offer a board seat to Jack Cowin, a close confidant of Gina Rinehart, is likely an attempt to appease the world's richest woman - notwithstanding claims to the contrary by CEO Roger Corbett, media commentators say.
Mr Cowin, the 70-year-old Canadian-born founder and chairman of Competitive Foods Australia, which runs the Burger King franchise, joined the board as an independent director today.
Mr Corbett said Mr Cowin, who also has a directorship at the Ten Network, joined the board "on the same basis as all other directors". "Our discussions with Mr Cowin over recent months have made it clear that he has considerable value to add to the company," Mr Corbett said in a statement.
"Neither Mr Cowin or Fairfax Media consider his appointment as being indicative or connected to the potential outcomes of the company's inconclusive discussions with Hancock Prospecting", the mineral exploration and extraction company run by Mrs Rinehart, who owns almost 15% of Fairfax.
Mr Cowin is reportedly unwilling to relinquish his position on the board of the Ten Network, raising concerns about the potential for a conflict of interest with his new role. But legal experts say there is nothing in the law to prevent him from holding directorships at two media companies, and that any conflicts will have to be decided on a case-by-case basis.
Mrs Rinehart and Mr Cowin have been friends for more than 30 years. Mr Cowin has been negotiating with the Fairfax board on her behalf as a self-described "Henry Kissinger of shuttle diplomacy", but efforts by Mrs Rinehart to secure at least two seats continue to falter. Mr Cowin's appointment to the board have brought her a step closer to her goal, media experts believe.
The fast food king has told the Australian Financial Review that he wanted to be an independent director at Fairfax rather than an ally of Mrs Rinehart "because if I disagreed, I didn't want to be in a position whereby I was directly in opposition to her voice".
His agreement to abide by the company's governance principals and charter of independence, something Rinehart has pointedly refused to do, was a "Trojan horse", said Martin Hirst, Associate Professor of Journalism and Media at Deakin University. "This is the python squeeze, not the cobra strike."
But the insistence by chairman Roger Corbett that the appointment of Mr Cowin would have no bearing on negotiations with Mrs Rinehart gave "the impression that Gina's made some kind of threat, either to sell her shares or to launch an all-out assault on the board and go for control", he said. "That statement reeks of having lawyers all over it. Gina is getting closer.
"The thing about that charter is that apart from the original signatories to it, no board has ever resigned it. It's an in-principle agreement. What's Jack Cowin got to lose from agreeing to it now? All he's got to do is three months down the track, say, 'The situation has changed, the board has not been able to arrest the decline in circulation … we're going to tear up that agreement we never signed in the first place.'"
Andrea Carson, a journalist and doctoral student at the University of Melbourne who is researching the future of broadsheet newspapers, said the the latest development bore all the signs of factional power play. "I guess if you look at the analogy of being a tug of war between Rinehart and Corbett, this is one knot closer that Rinehart has got," she said. "It's certainly delivered her some eyes and ears on the board."
"It's not a surprise move. The share price is dire."
Mrs Rinehart challenged Mr Corbett earlier this month to increase the share price of the company to 87 cents before the annual general meeting on November 8 - or agree to retire. Fairfax's shares were trading at 56.2 cents a share this afternoon, down by 0.3 cent.
Mr Cowin has no direct digital media experience, but he has been a director of the Ten Network since 1998.
"It'll be interesting to see what Cowin is like as a participating member of the Fairfax board, whether he can help to lift that share price and deliver on the many challenges that Fairfax has ahead of it in the digital age," Ms Carson said.
"I don't think his decision to agree to the governance principles mean a hell of a lot, but there is some symbolic value to it. The wording says that there'll be no direct input into day-to-day editorial decisions, which still leaves a lot of leeway for other sorts of input. My conversations with past editors say that it's a bit of a furphy, the idea that you don't get some sort of interference going on at editorial level."