I'm not sure what the weather was like on the October 14 1958 when Western Australian art dealer Rose Skinner opened her Perth gallery, but it was a momentous event in Australia's cultural life.
It is a shame Christopher Heathcote doesn't give it the attention it deserves in his book Inside the Art Market: Australia's Galleries: a History 1956-1976, because Heathcote is very good on the weather.
It is a recurring theme throughout his engaging book. Heathcote introduces us to Tam and Anne Purves opening their Australian Galleries in Melbourne after "a fog in the morning of the 5th June" in 1956, or the Schureck Auction in 1962, which began "on a day of prickly Sydney heat".
All the early galleries Heathcote describes were renovations or re-purposed buildings. But Rose Skinner's gallery was purpose-built, part of one of her husband Joe's developments. It was the first of its kind in Australia.
On the ground floor, with windows looking onto a sculpture garden, the large open space with its polished wooden floorboards was designed to accommodate large-scale works on its crisp white walls. It was the height of modernity, and its construction on the cusp of the '60s showed a confidence that was remarkably prescient.
It is very surprising then that Heathcote doesn't comment on its opening and reduces Skinner's role in expanding the art market in Australia to a footnote (five mentions occupying less than a page in a book of 350 pages) when she was clearly ahead of the pack.
Had she been alive, Skinner would have been appalled! For a woman who threatened to refuse her award of Member of the Order of the British Empire (MBE) because it wasn't adequate acknowledgment of her contribution, this oversight would have caused severe pique.
Others had opened commercial galleries in Perth before, notably David Foulkes-Taylor, who is completely ignored in Heathcote's book. But Skinner had the passion, the business acumen and the chutzpah to make a difference, and she was able to change attitudes to contemporary art.
Although not an easy woman to deal with, she promoted and supported local artists and those from "over east" to the fledgling collectors she nurtured in Perth.
According to local historian Christine Sharkey:
Skinner was a woman of unusual energy and charm, with formidable powers of persuasion that ranged in tone from authoritative, to cajoling, to coy. She was capable of both forging connections through her warmth and concern for artists and also of subterfuge and insincerity … She could be discourteous to the point of rudeness, and charming to the point of seduction.
The combination of these attributes meant that she was also very successful at selling the work of local artists such as Robert Juniper and national figures like Arthur Boyd and Sidney Nolan.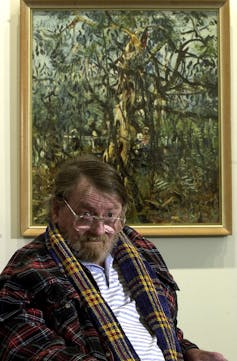 Frank McDonald, a partner in the Clune Galleries in Sydney from the 1960s, described Skinner as one of the best dealers in Australia who "could have taken on Sydney and been as good as Joseph Brown [one of Australia's most prominent art dealers] … she was a wizard saleswomen".
In the two decades that Skinner Galleries operated the list of artists she showed indicates a very well-informed and astute knowledge of contemporary art.
Of course, not all sold well. When John Perceval found he had sold nothing and was responsible for the return freight on his works to Melbourne, he wrote to Skinner expressing his displeasure:
I am really disgusted. I am completely broke and in debt … All my paintings were top class, and I [never?] wanted to show in Perth anyway.
Despite those occasional setbacks, Skinner was able to crack open the shell of the contemporary art world and expose what was original and exciting to a wider audience and, most importantly, to an expanding group of enthusiastic collectors.
She played an important role in the developing art market nationally. Through her connections she built a network of artists, collectors and fellow dealers.
If Heathcote's book had settled on a more appropriate title, such as Inside the Art Market: Melbourne, Sydney and Adelaide Galleries, then there could be no quibble. The book is a good read and it brings alive the characters that shaped the art market in a very tempestuous period. It is fascinating to see behind the facades of those famous galleries and to peek into the backroom deals and negotiations that created so many luminous careers.
But, as Heathcote acknowledges in his afterword, he is only dealing with galleries in those three cities. To call this a survey of Australia's galleries is an inappropriate epithet.