Around 70% of Iranians who were eligible to vote participated in the country's presidential election and re-elected the incumbent, Hassan Rouhani, to another four-year term. Rouhani, who was supported by Iran's moderates and reformists, won around 57% of the vote; his main rival, the more hardline Ebrahim Raisi, won only 38.5%.
Reformist office-holders and the Iranian electorate alike have all sorts of priorities for the next four years, but based on the slogans Rouhani's supporters used during the election, three big ones stand out: improving political freedom, fighting ingrained corruption, and freeing three prominent dissidents who have been under house arrest since 2009: Mir Hossein Mousavi, Zahra Rahnavard and Mehdi Karroubi.
In every city Rouhani visited during his campaign, his supporters asked him to see these prisoners released. When confronted on the issue during a campaign stop in Tabriz, he responded that to get certain things done, a president needs more than 51% of the vote for a mandate – nodding to the share of the vote he won at the 2013 election to imply that a more commanding win would empower him to finally sort the issue out. He ultimately won 5m more votes this time around, and his supporters are duly waiting to see if he will use his boosted political capital as promised.
There are plenty of obstacles. Supreme Leader Ayatollah Khamenei and the head of the judicial system, Ayatollah Shadeq Larijani, support the house arrest along with most hardliners in the country. As far as they're concerned, house arrest is a lenient punishment for these dissidents, and a list of powerful ayatollahs have already demanded their execution. Whether Rouhani's strengthened mandate will give him enough clout to change the situation remains to be seen.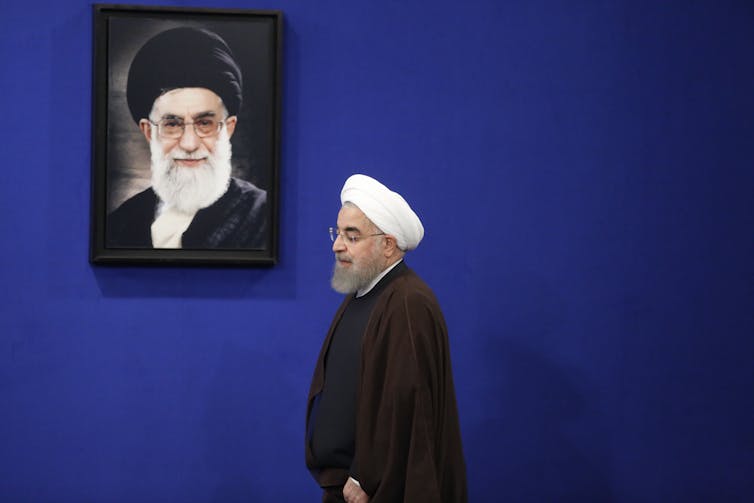 The same goes for the thorny problem of political freedom more generally. Just a few days before the election, Rouhani publicly railed against the hardliners' plans to restrict people's freedoms further and exclude women from the public sphere. But for all he campaigned as a liberator, Rouhani will know all too well how hard any attempt to open up new freedoms will be.
After all, little progress was made during Rouhani's first term, during which hardliners held enough key positions to limit any improvement in political freedom or the general human rights situation. Amnesty International's last annual country report highlighted that "the authorities heavily suppressed the rights to freedom of expression, association, peaceful assembly and religious belief, arresting and imprisoning peaceful critics and others after grossly unfair trials before revolutionary courts".
So for all that those extra 5m votes might boost Rouhani's confidence and legitimacy, they also come with high expectations that he'll be able to make progress that's so far eluded him – and in circumstances that haven't fundamentally changed.
Caught in the middle
The fight against corruption, however, might be a rather different story. Iran is routinely ranked as one of the world's most corrupt countries; Iranians themselves are understandably fed up, and fortunately for them, this is a problem that Rouhani and his administration do have some power to tackle. The government directly manages powerful institutions such as the Central Bank, Customs Administration and the Ministry of Petroleum, meaning it can easily monitor all money transfers and contracts inside Iran.
But other powerful institutions will have little trouble escaping scrutiny. The Revolutionary Guards and the Islamic Republic of Iran Broadcasting have huge budgets and are independent of the elected administration, instead being mostly under the control of Ayatollah Khamenei himself. Municipal authorities are also both well-funded and largely independent of central government, which cannot directly monitor them without a mandate from parliament – so far, not forthcoming.
On all fronts, Rouhani faces a demanding balancing act: to preserve moderate and reformist voters' trust in him while simultaneously winning over Khamenei and the hardliners. He will have to be honest with the Iranian people and directly explain to them why he cannot commit to some of his campaign promises, some of which will inevitably fail to come true. And thanks to Iran's very particular power structure, all big changes in the country need Khamenei's consent to stand a chance.
This sort of intricate, high-stakes triangulation will not be easy. But as Rouhani proved with the 2015 nuclear deal, he is probably as capable a political negotiator as the Iranian people could hope for.