One of the most disturbing trends in the British legal system these days is the growing enthusiasm for secret justice. For example, there was a court case a few years ago that you may not know much about. It involved a suspected terrorism plot on British soil, and a well-known alleged target.
The reason you may not know much about it is that a highly respected judge ruled that the trial should be held in secret. The Appeal Court then decided to pull the shutters up a little, but only to allow reporters to report the pleas, part of the opening prosecution statement, the swearing in of the jury, the verdict and the sentence.
There followed an extremely strange arrangement whereby approved "accredited reporters" were allowed to attend, but not report some of the proceedings. Their notebooks had to be surrendered at the end of the day. What they heard, saw and recorded can still not be publicly disseminated.
Many of the significant processes relating to terrorism in the UK over the last 20 years have been heard in secret, with anonymous applicants processed through the immigration system where anonymity is standard. This is a system that allows the appointment of "special advocates" in closed procedures where the evidence of intelligence agency suspicion is never known to the people whose presence in this country can simply be rejected.
And there have been at least two occasions when individuals tried for contempt of court have been jailed in virtual secrecy. The stories only emerged through retrospective investigation.
Add to this an implosion in journalistic resources, and we have a crisis in reporting of court hearings even when the doors are open to the public.
I have been campaigning against secret justice since the 1980s. But it was just recently, while researching and writing a new play on conscientious objectors, that I was reminded of the corrupt and pernicious legacy that unjustifiable secret processes leave for society.
In 1916, Britain was the first country to legislate for the right to individual conscience during national conscription. The "conscience clause" had been drafted by three Quaker MPs to allow exemption. The Liberal Prime Minister H H Asquith faced howls of derision when tabling it on the floor of the House of Commons.
Between May 1916 and Armistice in November 1918, up to 20,000 men refused to take up arms. Many went to prison, were forced to serve in punishment non-combatant units, lost their right to vote, and found employment prospects after the war blighted by the stigma.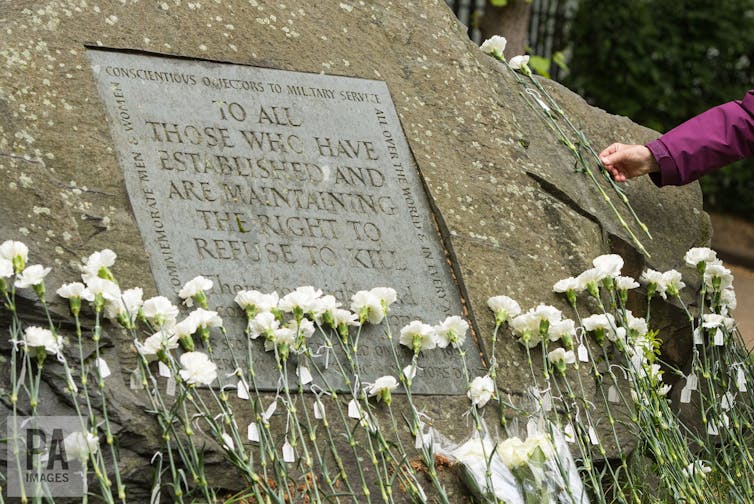 A small group had even been condemned to death after refusing orders in France. The sentences were commuted when their fate was leaked to their political supporters.
Devils on Horseback is a play based on a decision by London's Deptford Borough Council to hold all of their military tribunals into conscientious objector status between 1916 and 1918 in private. It was the only local authority in the country to do so.
The destruction of military tribunal records means that the only record of what happened elsewhere resides in local newspaper reporting. The policy of the then Conservative Mayor in Deptford, William Wayland, means that record is practically a blank page. A remarkable memoir by local postal worker Henry Albrow, left to the Imperial War Museum, indicates he may have provided the only account of what it was like to appear before the secret Deptford Tribunal.
He argued his position on the grounds of socialism and moralism, condemning the Council's militarist culture as anti-democratic and ungodly. He declared:
Every man is my brother. I believe in the socialist Jesus Christ and I cannot connect myself in any way with war.
Lost voices
The research into the experience and plight of local people in Deptford depended on local historians such as Ann O'Brien, The Peace Pledge Union, and my resourceful colleagues in the history department at Goldsmiths.
Goldsmiths' Acting and Film Making Society has now produced an imaginative representation of what happened in Deptford, based on extremely limited resources because of the secrecy that was allowed to exist.
The British legal system must learn from this affront to our history. Secret justice is intrinsically corrupting and problematic. It is so insidious that I believe judges and parliament must simply find a better way of protecting sensitive information and vulnerable people.
Far too many significant legal battles based on high principle, conscience, religion, and social and political status are taking place behind closed doors. We cannot fight injustices if they happen out of sight. We must not let our modern public record disappear into an empty vortex of secret history.