The Victorian state parliament is currently considering the Open Courts Bill (2013) after questions have been raised about just how much transparency is needed in the justice system. The bill, proposed by the government, centres on suppression orders and follows several controversies in Victoria and elsewhere over the past five years.
Those controversies involve claims that suppression orders are being misused by some prominent identities; that they are not viable in the age of the internet; and are overused or simply incompatible to the open justice ideal that is a cornerstone of a liberal-democratic state.
The Victorian bill is important because it clearly articulates a presumption of open access by the public, consistent with traditional statements by courts that justice must be seen to be done. The bill does not prohibit suppression orders and does not override the scope for courts to manage proceedings to protect people who are vulnerable. Instead, the bill instead offers a coherent framework that emphasises public access to proceedings, offering guidance to all courts, and by extension to journalists.
Suppression orders are a long-standing feature of the UK and Australian justice systems. They involve courts ordering that particular information must not be published. Those courts are generally the most senior courts in the Australian state and territory jurisdictions, and are concerned with serious offences rather than petty theft or traffic infringements.
The orders concern identifying information: primarily the name, image, address or other information that would allow a member of the public to readily determine a party in litigation. That party might be a defendant in a prosecution or the party might instead be a victim.
Rationales for orders include protection of victims (especially of sex offences), encouraging witnesses to participate in the justice system and the minimisation of any adverse publicity that would prevent a fair trial.
Suppression orders are controversial for several reasons. In the UK, for example, there has been criticism of so called "super suppression orders", which involve prohibition on disclosure that a specific order has even been issued.
The rationale for that prohibition is that interested individuals - some of whom are dubbing themselves as citizen journalists and operating outside editorial restraints - often join the dots in inferring the subject of an order and speculate about the offence involved. Such inference is apparent in recent claims about the identity of a South Australian MP charged with offences involving children.
In Victoria, disagreements about suppression orders by state courts have featured celebrities. Earlier this year in AA v. BB, the Victorian Supreme Court dismissed claims that the suppression of information about parties to a family law and domestic violence dispute involving a political candidate was outside the court's power or inconsistent with the implied freedom of political communication. That freedom is more circumscribed than an absolute right of free speech. It has been recognised by the High Court over the past two decades as a foundation of Australian democracy.
Recognition of the right to free speech featured in the High Court's decision regarding Victorian media identity Derryn Hinch. Hinch unsuccessfully asserted a broad public interest as the justification for defying state court restrictions on the publication of information that would allow the identification of the victim of a child sex offender. In essence, public curiosity is not to be construed as public interest and journalists – whether in search of ratings or justice – are not above the law.
The Hinch case attracted national attention. Questions of public access to family dispute details involving Victorian retail billionaire Solomon Lew have gained less attention. The Victorian Supreme Court was persuaded that it was protecting children involved and was not necessary to broadly suppress information that touched on family finances. That information may have been of interest to the Australian Taxation Office. The court endorsed the statement that: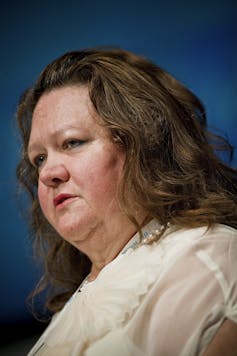 The principle of open justice…requires that nothing should be done to discourage the making of fair and accurate reports of what occurs in the courtroom.
In Western Australia, disagreements between mining magnate Gina Rinehart and her children have featured a succession of suppression orders that have piqued the interest of legal scholars, journalists and a small army of legal practitioners.
Journalists have persuasively argued that there is a compelling rationale for public access to the proceedings and that wealth should not result in Rinehart escaping the scrutiny that would experienced by people who do not own major stakes in media companies.
We should not expect suppression orders to disappear and there are strong rationales for their use on a case-by-case basis. However, the presumption of openness the bill aims to provide should be welcomed.