On a recent family holiday with a friend who is a very successful musician, we learned that he spent much of his early life going to Surf Camps at Tallebudgera. While he's the least surfie type you could imagine, it got me thinking, maybe there's something to this American summer camp idea. After all, he said it got him out of the house and gave him something to do on the ever-so-long summer holidays.
Summer camps have been parodied by The Simpsons and they provided the first real star vehicle for Bill Murray in his film Meatballs. Those born in the late 1970s or early 1980s were scared stiff of being left at [Camp Crystal Lake](http://en.wikipedia.org/wiki/Friday_the_13th_(franchise) from the Friday the 13th franchise.
However, it seems that they are still very popular in the USA and Canada, with many children spending their summer breaks at camp. But why? And should we think about it here in Australia too?
What is summer camp?
When we think of summer camps here in Australia, we generally think of idyllic woodland around lakes with young children being active and healthy. It might surprise you to know that there are all manner of camp specialities now, including band camps, computer camps and even business camps for the budding economist or CEO.
However, their origins are much less specialist. They were popularised in the 1880s as part of the back-to-nature movement in the USA, Canada, Europe and the UK. They were also criticised for being part of a search for mythical pastoral relaxation and rejuvenation. A book on summer camps called A Manufactured Wilderness accused camps of involving:
the wholesale commodification of the countryside to meet the needs and desires of tourists who consumed the very idea of country life, as well as goods and services offered there. Typically, this process was aimed at giving urban dwellers a supposedly authentic encounter with folk life — itself a cultural construction of the late 19th century.
Summer camps were also criticised for being regimented and dominated by a school-style approach that did not give children the freedom to do their own thing. However, this was the very aim of the camps. A contemporary camp director, Henry Gibson, said children (mostly boys) in the 1890s:
have heretofore wasted the glorious summer time loafing on the city streets, or as disastrously at summer hotels or amusement places.
What are the benefits?
The American Camp Association, understandably, touts the benefits of these camps. They argue that, in 2010, more than 11 million US children and adults attended a camp, in an industry worth more than $US15 billion in 2012. They also argue that nearly 20% of camp staff are from outside the US, in an attempt to use the camp experience to "expose campers to different cultures".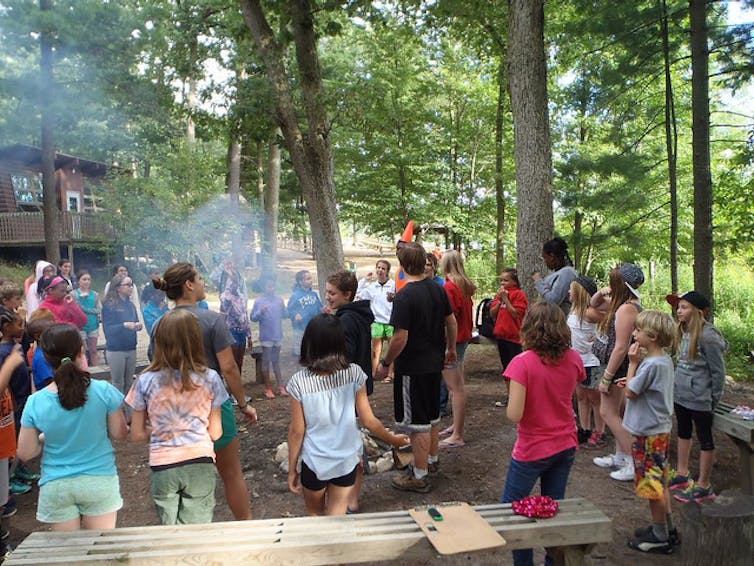 They also aim to develop community skills in the campers. Many camps (the American Camp Association says over half) offer some kind of community service program such as clean-ups or community food drives in their curricula. Others focus on ropes courses and challenge facilities.
The American Camp Association also reports that, for parents, the benefits reported include a safe environment that builds self-confidence, esteem and social skills, and encourages friendships, while increasing children's willingness to experiment and try new things.
They're also said to stop a "learning slide" that happens over the summer break as children are still learning while on "holiday". This idea of a summer learning loss is considered particularly important for children from low socio-economic groups (see here, here, here and here).
What are the drawbacks?
Finding people willing to say there are drawbacks to summer camps is quite difficult. After all, there are so many children in the US who've gone through them. If the industry is worth as much as the American Camp Association suggests, the economic implications would be huge.
However, there are criticisms of camps. One major criticism is separation anxiety, akin to that experienced by children in boarding school.
Another drawback is the risk of exposure to allergens and illness. And, of course, the parents aren't there to help their child when they're ill.
A further drawback is reduced family time over the crucial holiday break. However, as US parents typically have only two weeks' holiday a year, it's probably an excellent babysitter while school is out but work is in.
The camps are also very expensive. Some of the Australian examples cost more than $550 per person, potentially putting them out of reach of the students who'd most benefit.
So, what should we do here in Australia?
If your child has a skill that needs to be nurtured, or hothoused, then perhaps camps are for you. There are many options, beyond the surf camps my friend attended. These include tennis camps for the young Raf in your family, golf camps for the young Karrie Webb and even music camps offered by the Australian Youth Orchestra.
They aren't cheap, and they're a long time to be away from the kids, but maybe a summer camp experience is the next best thing to the kids going back to school.
---
Further reading on what Australia can learn from education overseas:
The lesson from Canada: why Australia should have fewer selective schools