Bringing professional actors and dancers into the classroom may seem an unusual strategy for boosting the speaking skills of children who speak a language other than English at home. Yet, these creative drama and movement activities can help children struggling to improve their fluency in the English language.
English language learners face a daunting challenge in today's classrooms, which have an increased focus on written work. To improve their English language skills, these children need frequent opportunities to engage in verbal interactions. Children who do not become proficient in reading by the end of third grade are at an increased risk of dropping out of school.
Schools in San Diego, California, are successfully leading the way in using creative ways to teach English.
Educators and teaching artists have come together in San Diego schools to demonstrate how theatre games and creative movement activities in early grades can help children improve their English language fluency.
Making it happen
Having begun my career as an educator in Europe, I was attracted by the idea of an arts-rich curriculum that motivated children through imaginative engagement.
As the director of the Center for Learning in the Arts and Sciences at the University of California, Irvine, I approached the Visual and Performing Arts Department of the San Diego Unified School District about setting up a pilot project in 15 San Diego elementary schools.
In 2007, our proposal was funded by the California Postsecondary Education Commission.
Over a period of several months, the San Diego Visual and Performing Arts Department recruited and trained the professional actors and dancers who would serve as "teaching artists."
The idea of recruiting teaching artists was to have a group of professionals trained in dance and drama, who could visit as many as five classrooms each day and encourage English learners to use language as a tool of communication even during the first lessons.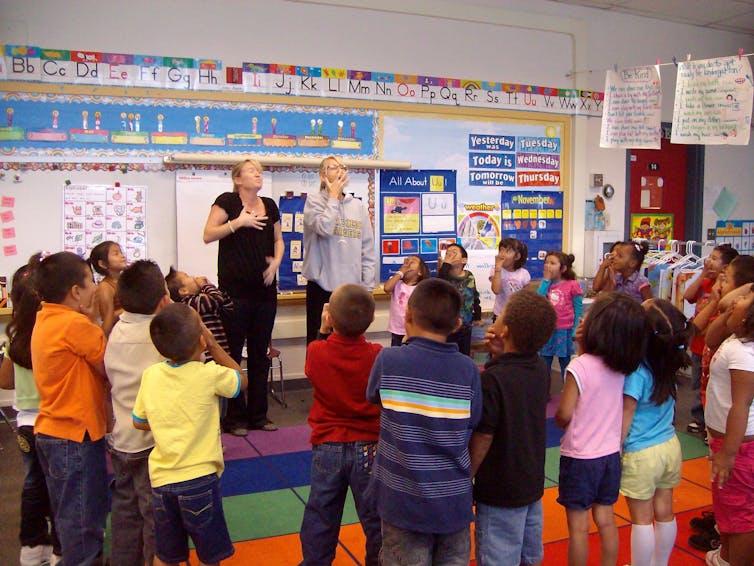 Classroom teachers co-taught with a teaching artist for 50 minutes each week for 28 weeks (14 weeks of drama, 14 weeks of dance). Teachers practiced with their pupils on the days between visits. Videos of lessons were made available online, so that teachers could remind themselves of details.
How it worked
In a way, this program was not all that new. These lessons were only an enhanced version of the theatre and dance curriculum that was available to all San Diego elementary schools before testing and budget pressures caused the school district to reduce its offerings.
Budget cuts over the years have forced the elimination of arts activities in kindergarten to second grade in many school districts nationwide. A study by the National Center for Education Statistics found that in 2009–2010, only 4% of US elementary schools offered instruction that was designated as drama or theatre; just 3% offered dance.
When the teaching artists arrived in San Diego classrooms, children welcomed them enthusiastically and eagerly joined in.
The lessons generally started with the class standing in a circle, responding through words and physical movements to directions given by the teaching artist. Instead of memorizing vocabulary and studying grammar, children learned through active participation.
And English learners who were unsure of the meaning of verbal instructions could check their understanding by watching the teaching artist and other students.
Rigorous evaluation has shown that the program has helped children, especially those with the most limited English speaking skills.
Teacher interviews affirmed that the vocabulary and communication skills of all children were enhanced by the teaching artist visits.
The most striking improvement was in the speaking skills of the English learners.
Limited learning in classrooms
Today's classrooms face many challenges.
Nearly 10% of the student population in the US now comes from non-English speaking homes. In California, children whose home language is not English make up over 20% of the public school enrollment.
The passage of [Proposition 227](http://ballotpedia.org/California_Proposition_227,the%22English_in_Public_Schools%22_Initiative_(1998) in 1998 has made the situation particularly challenging for non-English speaking children. Proposition 227 requires California public schools to teach even limited English-proficient students in classes that are taught nearly all in English.
In today's classrooms, children's learning is limited by several factors.
Contemporary kindergarten classrooms resemble the first grade classes of a generation ago. First graders are tackling assignments that were formerly taught in second grade.
Moreover, the demands of a highly structured curriculum and rising class sizes leave limited opportunities for rich verbal interactions between the teacher and the pupil. Chances for individualized feedback are also often limited.
This is reflected in the No Child Left Behind (NCLB) data: only 11 of the 50 states are meeting adequate yearly progress targets for limited English-proficient students under NCLB. At the same time, the number of school-age kids who speak English as a second language is continuing to grow.
What English learners need
Unfortunately, preparation programs for elementary teachers currently dedicate little time to methods for teaching oral language skills.
Research has demonstrated that oral language proficiency in the primary grades is critical to the literacy development of children in general, but especially of English learners.
Drama and dance activities in which nonverbal communication is utilized in combination with verbal interactions can offer an effective substitute for one-on-one interactions with the classroom teacher.
Given that the weekly teaching artist visits constitute a relatively low-cost intervention, such programs may provide a means of affordably addressing an urgent problem.
The San Diego project did not just help English learners; it provided [benefits](https://escholarship.org/uc/item/8573z1fm#page-1](https://escholarship.org/uc/item/8573z1fm#page-1 ) for English-speaking students as well through increased engagement, attendance and exposure to the arts.
But clearly, the need is greater for English learners, for whom the arts can provide a bridge to understanding the language of the classroom.
Next: How should kids learn English: through Old MacDonald's farm or Ali Baba's farm?