Disruption has been a defining buzzword of this decade, as companies in nearly all sectors find themselves challenged or supplanted as a result of the impact of technology. The beneficiaries of this disruption have mostly been newcomer enterprises – the Ubers and the Amazons – which have quickly grown to become part of everyday life.
Policymakers, reluctant to quash innovation, have taken a hands-off approach. But these innovators' employment practices don't appear to be so innovative. In recent times, however, some tech innovators have shown they aren't allergic to bargaining with their workforce after all.
What's driving this shift? It might be convenient for consumers but the gig employment model, with its arm's-length relationship with its workforce, struggles to build organisational culture and relationships with customers. We see evidence of this in ongoing strife in companies such as Uber and Deliveroo.
---
Read more: Gig economy businesses like Uber and Airtasker need to evolve to survive
---
Now, though, major firms have begun to negotiate collective agreements with their workers.
Amazon in Italy
For the first time anywhere in the world, it was announced in May that Amazon had made an agreement with unions. The breakthrough took place in Italy, where Amazon and the FILCAMS CGIL union negotiated an agreement. It was endorsed by 70% of employees who voted on it.
The deal came into effect on June 17. It ensures fairness in scheduling and allocating weekend work, and reduces mandatory night shifts.
Amazon workers now get four consecutive free weekends out of every eight. Shifts alternate between Saturdays and Sundays, and they get 25% higher pay for working at night.
Digital media in the US
A growing number of digital news outlets have signed collective agreements with their writers over the last few years. The list includes Vice Media, ThinkProgress and the Huffington Post. All are now signed on to union contracts with the Writers Guild of America East.
In addition, Slate, Salon, MTV News and Fast Company recognise the Guild as a negotiating partner. Vox is negotiating its first union contract right now.
These contracts establish minimum salary and future pay rises, and set agreed payment for derivative republication of writers' work. They also limit the power of management to fire employees at will.
---
Read more: Why HuffPo and other 'new' media journalists are choosing unions
---
A gig employer in Denmark
We have heard a lot about Uber, Deliveroo, Foodora and Airtasker and the problems created because they don't treat their workers as employees. This means, among other things, they don't provide the minimum wage or other basic employment standards. Airtasker has sought to address this by making undertakings to the peak union body in New South Wales.
By contrast, Danish employment platform Hilfr recently signed a collective agreement covering its workers, who provide cleaning services. Under the agreement, Hilfr's workers will receive:
a minimum wage equal to A$30 an hour
pension contributions
holiday pay
sickness benefits.
The agreement was negotiated with Danish union 3F (United Federation of Danish Workers) and comes into effect on August 1.
Winds of change in Australia?
After years of decline, collective bargaining coverage in Australia has stabilised over the past 12 months.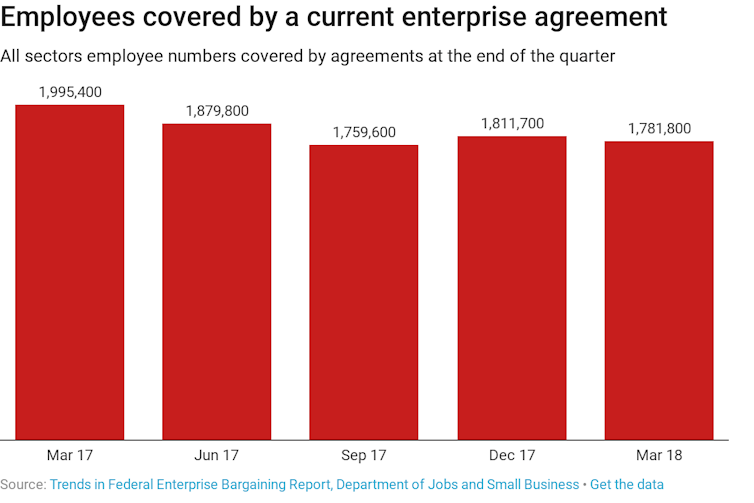 These figures don't include new agreements being made in the retail sector. These are set to add another 200,000 employees by the end of this year.
Meanwhile, the gig employment model faces the likelihood of increased regulation. The federal Labor Party has stated its intention to regulate gig employment if elected. Labor governments have starting doing so at state level.
---
Read more: Workers' compensation doesn't cover gig workers – here's a way to protect them
---
Gig employers have a strong incentive to sit down and talk – it could make for an uncomfortable ride for them if workers' entitlements continue to be imposed through political agitation followed by legislation.
Perhaps it won't be long until we see one of these tech innovators put in place such an "innovative" agreement with its Australian workers.