Labor has held on to the federal seat of Griffith, but the byelection has seen a small swing against the ALP in Kevin Rudd's former electorate.
The Liberal National Party refused to concede tonight, as both sides put their own gloss on the result.
The Liberals sought to paint the vote as a repudiation of the opposition, with Attorney-General George Brandis declaring "the loser was Electricity Bill Shorten".
With a modest swing against the ALP on both primary and two party preferred votes, Brandis said it was "almost unheard of" for there to be a swing against an opposition at a federal byelection. It had only happened three times before, he said.
In her victory speech, Labor candidate Terri Butler, a lawyer with the firm Maurice Blackburn, said the result had sent a message to Prime Minister Tony Abbott and Queensland premier Campbell Newman. "Our communities are sick of the LNP cuts," she said.
"We've said to Tony Abbott: hands off Medicare."
She promised her new constituents: "I will not let you down", paid tribute to Shorten's role in the campaign, and also mentioned the cordial exchanges she had had with her opponent Bill Glasson when they had crossed paths.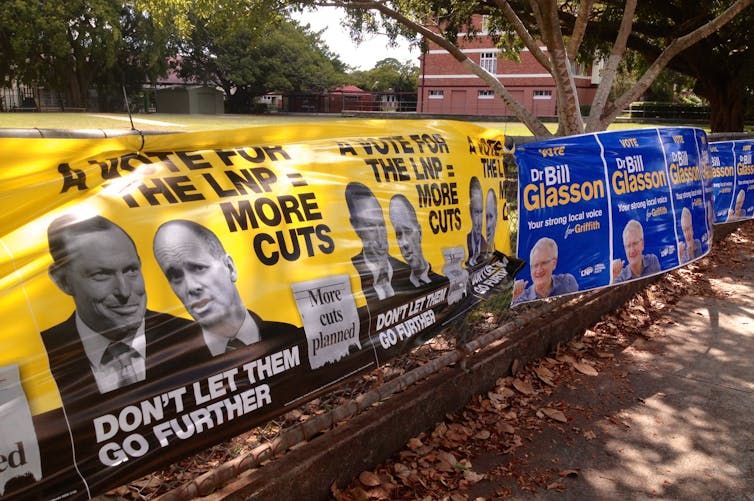 With nearly 72% of the vote counted, the high-profile Glasson had outpolled Labor on the primary vote – as he did at the federal election – with 43.6%, up more than 1.3% on the result last September. Labor's vote was 39%, down nearly 1.4%. The Greens polled 10.2%, almost the same as in September.
With thousands of postal and absentee votes still to be counted, Labor's two-party vote is 52.3% (down 0.7%) to the LNP's 47.7%% (up 0.7%). Labor went into the byelection on a 3% margin.
On the eve of the vote both sides expected the ALP to hold the seat. Labor's polling late this week had it on a 54% two party vote.
Although the LNP declined to concede, Glasson admitted that "it is going to be difficult to get across the line". He made another appeal to Shorten to pass the repeal of the carbon tax.
Rudd attended the Labor celebration party.