In our series on sexual histories, authors explore changing sexual mores from antiquity to today.
Like the anxious men who began excavations at Pompeii in the 18th century and discovered more about the ancient Italians than they had bargained for – such as phallic-shaped lamps – historians of sex are regularly confronted with case studies from the past that challenge their own ethics. Those who worked the streets of Pompeii and served clients in the brothels lived hard lives, yet many of the murals that survive depict the women as erotic and exotic.
Murals from brothels and buildings that served as brothels (such as inns, lunch counters, and taverns) show fair-skinned women, naked (except for the occasional breast band), with stylised hair, in a variety of sexual positions with young, tanned, athletic men. The figures sport on beds that are sometimes ornate and festooned with decorative quilts.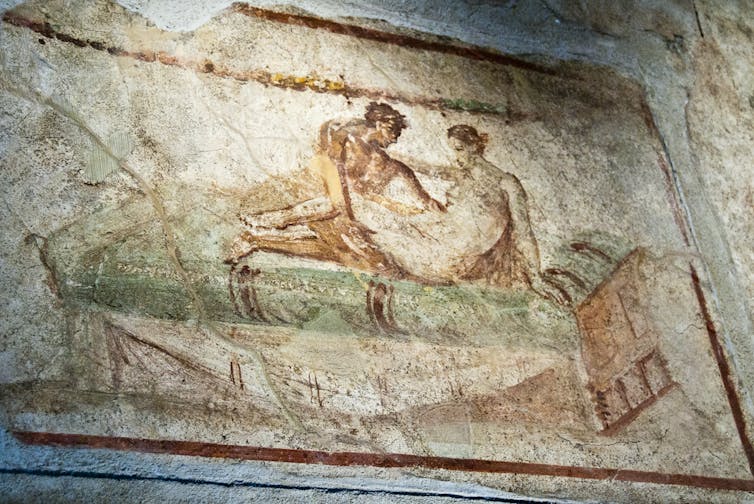 In buildings identified as brothels, the murals may have been intended to arouse clients. They may also have functioned as pictorial menus or even served as instruction manuals for more inexperienced customers. In buildings identified as private residences, the scenes were most likely decorative but also designed, perhaps, for titillation.
Contrary to the idealised images, the brothels themselves provide evidence that the women worked in cells, usually only big enough for a narrow bed. The absence of windows in most attests to the darkness of the cells, as well as limited air flow.
Excavations also suggest that the cells were usually without doors, which implies that the rooms may have been curtained. They have also revealed stone beds. Wooden beds as well as pallets were likely also used, but would have perished in the eruption of Mount Vesuvius in AD 79.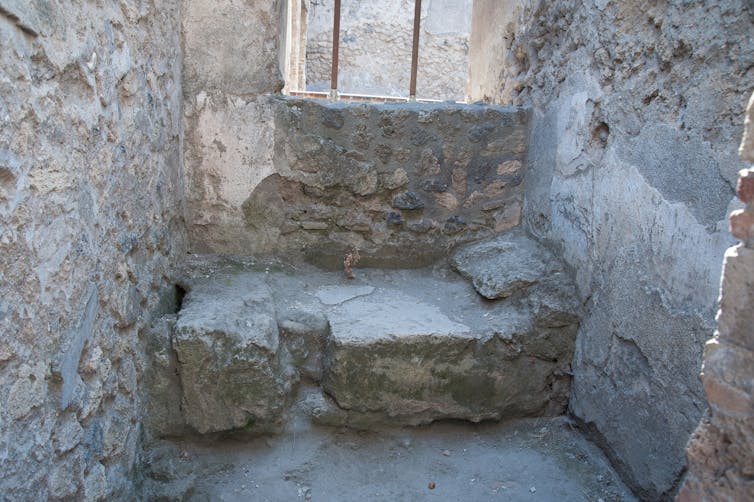 The conditions in which the women worked were of no concern to brothel owners, clients or anyone else for that matter, as most sex workers in ancient Italy were slaves. As the ancient attitude towards slaves was one of indifference at best, and violent disdain at worst, the lives of women were no source of empathy to those outside their class.
The sex workers fulfilled a utilitarian function and nothing else. Confined to the premises by (usually) male pimps who provided them with only their most basic needs, the women were essentially cut off from the outside world. This rendered them vulnerable to the whims of both pimp and client alike.
Women who worked the streets in Pompeii often waited around archways and other standard locations such as graveyards and public baths. In larger towns and cities, where control of the sex trade was harder to manage, some of these women may have worked without pimps. Those who made up this percentage of workers were mostly freed slaves and poor freeborn women.
Stories from graffiti
The preservation of graffiti on the walls of Pompeii's buildings also provides historians with details of the sex trade. Most of it is extremely graphic. It includes information on specific services and prices, clients' appraisals of certain women and their abilities (or lack thereof), and some sexual advice.
Some graffiti are straight to the point:
Thrust slowly
Others are advertisements:
Euplia was here
with two thousand
beautiful men
Or list prices:
Euplia sucks for five dollars*
Often the names of slaves and, by default, sex workers, had Greek origins. The name "Euplia", for example, comes from a Greek word meaning "fair voyage". Sex workers' names sometimes denoted the function or physical features of the individual in question. In this case, Euplia promised her clients a fair voyage.
Graffiti also attests to male sex workers in Pompeii. As with the writings concerning women, this graffiti lists specific services offered and sometimes prices. As freeborn women were not permitted to have intercourse with anyone but their husbands, the clients who accessed male sex workers were almost exclusively men. The sexual mores of ancient Rome, catered for male-to-male sexual encounters if certain protocols were maintained (a citizen could not be penetrated, for example).
The few literary records that suggest there may have been female clients of sex workers are questionable, as they were usually written for satiric or comedic purposes. Still, it would be naïve to discount instances of wealthy, freeborn women accessing male sex workers or household slaves.
Similarly, it would be naïve to assume that male clients did not seek other men with whom they could participate in acts deemed socially unacceptable (essentially acts in which the citizen male would occupy a submissive role).
Society and the sex trade
At the time of the eruption of Vesuvius, Pompeii was a town of modest size, with a population of around 11,000, and a thriving community with sophisticated architecture and infrastructure. Located in Campania, some 23 kilometres southeast of Naples, and near the port of Pozzuoli, it enjoyed robust trade and economy, and had a multicultural demographic.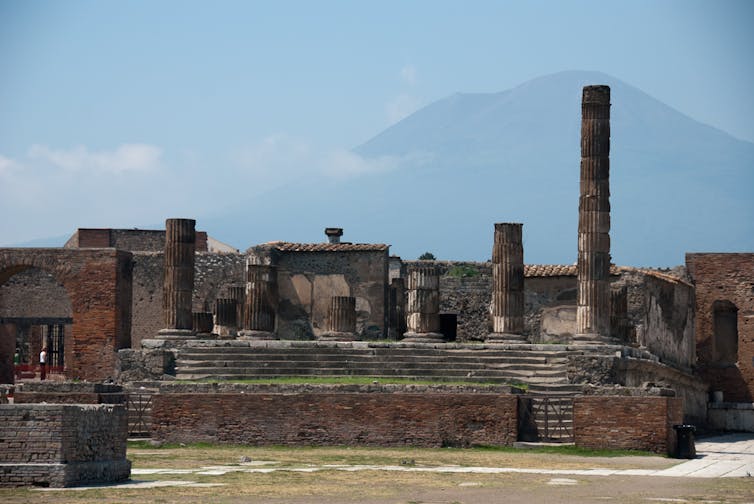 The prosperity of the town and the continual presence of merchants ensured a strong market for sex. Indeed, the sex trade was integral to the successful functioning of society, particularly marriages.
As marriages, particularly those among the elite classes, were arranged and predominantly for the birth of male heirs, a husband would not seek sexual pleasures from his wife. Rather, out of respect for her, a man would pay for pleasurable sex, especially those acts that were not expected to be performed by a respectable woman.
Indeed, the graffiti attests to five different types of sex for sale: intercourse, cunnilingus, fellatio, active anal sex, and passive anal sex. Thus the sex trade performed a type of social and moral policing of the institution of marriage, as well as the preservation of an adult male's reputation and masculinity. As sex work was not illegal (being predominantly structured around slavery) but adultery was outlawed, this was another reason for paying for sex.
The layers of volcanic materials that covered Pompeii and most of its population to a depth of 25 metres left extensive evidence of the ancient Italians, their lifestyles, and their environments. Ironically, the eruption that trapped the inhabitants in both time and place has bestowed a strange immortality upon them.
These people whisper to us, and their tales are varied, joyous and sad. Their stories are sometimes shocking and even heartbreaking, but, like the lives of the sex workers, worthy of remembrance.
*Five dollars is a rough conversion of the value of 'five asses': the currency in the original graffiti.
Tomorrow: the sexualisation of girlhood in 19th century postcards.