The federal government's rekindled enthusiasm for public transport has sent state and local governments across the country scurrying back to their light rail plans – even those that many of us thought would never see the light of day.
It now looks as if the two-year effective moratorium on rail spending under Tony Abbott will be just a relatively brief hiatus. Besides the Gold Coast and Perth, the light rail revival could also involve Newcastle, Parramatta, Bendigo, Canberra, Cairns, Darwin and Hobart.
All have drawn up plans that they hope could emulate the success of light rail in European and American cities (not to mention Melbourne, home of the world's largest tram system) as a focal point for urban development.
The main reason that so many Australian cities have been trying to copy this model is that it works. Europe has been using light rail as a major tool of urban regeneration, especially in France where many smaller towns have been very successful. In the United States between 1993 and 2011, public transport use grew by 23% (and light rail by 190%), while car use growth peaked.
The key reason for this seems to be the extra speed and capacity created when light (or heavy) rail goes around, under or over traffic that has been getting slower and slower in every major city (see the table below). Meanwhile, urban regeneration around light rail corridors allows people to end their automobile dependence, helping cities grow inwards faster than outwards.
Tony Abbott forced the genie back into the bottle by following through on his 2013 pre-election decision to drop all federal rail funding. The move showed scant regard for how modern cities attract talented people to live and work in the knowledge economy jobs that are so necessary for innovation.
Around the world, cities compete on walkability and public transport, because these things make it less likely that young, creative workers will leave for London, Paris or New York. A recent report from Smart Growth America found that in Boston, 70% of young people working in the knowledge economy live in highly walkable areas. Their jobs typically require them to come together with lots of different people in an urban situation, and they don't have time for long commutes.
So the knowledge economy needs spatial efficiency. Public transport, cycling and walking are spatially efficient; freeways, traffic jams and urban sprawl are not.
Enough to go around?
This is precisely the phenomenon on which Turnbull has picked up, by stressing innovation and freeing up infrastructure funding for light rail projects. The genie is out again, but obviously there will not be enough money to make every city's transport wishes come true. So how can we proceed?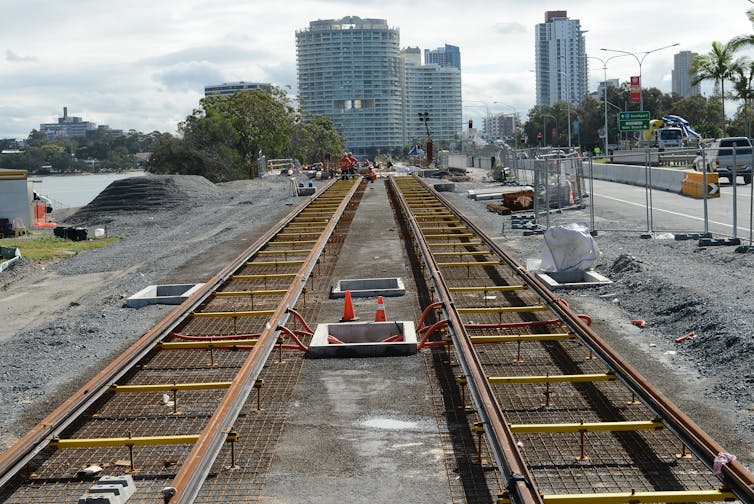 Cities now need to make a strong case for their light rail projects, based on the benefits of urban regeneration as well saving commuters time. The best way to do this is to attract private funding as well as taxpayers' money, by bringing private investors on board with the financing, who then earn a return on the increased land values generated by rail development. This is called "land value capture" and still has not been done in Australia, although it's common in the United States and Asia.
In fact, one could argue that the federal government should only release Commonwealth funding if these funds are multiplied many times over by the private sector. So cities could begin by calling for expressions of interest from private companies to design, build, finance, own and operate the light rail link and, crucially, make sure this includes land-development options (rather than letting in outside developers to gain windfall profits instead of directing the money into paying for the light rail).
Government would need to contribute a base grant and an operational fund that could be more specifically focused along the areas where the biggest benefits are felt in the corridor itself, where land values will go up most. Private expertise will ensure that the best sites are chosen for the light rail route.
These land-value increases will flow through taxes into treasury and can be set aside in a dedicated light rail fund for ongoing operations or for raising further finance. This way, with a bit of economic magic, the light rail genie could grant more cities their wishes.