After one of the more bizarre days in Australian politics, Julia Gillard remains as the prime minister of Australia.
The question of leadership of the Labor Party has been a constant problem for the party since 2010 when Labor decided that Kevin Rudd was no longer an effective prime minister and replaced him with Julia Gillard.
But since taking over, Gillard has been undermined by constant speculation about her leadership. This came to a head in early 2012 when she comprehensively defeated Rudd in a leadership spill.
Unfortunately for Gillard, however, is the fact that Rudd did not go away. Rather, he continued to attract significant media attention and sought to re-invent himself as a "changed man".
The leadership ballot
The latest round of leadership speculation started with Simon Crean appearing to throw his support behind a Rudd comeback by calling for a leadership spill. He was duly relieved of his ministerial duties by the prime minister. Speculation became rife that Rudd would finally have the numbers to reclaim the prime ministership.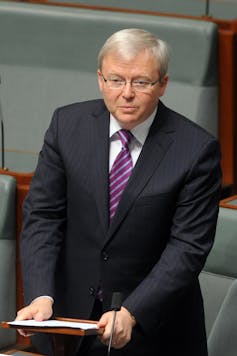 But just minutes before the scheduled ballot, Rudd advised that he would not stand as a candidate. Reading between the lines, it appeared that Rudd had canvassed the Caucus and found that he did not have majority support among his colleagues.
Rather than a fierce battle for the hearts and minds of Caucus members, Gillard and her deputy, Wayne Swan, retained their positions unopposed.
But this latest round of instability has implications for the future of the Gillard government.
Unresolved leadership tensions
The government's policy agenda has been drowned out by questions about if Gillard would be replaced. This would be frustrating for the government, especially as it would like to position itself as an administration that can govern despite being in a minority situation.
Opinion polls have also played a role in fostering a sense of instability within the government. Over the last two years, they have shown that voters have abandoned Labor and will elect a Coalition governmentat the next election. Often, poll results show that Rudd would be a more successful leader which, in turn, precipitates questions about whether Gillard should retain the leadership.
While the most recent ballot shows that Gillard maintains the support of Caucus, it's remains to be seen whether it ends leadership speculation.
Where now for Gillard?
Gillard has proven to be a formidable politician and has survived two party room ballots. The problem, however, is that each occasion takes its toll on the government. In the latest case, Gillard has lost Simon Crean and Chris Bowen, both of whom have gone to the back bench.
Moreover, such episodes play into the hands of the Opposition which has sought to label the government as dysfunctional.
The fact that Gillard remains as prime minister after intense speculation should be enough to suggest that she leads Labor to the election. After the latest peculiar events in Canberra, Gillard is well placed to test her argument that voters will support a "feisty woman" over a "policy weak" Abbott come September 14.