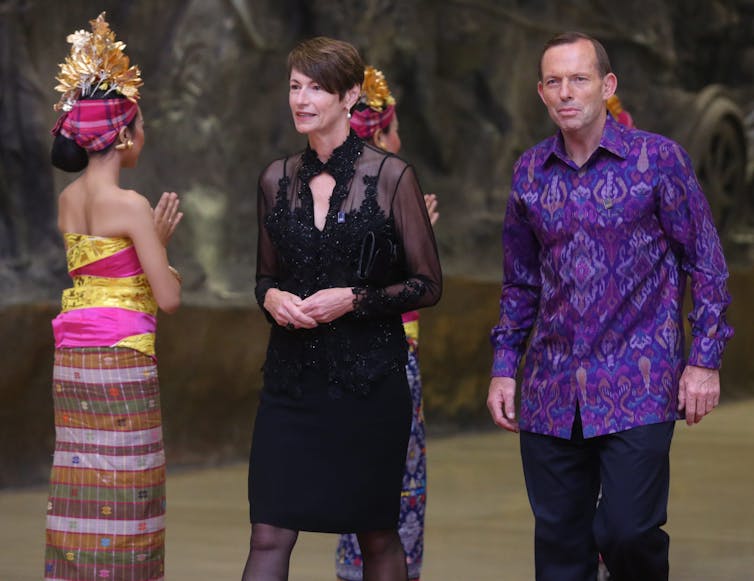 First it was his political colleagues, to whom he once apologised with the observation that "sometimes it is better to ask for forgiveness rather than permission". Now the Malaysians are getting a dose of Tony Abbott's habit, after the event, of seeking political absolution.
Abbott said today he'd "offered an act of contrition" to Malaysian Prime Minister Najib Razak - whom he met during his bilateral discussions at APEC – for the way that Malaysia had been caught up in the rancorous Australian debate over the "Malaysia solution".
"I made it very clear to the Prime Minister that our opposition was never to Malaysia. It was to the former government. Our criticism was never of Malaysia, it was of the former government.
"I guess you might say that, in my own way, I offered an apology because I appreciate this was a difficult situation for Malaysia and it was only in that difficult situation that because, in its own way, it had tried to help out a friend. … I raised that with him," he said.
"He knows we play our politics pretty hard in our country and I think he understood."
Well, that's good then. Because in opposition the Coalition said some tough things (whether justified or not) that Malaysia would have taken as aspersions.
For instance in July 2012 Abbott said: "Imagine taking boat people from Australia to Malaysia where they will be exposed almost certainly to the prospect of caning …. They will be detained, they will be tagged, they will be let out into the community and in the Malaysian community, people of uncertain immigration status are treated very, very harshly indeed. And what is supposed to protect people in Malaysia from caning and other very harsh treatment is this tag. Well, I mean, the [Australian] government has a lot more faith in tags than I think most people would have."
All of which, on an ordinary reading, sounds like robust criticism of what happens in Malaysia and how asylum seekers are treated there. And that, of course, was one of the points the Coalition was using at the time – it was saying that Malaysia didn't satisfy the necessary human rights criteria.
But that was then, and this is another example of Abbott putting the harsher aspects of pre-election rhetoric behind him and seeking to wipe the slate clean, just as he did when making his bilateral visit to Jakarta (there he also sought absolution for what the previous government did).
While it will take a while for informed judgments to be made about Abbott's foreign policy approach, these early days are pointing to his pragmatism.
Take his approach to Australian-Canadian differences over this year's Commonwealth Heads of Government Meeting in Sri Lanka. He met Canadian PM Stephen Harper who is boycotting the November meeting because of Sir Lanka's human rights record and was asked about their talks later.
"I explained to him that I think the Commonwealth is important and that's why I'll be there. Obviously Australia has some significant bilateral dealings with Sri Lanka over people smuggling as well. I'd be there anyway. … For his own reasons, he thinks that it is important that he make a stand and that's why he is not going to be there. But I accept that different countries have different national priorities and in accordance with their national priorities, they may or may not attend certain international conferences."
On another and very important front, Abbott's pragmatism is evident in his ambitions for the free trade agreement with China. In general, he doesn't intend the perfect to be the enemy of the good – he wants the negotiations, which started in John Howard's day, to be concluded ASAP even if this means the deal has to be less than ideal.
He said on Monday that he wanted the agreement to be as comprehensive as possible. "But I've always taken the view that you should take what you can get today and pitch for the rest tomorrow when you've got a strong foundation to build upon … So we will get the best deal we can. I can't at this stage say it is going to include everything.
"If it doesn't include everything, that will be a disappointment but, still, whatever we can get, which is a substantial advance on where we are, is worth having."
Abbott said it would be "wonderful" if the agreement was in time for his proposed visit to China in the first half of next year, though he conceded that might be too optimistic. But "I would be disappointed if we can't conclude a significant free trade agreement with China within 12 months".
Abbott early on has laid down an early marker for this FTA. The questions will be: first, how much will be scope of the agreement have to be limited to get it done in time, and second, will the Chinese extract any concessions on foreign investment guidelines, which (in respect of land) the Coalition has committed to tightening?