When a suspect of Turkey's July 2016 coup attempt wore a t-shirt to court that said "hero" in the summer of 2017, Turkish president, Recep Tayyip Erdogan, quickly declared that detainees would no longer be able to come to court "wearing whatever they want".
In late December, the government issued an executive decree detailing what certain prisoners can wear in court. Detainees charged with involvement in the 2016 coup attempt – and those accused of links to the cleric Fethullah Gülen who the state alleges was behind it – will soon have to wear a brown uniform in court. Those charged under the terrorism law, which also includes members of the Kurdish militant Kurdistan Workers' Party (PKK), will now have to wear a grey one.
Since the peace process with the Kurds ended in mid-2015, a large number of activists, politicians, civilians and even academics who signed a peace petition have been accused of terrorism. Some are in jail, while others are awaiting trial.
Sparking resistance
Reading the executive decree reminded me of a story recounted to me by a man I interviewed back in 2014 during research about Dersim, an eastern province of Turkey. It has been an area of conflict since the late 1800s and multiple insurgent movements continue to struggle against both the state and each other, often in violent confrontations.
This man was born in the early 1970s in a village in Dersim. At the age of 14, he came to Istanbul to stay with one of his older brothers. He was a regular high school kid, interested in literature, and even published a literature journal at school. Another of his brothers was in prison due to his illegal political activities. My interviewee visited him in 1989 in Metris prison, which he described as "a place like a graveyard". He recounted the visit:
They sat us at a long desk, a soldier standing behind each visitor and another one behind each prisoner. The prisoners were protesting against one type uniform, so they came in their underwear – this had affected me so much. My life after my visit to Metris prison changed completely. Now studying was pointless for me, so immediately I began searching for [illegal] organisations. Soon after, I joined an armed organisation as a courier.
Then he told me about a number of different illegal, armed organisations he got involved in, trying to ease his anger, "to blow out the fire" inside him after seeing those prisoners, including his brother, in their underwear. In the end, he established his own armed, leftist, revolutionary organisation, which robbed banks, threw Molotov cocktails and acted pretty much as a "radical group".
Eventually, he became a target for not only the state but also for other leftist and radical organisations. He was caught in 1992, at the age of 19 and received a life sentence for terrorist activities. He stayed in prison for more than ten years until he was conditionally released in 2002 on the 71st day of a hunger strike. A year later, he fled to Europe where he was granted political asylum in Switzerland. Had he not fled, he would have had to go back to prison until 2029.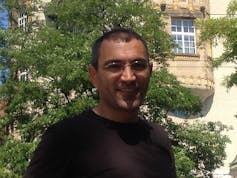 Today, this man – whose name is Haydar Karatas – is an acclaimed novelist, who now lives in Zurich with his family, where he works at Switzerland's Federal Supreme Court.
But had he not seen his brother resisting wearing one type of uniform by staying in his underwear, he may have had a totally different life story.
Humiliation breeds more dissent
The latest executive decree approved by the parliament is another step towards a dark future for the state of law and human rights in Turkey. But it also sows the seeds of humiliation, anger, and frustration among the ordinary people in Turkey.
It will have an impact on those who will see the people whom they admire, respect, love – even voted for – be humiliated. Some may choose to go naked rather than wear a uniform which depicts them as guilty before they are convicted.
There are early reports of prisons not allowing boxer shorts and vests into prison to avoid any mass protests of prisoners in court. In December, the imprisoned leader of the pro-Kurdish People's Democratic Party (HDP), Selahattin Demirtas, who is awaiting trial, declared that he would not wear a uniform, preferring to wear a shroud. In early January, the imprisoned German-Turkish journalist Deniz Yucel said that he would not wear a uniform.
Haydar Karatas's story shows that decisions about how prisoners and suspects are treated cause harm not only to individuals but to society at large. The Turkish government should reconsider its decision: it is repeating past mistakes but expecting a different outcome.