The practicalities of how Britain's land border with the Republic of Ireland will be managed have been a thorny and much publicised aspect of Brexit negotiations. But so far, the potential role of the British Irish Council, meeting in Jersey this week as it has done since 1999, has been little discussed, despite its remit to discuss the "totality of relationships" between these islands.
Ultimately, the border issue is not an electorally crucial component of politics in either country – it is the trading relationship worth £30 billion to both countries that will make or break the Anglo-Irish relationship. The British Irish Council, therefore, may be just the kind of quiet diplomatic tool that will be required to manage relations in the post-Brexit Anglo-Irish relationship. After all, we have been here before: both countries joined what was then the European Economic Community in 1973. How this was handled then offers a few lessons for today.
Anglo-Irish relations are at their best when both governments acknowledge that cooperation is mutually beneficial. In working together on the first two EEC applications in 1961-62 and 1965-68, the UK and Ireland were forced to present to the rest of Europe a united front and an Anglo-Irish Free Trade Area Agreement (AIFTAA) that spilled over into technical, infrastructural – even cultural – co-operation within just a few short years. Harold Wilson, speaking on St Patrick's Day 1965 at the Irish Club in London noted definitively:
Not only do I think there has never been a time when our friendship has been closer but I also think that the hopes of even closer friendship have never been greater.
As a result, the Irish government secured the remains of Roger Casement, executed for his part in arming the 1916 Easter Rising, along with the flag the rebels had flown above the Dublin's General Post Office. Both were later used by the Irish government in its own official commemorations of the 50th anniversary of the rebellion.
Keep things at arm's length
Since Irish independence in 1922, border issues have often been passed to arm's-length government agencies in order to avoid their being handled in the public eye. The Erne Hydro Dam project ran smoothly because it benefited those on both sides of the border. The Great Northern Railway running between Belfast and Dublin was jointly owned for a period, despite the fact that Northern Ireland and the Republic were barely on speaking terms.
And the Republic's Foyle Fisheries Act of 1952 managed to not even mention the Northern Ireland government, even by one of its long-used pseudonyms such as the Six Counties, despite the fact that the Northern Ireland government held a 50% stake in the resultant Foyle Fisheries Commission with whom they also shared the (meagre) profits.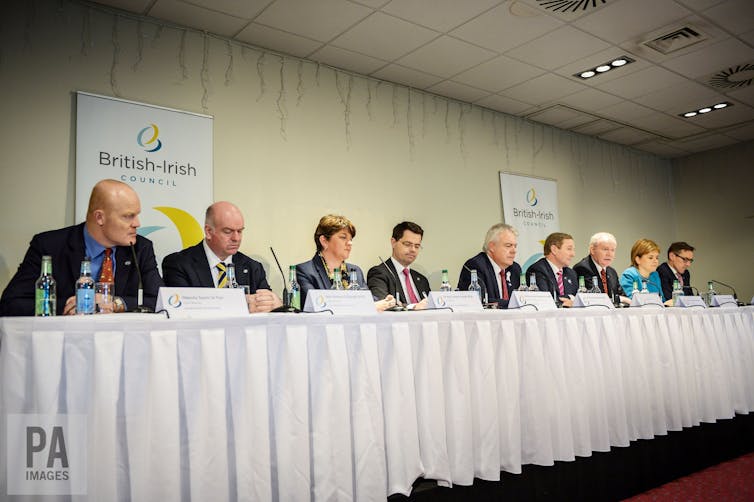 Avoid shouting over the fence
Irish prime ministers Éamon de Valera, Seán Lemass and Jack Lynch all found occasion to comment critically on Northern Ireland as a means of maintaining support at home. Lemass would from time to time remind his supporters of his views on partition, for example noting in 1963 that he felt "in foreign rule [there lies] the never-failing source of all our political evils". These kinds of statements would of course be rebuked publicly in Northern Ireland, putting back cooperation efforts. Lashing out never rectified any issues nor did it ever compel the British or Northern Ireland governments to do anything other than reject whatever allegations had been aired.
The converse is also true: when Churchill publicly rebuked de Valera for "frolicking with the Germans" during World War II, de Valera soon responded in kind with his own speech noting that Ireland "had stood alone not for one year or two but for several hundred years" against foreign aggression. Though it plays well to the gallery, in a post-Brexit Anglo Irish relationship this kind of jingoism is a very real risk both governments would do well to avoid.
At the beginning of the Troubles, Anglo-Irish trade talks created space where the truly problematic matters could be aired without fear of either side losing face. In 1969 and 1970, the AIFTAA agreement's requirement for regular ministerial meetings allowed senior officials to learn more about each other's stances by reporting concerns and explaining positions in ways that would not be publicised in subsequent press briefings. Irish ministerial visits specifically meant to embarrass the UK government by pointing out Unionist intransigence or the over-zealous actions of the Royal Ulster Constabulary or B-Specials in Northern Ireland proved as ineffective as the patriotic bombast of their party conference speeches and got successive Irish governments nowhere.
Conflict is expensive and unwise – and, in Anglo-Irish relations, having the patience to live with problems has more often proved a better strategy than escalating disagreement. The 1932-1938 Anglo-Irish Trade War began with de Valera's refusal to repay pre-independence loans secured on Irish land to the British Treasury. The British responded by simply raising this money from a 20% tax on all Irish imports to Britain – which then accounted for almost all of Ireland's exports. This created a severe economic recession that only served to push the Irish economy down a protectionist trade policy for another generation, harming national industrial development and, crucially, leading many to emigrate from Ireland.
A new place for the British Irish Council
Of course these are lessons from a time before either nation had joined the EU, when the world was less globalised and nation states had greater leeway for negotiation than they do today. It was also a time before the UK acknowledged the Republic of Ireland had a right to an opinion on Northern Ireland affairs, as agreed under the 1985 Anglo-Irish Agreement and the 1998 Good Friday Agreement.
Brexit negotiations have demonstrated the disruption the media can have on complex international negotiations, with the risks this brings if high-level summit meetings are used to conduct Anglo-Irish relations. It is the sort of situation in which the mundane, regular activities of the British Irish Council could be exactly the kind of forum that is required, where issues of importance can be discussed away from the public eye and in a more mutually understanding atmosphere than at a formal negotiating table. It will be interesting to watch how the council grapples with the new issues it must face in years to come.