With Hillary Clinton and Carly Fiorina running for president, many might think that women are finally achieving gender equality in politics.
That is not the case.
In North Carolina, California, Kansas and other states, the progress women have made in seeking elected office has reversed in recent years, raising questions about whether women will ever achieve gender equality in state politics.
In 2014, fewer women in North Carolina were running for and serving in elected offices than they were five years ago.
Despite representing 54 percent of the registered voters in North Carolina, women hold fewer than 25 percent of all elected offices. In the state legislature, for example, the percentage of women serving has dropped from approximately 26 percent in 2005 to under 23 percent currently. This represents a net loss of six seats.
Currently only 38 of the 170 legislative seats are held by women.
Nationally, the number of women serving in state legislatures has also seen a drop, as reported by the Center for Women in American Politics, although nationally the decrease has been less than one percent.
For the last 20 years, I have been researching women in appointed and elected office in North Carolina.
A preference for women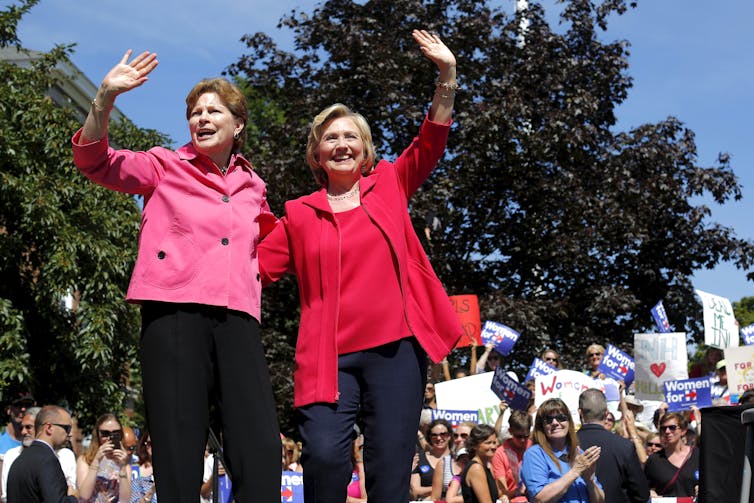 The main reason behind the lack of female representation is not overt discrimination or structural deficiencies in the electoral process. In my survey research, for example, North Carolinians prefer women candidates over men. Instead it's a simple lack of a steady pipeline of women entering the races.
When women run, women win. In 2014, only 25 percent of candidates across North Carolina on the ballot were women, but 63 percent of them won.
At the national level, the number of women candidates has continued to grow steadily. But in North Carolina and in other states, the percentage of women running for offices, like state legislatures, has dropped over the last decade. In 2006, for example, women made up 27 percent of all the candidates in the 2006 North Carolina elections.
Political scientists Jennifer Lawless and Richard Fox argue that the biggest barrier to electoral success for women is their motivation to run. They argue that women are half as likely as men to see themselves as political officeholders and half as likely as men to take the steps necessary to become candidates.
Specifically, their research identifies three significant barriers to women's candidate emergence: 1) women see themselves as significantly less qualified to run for office; 2) women are encouraged to run for office significantly less by political actors, family members and friends than are men; 3) women disproportionately bear most of the household and childcare responsibilities in the family and see themselves as unable to run for political office.
Although Lawless and Fox's research describes the fundamental reasons that fewer women run for and serve in political offices, it does not describe why states like North Carolina have seen a decline in women candidates and elected officials.
Today's political climate of hyper-partisanship is identified by Baer and Hartmann's (2014) research report for the Institute for Women's Policy Research for Political Parity as a major factor as to why fewer women are interested in running for office.
They also suggest that the issue of women's representation in political offices is less prominent in media stories and public discussions than a generation ago.
For example, 1992 was declared the "Year of the Woman" in politics, with numerous headline stories in the media. The focus today seems more on the presidential campaign, with Hillary Clinton and Carly Fiorina being the focus of attention, rather than women serving in local or state offices.
The solutions to this problem are many and complex.
More public awareness is a start. More systematic recruiting campaigns for women candidates by the political parties and other organizations, with increased emphasis on candidate training, would also help. The most challenging problem is to change the political culture in this country that causes many prospective candidates, particularly women, to never consider running for political office.