It's not hard to see why Pokémon Go has become so popular. Its simple gameplay and social element have made the augmented reality game an instant hit, eclipsing the daily active user figures of giants such as Candy Crush Saga and Tinder. Yet the company behind Pokémon Go, Niantic, has done very little to promote the game since it launched. Beyond a handful of release notifications from the official Pokémon Go Twitter account, no TV commercials have been commissioned and in-app advertising is minimal.
Niantic has instead relied on word-of-mouth to promote its take on Pokémon, particularly in the form of unofficial viral pictures, videos and social media posts shared online (internet memes) that reference or parody the game. This user-generated content ensures the title is on the lips of the masses, even if many of them haven't even played it yet.
The term "meme", coined by biologist Richard Dawkins in his book The Selfish Gene, refers to an idea, behaviour or style that propagates across culture, just as a successful gene spreads through a population. Internet memes pervade the web in a similar way. Carried via text, images or videos, the idea (often a quip or funny observation) is replicated by being shared and reposted, transforming over time to spawn hundreds of thematic variants.
Memes are a staple of social media, loved by some, but a nuisance to others. Log into Facebook, and you'll likely find people sharing images of "Drake sitting on things" or video remixes of "Sad" Ben Affleck silently contemplating lukewarm reviews of Batman vs Superman. Occasionally, meme replication hits a critical mass. Borrowing again from biological terminology, they go "viral".
Internet memes can certainly be entertaining. Yet these snapshots of pop culture have a deeper use. They provide the kind of pervasive promotion that can catapult films, games, and literature into craze status. Today we see this phenomenon in play with Pokémon Go, and not just with memes that celebrate the franchise. Social media sites are awash with comedic posts that poke fun at the game, and its players, from all angles.
The marketing force behind Pokémon Go understand that the franchise's consumers are their biggest, and most active marketing tool. Video parodies and image macros (pictures with humorous captions) targeting Pokémon have been circling the web for years. Pokémon is a well established cultural icon, and this kind of user-generated content ensures it remains visible even without the addition of a popular new game to the franchise. Appreciating this, Niantic side-stepped any major marketing blitz for Pokémon Go, safe in the knowledge that nostalgia would amply feed the meme.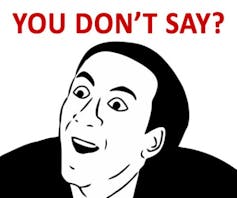 The profile-raising power of the Internet meme is significant. Memes such as "Rick-rolling" (where seemingly unrelated weblinks point users to a video of 80s pop star Rick Astley) demonstrate how user-generated content can revitalise bygone stars, and in some cases breathe life into commercial flops. Take the film Vampire's Kiss, which grossed only 32% of its $2m budget in 1989. Nicolas Cage's unrestrained (and borderline frantic) performance fuelled the highly popular "You Don't Say" meme, sparking renewed interest in the title. Vampire's Kiss is now considered by some to be a cult film.
The viral potential of memes is naturally attractive in marketing, but their unpredictability is problematic. Who knew that a fist-pumping baby (Success Kid) or ivory-tinkling feline (Keyboard Cat) would make such an impact on social media?
To negate risk, brands tend to piggyback off trending memes. This approach, called "memejacking", is bold and brash, but can work wonders – as Sesame Street marketers will tell you. The TV show surfed a wave of parodies of Carly Rae Jepsen's 2011 single, Call Me Maybe, with its own video featuring the Cookie Monster sharing treats with office workers. The parody, "Share It Maybe", proved very popular for the franchise, racking up over 20m views to date on its official YouTube Channel.
To a network of ardent Pokémon fans, add one (rather aggrandising) game trailer. Throw then into the mix the screen capture capabilities of smartphone and tablet devices, and you have all the fuel needed to get the meme-train rolling.
And rolling it is. Two weeks after US release, Pokemon Go regularly secures the number 1 slot in Know Your Meme's "top image gallery" chart and parody versions of the game pervade social media. The nuances of Pokemon Go – from the "seek and collect" gameplay mechanic, through endless server crashes to Pokemon hunting placing strain on relationships – continue to infect YouTube, Twitter and Facebook, replicating and mutating into new (and largely funny) media content each passing day.